Happy Tuesday, book lovers! How is everyone today? I had a marvelous week. I spent a lot of time shopping in indie bookstores, which means I have a lot of titles to potentially talk about on future episodes of All the Backlist! And I participated in the 24-in-48 readathon! It really was the best week. I have a few fantastic titles to tell you about today, and as always, you can also hear about several more great books on this week's episode of the All the Books! Rebecca and I talked about a few amazing books we loved, such as Careers for Women, Hate to Want You, and Madame Zero.
---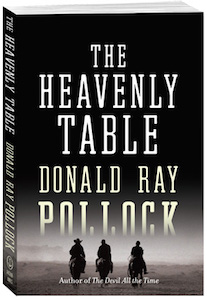 This week's newsletter is sponsored by The Heavenly Table by Donald Ray Pollack.
Two families collide in a bloody Southern Gothic outlaw tale. No good can come of it. Or can it? In 1917 the three Jewett brothers undertake a last-ditch effort to break free of their poverty by turning to a life of shooting and looting. Another farming family, the good-natured Fiddlers, have been swindled out of their land and fortune and are now smack in the middle of the now notorious Jewett Gang's trajectory. When a crime spree sets the Jewetts on a collision course for the Fiddlers, an unlikely–and turbulent–relationship begins between the families.
---
Strange Practice by Vivian Shaw
Dr. Greta Helsing has a family reputation to uphold. She spends her time administering care to the undead, a lucrative yet quiet life. Quiet, that is, until she uncovers a a group of murderous monks in London's midst. Now Greta must use her unusual knowledge and profession to put an end to their deadly tirade, before she becomes the next victim. I always love a good twist on a classic character!
Backlist bump: The Diabolical Miss Hyde by Viola Carr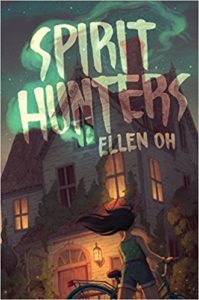 Spirit Hunters by Ellen Oh
Harper Raine has a bad feeling about her family's new home the moment she steps inside. Then she hears the rumors about the house. And to top things off, her little brother begins acting strangely. Now Harper is spending seventh grade seeking answers to the spirits she senses and trying to figure out a way to save her brother before it's too late. This is a fun debut to a new middle grade series!
Backlist bump: The Children of Green Knowe by L.M. Boston
The Call by Peadar Ó Guilín
Imagine you're sitting in class, listening to the teacher talk when suddenly: WHOOSH. Now in a forest, naked as a jaybird, running  for your life from blood-thirsty faeries! That's The Call, a three-minute challenge that happens to all teens. And no one knows when it's going to happen. If you survive the test, you're transported back to your world. Sometimes even the ones who don't survive are returned… Nessa is determined to survive the trial, but she's going to have to survive her horrible classmates while she waits. This one is out in paperback today and WOOOO IT'S A DOOZY.
Backlist bump: Tithe by Holly Black
That's it for me today – time to get back to reading! If you want to learn more about books new and old (and see lots of pictures of my cats, Millay and Steinbeck), or tell me about books you're reading, or books you think I should read (I HEART RECOMMENDATIONS!), you can find me on Twitter at MissLiberty, on Instagram at FranzenComesAlive, or Litsy under 'Liberty'!
Stay rad,
Liberty