Heyyyy YA Readers!
This week's edition of "What's Up in YA?" is sponsored by Annotated.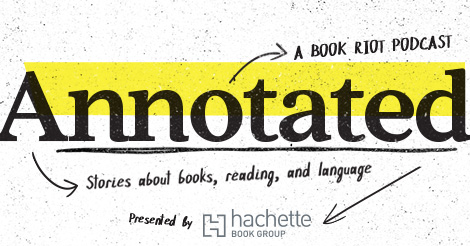 Annotated, presented by Hachette Book Group, is Book Riot's new audio documentary series about books, reading, and language. Check out the latest episode, "Why Aren't Bookstores Extinct?": In 1995, there were more than 7000 independent bookstores in the U.S. By 2008, there were just over 1400. Everyone was proclaiming the death of bookstores, and independent bookstores. But then something strange happened. Over the last nine years, the number of indie bookstores has risen 64%. This episode of Annotated looks at how independent bookstores first survived, then figured out how to thrive, in the age of Amazon.
---
---
I mentioned in last week's newsletter that I wanted to do more with YA backlist titles. A number of readers emailed with some of their favorite titles — many of which, I think, are fairly well-known, either because of the awards they've won or because they had strong sales. That doesn't mean they're not worth talking about, of course, but I'm hoping we can go even deeper, into those small gems that maybe were overlooked at the time of their publication and yet still resonate today. Or, perhaps, they resonate even more today than they did upon original release.
Let's start with something that doesn't get the attention it deserves: black authors of YA fiction from the backlist. While we've been seeing more titles by black authors earning much-deserved accolades lately — including The Hate U Give still sitting on the New York Times Bestsellers list (as it should) and books like March earning huge YA prizes and honors — there is a back list of black YA authors more than worth digging into. Some of these will be obvious ones, while others might be new titles to many readers.
And that is part of the fun.
Some of the authors here have published far and wide and will have more than the title list as one worth picking up. Others have maybe only published one YA novel among other books or have only published one single novel in their careers. Still other authors here are publishing still, meaning you might find something by them on your local new releases shelf.
Backlist, if you're curious, is defined as books that hit shelves a year or more ago. But for me personally, I find backlist to be something that goes even further back. All of the titles listed below were published five or more years ago. So without further ado, let's get our black authors of backlist reading on.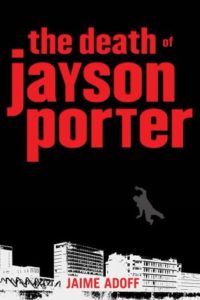 The Death of Jayson Porter by Jaime Adoff
Sixteen-year-old Jayson Porter wants to believe things will get better. But the harsh realities of his life never seem to change. Living in the inland-Florida projects with his abusive mother, he tries unsuccessfully to fit in at his predominately white school, while struggling to maintain even a thread of a relationship with his drug-addicted father. As the pressure mounts, there's only one thing Jayson feels he has control over—the choice of whether to live or die.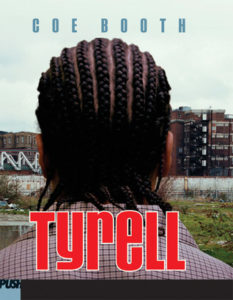 Tyrell (series) by Coe Booth
Tyrell is a young, African American teen who can't get a break. He's living (for now) with his spaced-out mother and little brother in a homeless shelter. His father's in jail. His girlfriend supports him, but he doesn't feel good enough for her – and seems to be always on the verge of doing the wrong thing around her. There's another girl at the homeless shelter who is also after him, although the desires there are complicated. Tyrell feels he needs to score some money to make things better. Will he end up following in his father's footsteps?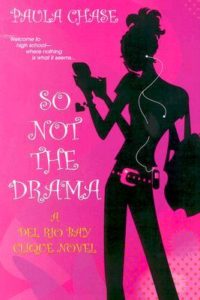 So Not The Drama (series) by Paula Chase
In exactly one hour, eighteen minutes, and thirty-five seconds, Mina Mooney will be dipping her pink Nellie timbs into the infamous frosh pit. . .
Hoping Del Rio Bay High will live up to her greatest expectations, Mina has big plans for infiltrating the school's social glitterati. After all, she's been mad popular for as long as she can remember–and she isn't about to go from Middle School Royalty to High School Ambiguity. But Del Rio Bay is a big school, so it'll take some plotting to avoid getting lost in the crowd. Good thing she isn't afraid of a little hard work and that her playground peeps–Lizzie, Michael, and JZ–have got her back.
But it isn't long before Mina's big plans for securing her social status take a back seat to some drama that was so not expected. Lizzie's scored an invite from the beautiful people that Mina can only dream about, and not only is Michael tripping about being back in school, but now he's beefing with JZ. Worst of all, Mina's sociology class experiment to rid the world–or at least Del Rio Bay High–of prejudice is about to backfire. . .because it might just mean she'll have to rid herself of her very best friend.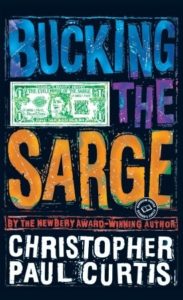 Bucking The Sarge by Christopher Paul Curtis
Luther T. Farrell has got to get out of Flint, Michigan.
As his best friend Sparky says, "Flint's nothing but the Titanic."
And his mother, a.k.a. the Sarge, says, "Take my advice and stay off the sucker path."
The Sarge milked the system to build an empire of slum housing and group homes. Luther's just one of the many people trapped in the Sarge's Evil Empire—but he's about to bust out.
If Luther wins the science fair this year, he'll be on track for college and a future as America's best-known and best-loved philosopher. All he's got to do is beat his arch rival Shayla Patrick, the beautiful daughter of Flint's finest undertaker—and the love of Luther's life.
Sparky's escape plans involve a pit bull named Poofy and the world's scariest rat. Oh, and Luther. Add to the mix Chester X., Luther's mysterious roommate; Dontay Gaddy, a lawyer whose phone number is 1-800-SUE'M ALL; and Darnell Dixon, the Sarge's go-to guy who knows how to break all the rules.
A La Carte by Tanita S. Davis
SEVENTEEN-YEAR-OLD LAINEY DREAMS of becoming a world famous chef one day and maybe even having her own cooking show. (Do you know how many African American female chefs there aren't? And how many vegetarian chefs have their own shows? The field is wide open for stardom!) But when her best friend—and secret crush—suddenly leaves town, Lainey finds herself alone in the kitchen. With a little help from Saint Julia (Child, of course), Lainey finds solace in her cooking as she comes to terms with the past and begins a new recipe for the future.
Peppered with recipes from Lainey's notebooks, this delicious debut novel finishes the same way one feels finishing a good meal—satiated, content, and hopeful.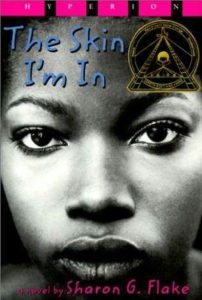 The Skin I'm In by Sharon Flake
Miss Saunders, whose skin is blotched with a rare skin condition, serves as a mirror to Maleeka Madison's struggle against the burden of low self-esteem that many black girls face when they're darker skinned. Miss Saunders is tough and through this, Maleeka learns to stand up to tough-talking Charlese.
Heaven (series) by Angela Johnson
Marley has lived in Heaven since she was two years old, when her mother found a postcard postmarked HEAVEN, OH on a park bench and decided that was where she wanted to raise her family.
And for twelve years, Marley's hometown has lived up to its name. She lives in a house by the river, has loving parents, a funny younger brother, good friends, and receives frequent letters from her mysterious Uncle Jack. Then one day a letter arrives form Alabama, and Marley's life is turned upside down. Marley doesn't even know who she is anymore — but where can she go for answers, when she's been deceived by the very people she should be able to trust the most?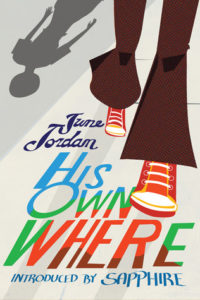 His Own Where by June Jordan
Nominated for a National Book Award in 1971, His Own Where is the story of Buddy, a fifteen-year-old boy whose world is spinning out of control. He meets Angela, whose angry parents accuse her of being "wild." When life falls apart for Buddy and his father, and when Angela is attacked at home, they take action to create their own way of staying alive in Brooklyn. In the process, the two find refuge in one another and learn that love is real and necessary. His Own Where was one of The New York Times' Most Outstanding Books and was on the American Library Association's list of Best Books in 1971.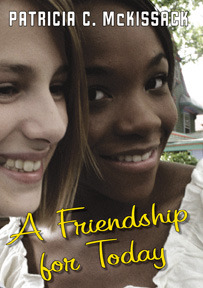 A Friendship for Today by Patricia McKissack
The year is 1954, the place is Missouri, and twelve-year-old Rosemary Patterson is about to make history. She is one of the first African American students to enter the white school in her town. Headstrong, smart Rosemary welcomes the challenge, but starting this new school gets more daunting when her best friend is hospitalized for polio. Suddenly, Rosemary must face all the stares and whispers alone. But when the girl who has shown her the most cruelty becomes an unlikely confidante, Rosemary learns important truths about the power of friendship to overcome prejudice.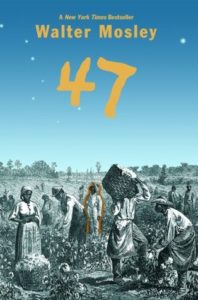 47 by Walter Mosley
The story you are about to read concerns certain events that occurred in the early days of my life. It all happened over a hundred and seventy years ago. For many of you it might sound like a tall tale because I am no older today than I was back in the year 1832. But this is no whopper I'm telling; it is a story about my boyhood as a slave and my fated encounter with the amazing Tall John from beyond Africa, who could read dreams, fly between galaxies, and make friends with any animal no matter how wild.
In his first book for young adults, bestselling author Walter Mosley weaves historical and speculative fiction into a powerful narrative about the nature of freedom. 47 is a young slave boy living under the watchful eye of a brutal slave master. His life seems doomed until he meets a mysterious runaway slave, Tall John. 47 soon finds himself swept up in an otherworldly battle and a personal struggle for his own liberation.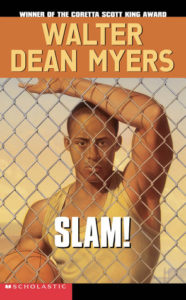 Slam by Walter Dean Myers
Seventeen-year-old Greg "Slam" Harris can do it all on the basketball court. He's seen ballplayers come and go, and he knows he could be one of the lucky ones. Maybe he'll make it to the top. Or maybe he'll stumble along the way. Slam's grades aren't that hot. And when his teachers jam his troubles in his face, he blows up.
Slam never doubted himself on the court until he found himself going one-on-one with his own future, and he didn't have the ball.
The Kayla Chronicles by Sherri Winston
Kayla Dean, junior feminist and future journalist, is about the break the story of a lifetime. She is auditioning for the Lady Lions dance team to prove they discriminate against the not-so-well endowed. But when she makes the team, her best friend and fellow feminist, Rosalie, is not happy.
Now a Lady Lion, Kayla is transformed from bushy-haired fashion victim to glammed-up dance diva. But does looking good and having fun mean turning her back on the cause? Can you be a strong woman and still wear really cute shoes? Soon Kayla is forced to challenge her views, coming to terms with who she is and what girl power really means.
Narrated with sharp language and just the right amount of attitude, The Kayla Chronicles is the story of a girl's struggle for self-identity despite pressure from family, friends and her own conscience. Kayla's story is snappy, fun and inspiring, sure to appeal to anyone who's every questioned who they really are.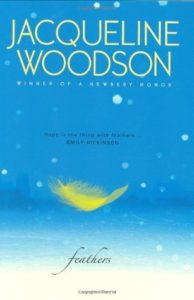 Feathers by Jacqueline Woodson
"Hope is the thing with feathers," starts the poem Frannie is reading in school. Frannie hasn't thought much about hope. There are so many other things to think about. Each day, her friend Samantha seems a bit more holy."There is a new boy in class everyone is calling the Jesus Boy. And although the new boy looks like a white kid, he says he'is not white. Who is he?
During a winter full of surprises, good and bad, Frannie starts seeing a lot of things in a new light:—her brother Sean's deafness, her mother's fear, the class bully's anger, her best friend's faith and her own desire for the thing with feathers."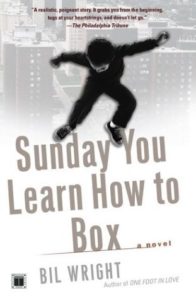 Sunday You Learn How To Box by Bil Wright
Fourteen-year-old Louis Bowman is in a boxing ring — a housing project circa 1968 — fighting "just to get to the end of the round." Sharing the ring is his mother, Jeanette Stamps, a ferociously stubborn woman battling for her own dreams to be realized; his stepfather, Ben Stamps, the would-be savior, who becomes the sparring partner to them both; and the enigmatic Ray Anthony Robinson, the neighborhood "hoodlum," in purple polyester pants, who sets young Louis's heart spinning with the first stirrings of sexual longing. Bil Wright deftly evokes an unrelenting world with quirky humor and clear-eyed unsentimentality.
Want more black YA reading in your life, both of the front and back list varieties? I cannot recommend The Brown Bookshelf enough as a tremendous resource. You'll also want to know Zetta Elliott's blog, as she's been a prolific advocate for authors of color, and many of her books would be great fits on this very list. 
Hope you've found a great read or several here, and we'll see you back again next week!
–Kelly Jensen @veronikellymars