I thought I would do something a little different today, and instead of talking about new books, I thought, "It's summer – why not talk about what's new in paperback for a change?" And it's also my birthday today and I do what I want. (After I receive permission.)
So, don't want to get beach sand in your $30 hardcover? Don't want to ruin your new hardback when you drop it in the lake? Here are a bunch of great books that have recently come out in paperback! (I'm not suggesting you should ruin these, either, but at least it won't cost as much if you do.)
You can hear also about several great new titles on this week's episode of the All the Books! Rebecca and I talked about amazing books we loved, including Less, Nuclear Family, and The Stars in Our Eyes.
---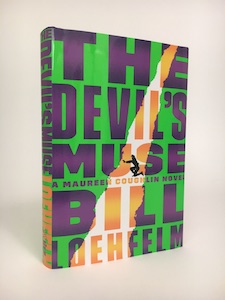 This week's newsletter is sponsored by The Devil's Muse by Bill Loehfelm.
Mardi Gras may be fun for the revelers but it's hell for the NOPD. Maureen Coughlin's night starts with a bang when a man in pink zebra-print tights runs past and throws himself onto the hood of a moving car. It only gets worse when she hears gunshots over the noise of the crowd. In the midst of the revelry, Maureen and her fellow cops must stabilize the shooting victims and hunt down the shooter, all while grappling with massive crowds, a camera crew intent on capturing the investigation for their YouTube channel, an incompetent on-duty detective, and race relations in a city more likely to mistrust cops than ever. With The Devil's Muse, Bill Loehfelm returns with another gripping installment in his "edgy, dangerous, but pulsing with life" (Booklist) Maureen Coughlin series.
---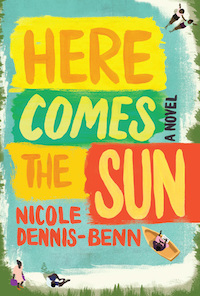 Here Comes the Sun by Nicole Dennis-Benn: "(A) cast of unforgettable women battle for independence while a maelstrom of change threatens their Jamaican village."
Before the Fall by Noah Hawley: "Amid trauma and chaos, the fragile relationship between Scott and the young boy grows and glows at the heart of this stunning novel, raising questions of fate, morality, and the inextricable ties that bind us together."
Rich and Pretty by Rumaan Alam: "With impeccable style, biting humor, and a keen sense of detail, Rumaan Alam deftly explores how the attachments we form in childhood shift as we adapt to our adult lives—and how the bonds of friendship endure, even when our paths diverge."
Marrow Island by Alexis M. Smith: "It has been twenty years since Lucie Bowen left the islands—when the May Day Quake shattered thousands of lives; when Lucie's father disappeared in an explosion at the Marrow Island oil refinery, a tragedy that destroyed the island's ecosystem; and when Lucie and her best friend, Katie, were just Puget Sound children hoping to survive."
The Wangs vs. the World by Jade Chang: ""Highly entertaining" (BuzzFeed), this "fresh Little Miss Sunshine" (Vanity Fair) is a "compassionate and bright-eyed novel" (New York Times Book Review), an epic family saga, and a new look at what it means to belong in America."
Harmony by Carolyn Parkhurst: "Told from the alternating perspectives of both Alexandra and her younger daughter Iris (the book's Nick Carraway), this is a unputdownable story about the strength of love, the bonds of family, and how you survive the unthinkable."
Sons and Daughters of Ease and Plenty by Ramona Ausubel: "From the award-winning author of No One Is Here Except All of Us, an imaginative novel about a wealthy New England family in the 1960s and '70s that suddenly loses its fortune—and its bearings."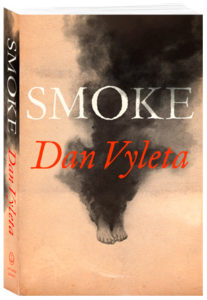 Smoke by Dan Vyleta: "Readers of The Night Circus by Erin Morgenstern and Arcadia by Iain Pears are sure to be mesmerized by Dan Vyleta's thrilling blend of Dickensian historical fiction and fantasy, as three young friends scratch the surface of the grown-up world to discover startling wonders—and dangerous secrets."
 Darktown by Thomas Mullen: "Award-winning author Thomas Mullen is a "wonderful architect of intersecting plotlines and unexpected answers"(The Washington Post) in this timely and provocative mystery and brilliant exploration of race, law enforcement, and justice in 1940s Atlanta."
On Trails: An Exploration by Robert Moor: "From a debut talent who's been compared to Annie Dillard, Edward Abbey, David Quammen, and Jared Diamond, On Trails is a wondrous exploration of how trails help us understand the world—from invisible ant trails to hiking paths that span continents, from interstate highways to the Internet."
Around the Way Girl by Taraji P. Henson: "From Taraji P. Henson, Academy Award nominee, Golden Globe winner, and star of the award-winning film Hidden Figures, comes an inspiring and funny memoir—"a bona fide hit" (Essence)—about family, friends, the hustle required to make it in Hollywood, and the joy of living your own truth."
The Hour of Land: A Personal Topography of America's National Parks by Terry Tempest Williams: "(t)he New York Times bestselling author of the environmental classic Refuge and the beloved memoir When Women Were Birds, returns with The Hour of Land, a literary celebration of our national parks and an exploration of what they mean to us and what we mean to them."
Behold the Dreamers by Imbolo Mbue: "A compulsively readable debut novel about marriage, immigration, class, race, and the trapdoors in the American Dream—the unforgettable story of a young Cameroonian couple making a new life in New York just as the Great Recession upends the economy."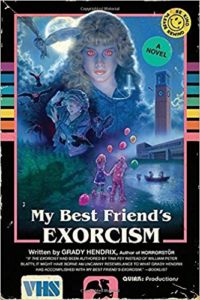 My Best Friend's Exorcism by Grady Hendrix: "Like an unholy hybrid of Beaches and The Exorcist, My Best Friend's Exorcism blends teen angst, adolescent drama, unspeakable horrors, and a mix of '80s pop songs into a pulse-pounding supernatural thriller."
The Killing Lessons by Saul Black: "In this extraordinary, pulse-pounding debut, Saul Black takes us deep into the mind of a psychopath, and into the troubled heart of the woman determined to stop him."
You'll Grow Out of It by Jessi Klein: "Klein offers – through an incisive collection of real-life stories – a relentlessly funny yet poignant take on a variety of topics she has experienced along her strange journey to womanhood and beyond."
The Lonely City: Adventures in the Art of Being Alone by Olivia Laing: "A dazzling work of biography, memoir, and cultural criticism on the subject of loneliness, told through the lives of iconic artists, by the acclaimed author of The Trip to Echo Spring."
Hag-Seed by Margaret Atwood: "Margaret Atwood's novel take on Shakespeare's play of enchantment, retribution, and second chances leads us on an interactive, illusion-ridden journey filled with new surprises and wonders of its own."
We Could Be Beautiful by Swan Huntley: "Catherine West has spent her entire life surrounded by beautiful things. And yet, despite all this, she still feels empty. After two broken engagements and boyfriends who wanted only her money, she is worried that she'll never have a family of her own."
American Ulysses: A Life of Ulysses S. Grant by Ronald C. White: "Based on seven years of research with primary documents—some of them never examined by previous Grant scholars—this is destined to become the Grant biography of our time."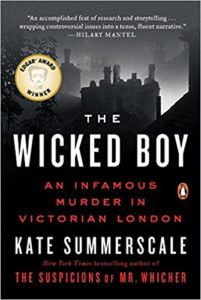 The Wicked Boy: An Infamous Murder in Victorian London by Kate Summerscale: "From the internationally bestselling author, a deeply researched and atmospheric murder mystery of late Victorian-era London."
The Gene: An Intimate History by Siddhartha Mukherjee: "From the Pulitzer Prize-winning author of The Emperor of All Maladies—a fascinating history of the gene and "a magisterial account of how human minds have laboriously, ingeniously picked apart what makes us tick" (Elle)."
Losing It by Emma Rathbone: "For readers of Rainbow Rowell and Maria Semple, and filled with offbeat characters and subtle, wry humor, Losing It is about the primal fear that you just. might. never. meet. anyone."
Siracusa by Delia Ephron: "With her inimitable psychological astuteness and uncanny understanding of the human heart, Ephron delivers a powerful meditation on marriage, friendship, and the meaning of travel. Set on the sun-drenched coast of the Ionian Sea, Siracusa unfolds with the pacing of a psychological thriller and delivers an unexpected final act that none will see coming."
That's it for me today – time to get back to reading! If you want to learn more about books new and old (and see lots of pictures of my cats, Millay and Steinbeck), or tell me about books you're reading, or books you think I should read (I HEART RECOMMENDATIONS!), you can find me on Twitter at MissLiberty, on Instagram at FranzenComesAlive, or Litsy under 'Liberty'!
Stay rad,
Liberty