How's your summer going? It's finally monsoon time in Arizona and the weather has cooled off, and all that rain means more time to hang out inside and read!
Romance has been busy busy this past couple weeks! I don't even know where to start.
Let's go with twitter.
---
Sponsored by Unraveling, book two in the Unblemished trilogy by Sara Ella
The entire universe is unraveling. Can a young heroine stop the fray? Through her mastery of world-building and mind-bending plots, Sara Ella takes fantasy to a new level in Unraveling, the anxiously awaited continuation of the Unblemished Trilogy. As Eliyana continues her journey towards the throne, she tries to figure out her relationship with Ky and how it might be connected to the Callings. She needs answers before the Callings disappear altogether. Can El find a way to sever her connection to Ky and save the Reflections—and keep herself from falling for him in the process?
---
We know that there's really never a quiet time with Twitter, but somebody decided to upset the wrong people and we romance people know how to respond that: hella positive reinforcement. We got to talk about nuance. We got to talk about love. And joy. Some of the best responses to Ann Aguirre's call for quote tweets about why we love romance are collected in Sarah Nicolas's spectacular mic-drop-esque 8 Reasons People Mock Romance. Why? They're jealous.
On Instagram, Alyssa Cole shared the hardcover of An Extraordinary Union. It's frickin gorgeous!
https://instagram.com/p/BWQyq7vgF2K/
And now: movies, movies, movies.
Are you following Passionflix's progress as they work their way towards a working streaming platform? Follow them on Facebook, or if you want to know what's going on behind the scenes (and get some other perks, too), consider becoming a founding member.
They've been busy: last week, they dropped the trailer for their first original feature, Hollywood Dirt (based on Alessandra Torre's novel of the same name). Almost immediately after, they announced the lead casting for their production of Afterburn/Aftershock, based on Sylvia Day's novella duology. They're working quickly, but the first trailer looks like the productions are good quality. They have to be, when you're up against the other streaming networks.
In other adaptation news, Beverly Jenkins is running a GoFundMe campaign to independently produce a Deadly Sexy movie. The book, which was released in 2007, is a romantic suspense, a very different tone from her historicals and the Blessings series, but damn, do I want to see that brought to life. Also: yes, there are rewards. So hop on over to the page, read the description, watch the videos. And read the sidebar as you consider how much you want to give 😉
And speaking of people to support, are you following WOCinRomance on Twitter? Their site is great for keeping up with new reads, and they have a Patreon if you want to support people doing Good Work.
Want to see your faves in the flesh? If you're going to be in or around Denver next July, you're gonna want to check out Book Bonanza. My eyes crossed trying to read all the names of people appearing, but it's gonna be huge. It looks like tickets will be available on July 31, and they are gonna go fast. (PS—RWA is going to be in Denver THE FOLLOWING WEEKEND so I might have to just…move there for a few weeks.)
If you want something a little smaller and a little sooner, DC area folks ought to check out this awesome panel on August 4. I'll be here, getting rained on, feeling jealous.
Over on Book Riot:
Wallace went to The Ripped Bodice! Check out what she got!
And speaking of The Ripped Bodice, there's a giveaway for a digital gift card and an awesome raglan "Smart Girls Read Romance" tee. You know you wanna (and you can enter even if you already subscribe to KB)!
We pulled together the best books of 2017. So far.
Do you like podcasts? Check out Annotated, our newest podcast about books, reading, and language.
Nikki collected 14 of the most swoonworthy smooches in movies based on books. What do you think?
Does your library have OverDrive (or some other ebook lending option)? Do you procrastinate when you read (or just borrow too many things at once)? If your answer to both of these is yes, then Alex has a potential solution for you.
And Trisha got to talk to Ana Coqui, the creator of #RomBkLove.
Okay, this is already hella long, so I will keep my book recs short 😉
Currently reading: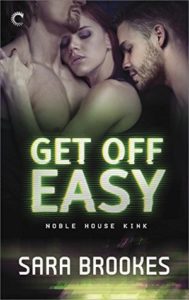 Get Off Easy by Sara Brookes
This book originally came out in 2015, but was revamped and republished by Carina Press (to be released July 17). Grae, a CGI artist, reconnects with her two best friends from college after seeing an incident during a scene at the kink club for which she has a virtual membership. Their fire reignites immediately, bringing memories of the one night the three shared in college, but with more intensity; Saint and Boyce are both switches with Dominant tendencies, and she would love to be their willing sub—if only she can get out of her own way and admit what she wants.
I got two words for you: fire emoji. All the fire emoji.
Next up: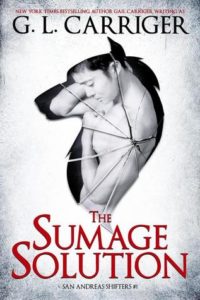 The Sumage Solution by GL Carriger
If that name sounds familiar, it's because it's Gail Carriger. She is stepping into the M/M romance ring with a spin-off of her short story Marine Biology, the first book in her new San Andreas Shifters series. We get to start out with a mage in a bad mood and a Beta werewolf named Biff. Also, we're promised sexytimes and horrible puns, and this is Carriger we're talking about.
And of course, some recent and upcoming releases:
On the Plus Side, Alison Bliss
Primrose Lane, Debbie Mason
Pounding Skin, LA Witt
Some Kind of Hero, Suzanne Brockmann
Locked in Temptation, Brenda Jackson (July 25)
Hate to Want You, Alisha Rai (July 25)
Drilled, Opal Carew (July 25)
One True Pairing, Cathy Yardley (July 25)
Okay, that's probably enough for now, eh? Until next time, catch me on Twitter @jessisreading or Instagram @jess_is_reading, or send me an email at jessica@riotnewmedia.com if you've got feedback or just want to say hi!