Today's Riot Rundown is sponsored by Sponsored by Doubleday, publishers of Meddling Kids, a novel by Edgar Cantero.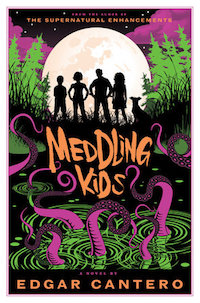 With raucous humor and brilliantly orchestrated mayhem, Meddling Kids subverts teen detective archetypes like Scooby-Doo and delivers a wickedly entertaining celebration of horror, love, friendship, and many-tentacled demon spawn.
The former members of the Blyton Summer Detective Club have grown up and apart, each haunted by disturbing memories of their final case. The time has come to get the team back together, face their fears, and find out what actually happened all those years ago at Sleepy Lake. It's their only chance to end the nightmares and, perhaps, save the world. What if it wasn't a guy in a mask?