Hey Hey Hey YA Readers!
This week's "What's Up in YA" newsletter is sponsored by The Waking Land by Callie Bates.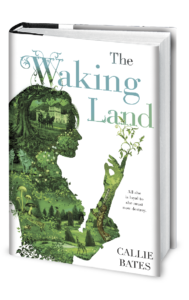 In the lush and magical tradition of Naomi Novik's Uprooted comes this riveting debut from brilliant young writer Callie Bates—whose imagination places her among the finest authors of fantasy fiction, including Sarah J. Maas and Sabaa Tahir.
Lady Elanna is fiercely devoted to the king who raised her like a daughter. But when he dies under mysterious circumstances, Elanna is accused of his murder—and must flee for her life.
Returning to the homeland she has forsaken, Elanna is forced to reckon with her estranged father. Feeling a strange, deep connection to the natural world, she also must face the truth about the powers that suddenly stir within her.
---
Don't forget that if you haven't dropped your pick for favorite YA read of 2017 so far, you have another day or two to have your pick counted. These'll be rounded up and shared, top 10 style, in next week's newsletter.
While you're chowing down on your favorite holiday treats over this long weekend/holiday, why not catch up on some of the latest in YA news? Here's a round-up of what's been up in the world of YA.
Thanks for hanging out this week and we'll see you again next Monday. Prepare yourselves, though — your TBR will be growing longer.
–Kelly Jensen, @veronikellymars