Happy Thursday, lovers!
Brace yourselves, it's going to be a long one.
---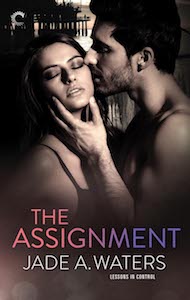 Sponsored by The Assignment by Jade A. Waters.
What would you do if someone offered to fulfill your wildest fantasies?
Seductive.
Charming.
Dominant.
Dean Sova is everything Maya Clery craves. From the first touch, their connection is intense. After leaving her troubled past behind, Maya thought she was happy—she is happy—but meeting Dean forces her to acknowledge dark needs she longs to explore yet has never had the courage to face.
---
Riptide Publishing is having weekly Pride sales during the month of June, and this week is all about books featuring bisexuals. Dive in; there are ten pages of goodies to weave through.
And speaking of LGBTQ romance, the Lambda Literary Awards were announced this week! The Scorpion's Empress by Yoshiyuki Ly won the award for best lesbian romance, and Pene Henson's Into the Blue for best gay romance. And Rebekah Weatherspoon won the award for best LGBT erotica with her super sexy Soul to Keep, book three in her Vampire Sorority Sisters series.
Have you heard about this new Pride and Prejudice adaptation that takes place in rural Virginia? It's called Before the Fall, and it's available to rent or buy on Amazon. Pardon my squeeing as we not only get our first modern-day, Bridgetless adaptation since Pride and Prejudice: A Latter Day Comedy, but our leads are both men. It's like something right out of an early 2000s fanfiction-reading dream.
Beverly Jenkins has announced her next Old West book, and y'all. Look at this cover.
PassionFlix has been making moves, and I am following like a hawk. (Remember way back when, when we talked about The Trouble with Mistletoe being adapted for film but we weren't sure by what network? It was them, y'all!)
Not to mention, they just optioned Brenda Jackson's entire Granger Brothers series, which starts with A Brother's Honor. This is promising for the company's future in regards to being diverse and inclusive. Next up, Cyclone! (A girl can dream.)
Did you read that great piece about The Ripped Bodice, the nation's first (and still only) romance-dedicated bookshop? If you live in the greater Los Angeles area, it looks like a great place to hang out. And right now, they've got a Summer Bingo read-along for you! It looks like lots of fun.
Over on Book Riot:
Beth O'Brien, that lucky sonovagun, interviewed Colleen Hoover. They talked about Confess, music, writing, and Colleen even threw out a few book recommendations.
Jen Sherman wrote about having reading amnesia, which is probably pretty common for us romance readers, huh? So far, I have managed not to completely reread a book I'd read before. At least, not to my knowledge…
And comment on this week's Riot Recommendation and tell us your favorite erotic romance!
And now, book recs!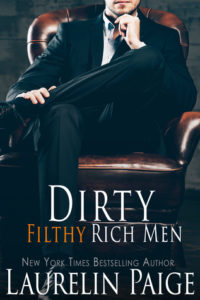 I have a lot of feelings about Dirty Filthy Rich Men, and I'm not sure what they are. Before we go any further, I have to give out two warnings. First warning: this book has trigger warning written all over it (actually, it doesn't, but it really really needs to). If you end up with the version that has the prequel, Dirty Filthy Rich Boys, you will encounter rape in the first fifteen pages, and rape fantasy is a large part of the story. Second warning: this book does not end in a HEA, because it is not clearly marked as a multi-parter. (Okay, if you go onto Goodreads it does, but I didn't go on Goodreads before I blindly put this one on hold at the library.)
This was my first Laurelin Page book, and it will obviously not be my last. Even with the terrible, horrible, awful things going on and the terrible, horrible things that people are doing in all walks of life, I couldn't stop reading. Both Sabrina and Donovan fascinate me, and I needed to slake my curiosity about their dynamic.
Okay, so that reminds me I need to give a third warning: if Sabrina is something you happen to hold dear, maybe skip this one. You'll never look at Bogie (or Harrison Ford, my preferred Linus) the same way again.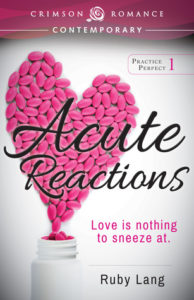 If you'd rather have something not frustrating, aggravating, and that you have confusing and unclear thoughts about, here's a series starter for you.
Acute Reactions is the first book in Ruby Lang's Practice Perfect series. Petra Lale, MD, is an allergist struggling with her first practice. When Ian Zamora, a prospering restauranteur, comes to her practice, there are semi-immediate sparks. But there's a problem: if there's one thing Petra believes in, it's maintaining an ethical code in her medical practices, and that very much includes not having the hots for your patients.
Ruby Lang's books are medium-long reads, so they probably won't be single-sitting, but won't run too long. Her writing is snappy and compelling, so you won't want to stop, but you will probably at least need a snack halfway through.
And as usual, a few new and upcoming books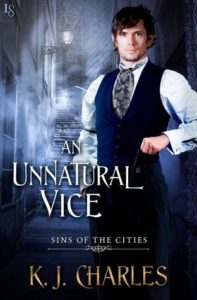 An Unnatural Vice by KJ Charles
The Masterpiece by Bonnie Dee
Jane of Austin by Hillary Manton Lodge
The Smell of Camellias by Remmy Duchene
Talk British To Me by Robin Bielman (6/19)
Captured Soul by Laydin Michaels (6/20)
Prince Ever After by AC Arthur (6/20)
Dreams Unspoken by RJ Layer (6/20)
The Day of the Duchess by Sarah MacLean (6/27)
I'm gonna go pretend to catch up on both backlist and upcoming releases to squee about. In the meantime, catch me on Twitter @jessisreading or Instagram @jess_is_reading, or send me an email at jessica@riotnewmedia.com if you've got feedback or just want to say hi!
Until next time, m'loves!