Happy Monday, book lovers! There are a lot of exciting things happening in the world of books. (Including an All the Books spinoff!) Hope you enjoy your week. Be excellent to each other. – xoxo, Liberty
(PS – Totally unrelated to books, but I want to share the joy: My new favorite show, The Good Place, is streaming for free on NBC right now. It is SO delightful!)
---
Sponsored by Penguin Random House Audio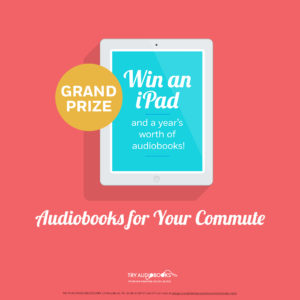 Enter the Penguin Random House Audio sweeps to help "Transform Your Commute! We all know commuting can be stressful, so why not take that time on your way home to unwind with a good audiobook? Visit TryAudiobooks.com/commute to download your free audio copy of PRIDE AND PREJUDICE and be entered to win the Grand Prize of an iPad and a year's worth of audiobooks for your commuting pleasure!
NO PURCHASE NECESSARY. Enter between 6/01/17 and 6/30/17. Open to US residents, 18 and older. Void where prohibited or restricted by law. See Official Rules (http://www.penguinrandomhouseaudio.com/commute-rules/) for full details.
---
Deals, Reels, and Squeals
Lauren Graham will adapt YA novel Windfall by Jennifer E. Smith.
Rainbow Rowell will be penning the upcoming ongoing Runaways comic series.
Hiao Jingfang's Hugo award-winner, Folding Beijing, to be made into a movie.
Oprah will announce her new book club pick on June 26. (Click here if you want to see what book I think it will be.)
Harry Potter prequel about Voldemort approved by Warner Bros., to be released on YouTube.
To Kill a Mockingbird to be issued as a graphic novel.
Riverheard Books will publish Little by Edward Carey in 2018. (I adore his work! His Iremonger trilogy is so freaking fantastic!)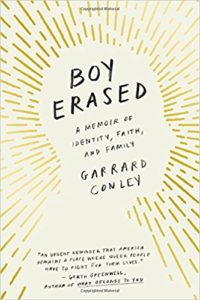 Joel Edgerton has scripted and will direct a film based on Garrard Conley's memoir Boy Erased.
Ta-Nehisi Coates to write Wrong Answer, about the 2013 Atlanta high school cheating scandal, based on the New Yorker article by Rachel Aviv.
Terry Weible Murphy's memoir, Life in Rewind, will be adapted for the screen.
Katherine Arden (The Bear and the Nightingale) sold her middle grade debut to G.P. Putnam & Sons for Young Readers. Putnam described the book, called Small Spaces, as Stranger Things meets The Walking Dead.
And in case you hadn't heard, there's a new Nick Harkaway novel coming down the pike.
Cover Reveals
Squeeeeee, it's Shadowsong, the sequel to Wintersong by S. Jae-Jones! (Jan. 30, 2018)
Black Star Renegades, Michael Moreci's galaxy-hopping debut novel, looks awesome! (Jan. 2, 2018)
Fabulous gif of the new cover of Gloria Chao's American Panda. (Feb. 6, 2018)
Alex R. Kahler on his new book, Runebinder, plus the fantastic cover. (Nov. 14, 2017)
Beverly Jenkins has a new book coming next year: Tempest! (Jan. 30, 2018)
And speaking of romances, here's Gentlemen Prefer Heiresses by Lorraine Heath. (Aug. 22, 2017)
New Anne McCaffrey Pern covers revealed. (After August 1)
The fabulous cover (and an excerpt) of The Hazel Wood by Melissa Albert. (Jan. 30, 2018)
Sneak Peeks!
New TV spots for Stephen King's The Dark Tower.
Marvel unveiled a new poster for Black Panther!
Book Riot Recommends
At Book Riot, I work on the New Books! email, the All the Books! podcast about new releases, and the Book Riot Insiders new release index. I am very fortunate to get to read a lot of upcoming titles, and I'm delighted to share a couple with you each week!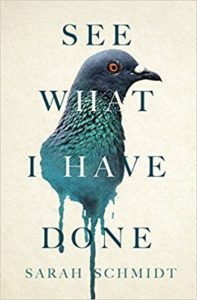 See What I Have Done by Sarah Schmidt (Atlantic Monthly Press, August 1)
It will surprise zero people to learn that I am obsessed with the Lizzie Borden and the axe murders of 1892, so when I heard there was a new novel about the case coming next year, I squealed and squealed. If you don't know Lizzie Borden, she was the OJ Simpson of her time: famously accused of killing her father and stepmother, then acquitted after the century's biggest trial, despite the overwhelming public opinion that she was guilty. (Basically, a jury of twelve men let her go because they didn't believe women were capable of such brutal crimes back then. Which really works in your favor when you've just axed two people to death.) This novel is like a crazy murdery fever dream, swirling around the day of the murders. Schmidt has written not just a tale of a crime, but a novel of the senses. There is hardly a sentence that goes by without mention of some sensation, whether it's a smell or a sound or a taste, and it is this complete saturation of the senses that enables the novel to soak into your brain and envelope you in creepy uncomfortableness. It's a fabulous, unsettling book.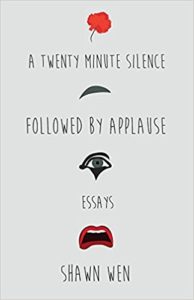 A Twenty Minute Silence Followed by Applause: Essays by Shawn Wen (Sarabande Books, July 11)
I will be completely honest: A book of essays about famous mime Marcel Marceau would probably not be something I would pick up on my own in a store. But luckily I read books for a living, and this wonderful essay collection crossed my path! Radio producer Wen became fascinated by mime, an art you can't put on the radio. This led her to meticulously research the world-famous mime Marceau, whose incredible life she has beautifully detailed in this haunting collection. He was so much more than just a man trying to get out of in an invisible box.
And this is funny.
Two of our favorite bookish Twitter accounts have a chat.