Hey, it's June!
Well, lovers, it's been a week.
There was a bit of stuff happening on Twitter about kink, and as usual our girls Alyssa Cole and Rebekah Weatherspoon stepped up with some threads of their own. Warning: there are book recs. I hope you weren't planning to leave your TBR alone this week.
---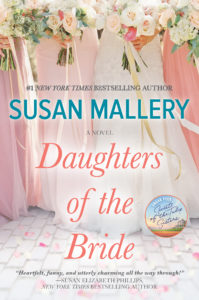 Sponsored by HQN Books
As the awkward one, Courtney Watson may not be as together as her sisters, but she excels at one thing—keeping secrets, including the white-hot affair she's having with a sexy music producer. When Sienna's boyfriend proposes, he takes her by surprise. She already has two broken engagements under her belt. Should she say "I do" even if she's not sure she does? Rachel thought love would last forever…right up until her divorce. With Mom's wedding day imminent and her ex begging for a second chance, she'll have to decide if she'll let pride stand in the way of her own happily-ever-after.
---
Also found on twitter: This blog looking at romance from an academic perspective. Do what you will with the moral study; I'm super interested in the philosophy thesis written as a romance novella.
AJ at Lacy Literacy put together this amazing list of STEM heroines in romance and hoo boy my TBR can't take it. She also uses a great legend of notators indicating things like authors of color, lead characters of color, and books with interracial romances. I'm crying. (With joy.)
On Tuesday, Avon Romance and The Strand hosted a live panel on Feminists in Romance. I'd have loved to have seen an author of color on the panel of four. But since these were Avon authors, I guess that's a little difficult. How about it, Avon? Next time.  Here's the first link and then here's the second after they had some technical difficulties.
Over on Book Riot:
Right after I hit send last time, Trisha Brown's reflections about her attendance at RT Convention went up on Book Riot. Revisit the conference a month out and think about whether you want to go to Reno next year.
If you missed my baseball romance, basketball romance, or romance comics lists, you might find something fun to try next.
You might recall that Kay shared the breaking news that Harlequin is phasing out several of their series lines, including Kimani, where the vast majority of the black authors publishing with Harlequin see their books. Besides a statement in Publisher's Weekly confirming that this is indeed true, there has been nothing. No mention on the website, no further articles, no official announcements by Harlequin. What the deal, yo?
I'm trying a new thing where I do my short reviews of one or two new titles and one or two older ones. If there's one thing to love about romance it's that it's incredibly prolific, so why not point you in the direction of some awesome older books?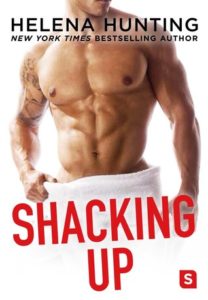 Shacking Up, Helena Hunting
This was my first book by Helena Hunting, though I discovered other things by her on my to-read list. Here, we've got Ruby and Bancroft, a pair of young socialites at different points in their relationships with their fathers. Ruby is an (aspiring) actress whose father wants her to see the error in her ways and come back and work for his pharmaceutical company. Bane is a former pro rugby player working to find his own place as a hospitality magnate among magnates. Ruby might have just gotten the chance for stable income, if not for Awesome Kisser, who also happened to be Awesome Cougher. (I have never seen someone incubate an illness that quickly in my life, but we'll accept it for the sake of a story.)  When the pair meet again and realize that Awesome Kisser is a large part of the reason Ruby will probably never work again (at least with that director), Bane offers Ruby the run of his apartment while he's away on business.
This book manages to be precious, hilarious, and super hot, while still being allowed to not take itself too seriously. I've got one word for you: Francesca.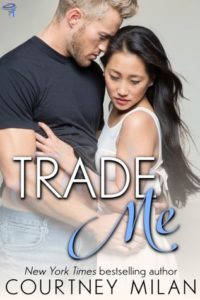 Trade Me, Courtney Milan
"Friendship with Blake is not safe. It's not even Facebook safe."
Tina Chen is not interested in becoming friends with Blake Reynolds, the Billionaire of Berkeley. (Okay, so nobody ever calls him that, but I needed to give Blake that title. Blame it on all the historicals I've been reading.) When she calls him out on some bullshit in a discussion session, she has no idea it will lead to her living the life of a tech genius. But that's exactly what he proposes: trade lives with him; she would have his house in the Berkeley Hills and access to super sleek prototypes. He would live in her not-up-to-code "apartment", get a minimum wage job and survive on her income. Various circumstances would bring them together throughout the period of their arrangement, and the chemistry sizzles. And it is really great to see a book that can be sweet and fun but also tackle mental health and class issues in a not-gross way.
If you're interested in a campus/new adult read, this is a good place to start. Also, the side characters are some of my favorites. Do yourself a favor when you finish: take Courtney's offers of more Adam Fucking Reynolds.
I recently started Dating You/Hating You, Christina Lauren's upcoming standalone release, and so far, it's pretty great. I mean, it starts with the leads meeting at a costume party. And they're both Harry Potter characters. So it's bound to continue being great. Also, it's about Hollywood industry people and that's a thing I'm into. Check it out when it's released.
And as usual, here are some new and upcoming releases for you to check out: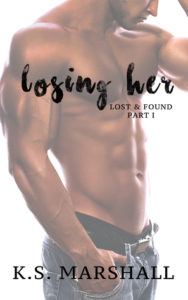 Losing Her, KS Marshall
Merely A Marriage, Jo Beverly's final novel.
Trust Me, Farrah Rochon
Until You, Denise Grover Swank
Blaze, Donna Grant
Edge of Truth, Brynn Kelly
An Affair With a Notorious Heiress, Lorraine Heath
An Unnatural Vice, KJ Charles (June 6)
Mr. Right-Swipe, Ricki Schultz (June 6)
WTF (Geek Actually Season 1 Episode 1), Cathy Yardley (June 7)
Claim and Protect, Rhenna Morgan (June 12)
One Week to the Wedding, Olivia Miles (June 13)
Silver Silence, Nalini Singh (June 13)
I'm gonna go pretend to catch up on both backlist and upcoming releases to squee about. In the meantime, catch me on Twitter @jessisreading or Instagram @jess_is_reading, or send me an email at jessica@riotnewmedia.com if you've got feedback or just want to say hi!
Until next time, m'loves!