Book time, book time, la la la la la la! First things first: Radiate, the third book in C.A. Higgin's Lightless trilogy, is out today!!! I loved these books so much. So spacey and dark! Now I'll tell you about a few new books not wrapping up awesome trilogies, and you can also hear about several more great books on this week's episode of the All the Books! Rebecca and I talked about amazing books we loved, such as Black Mad Wheel, Chemistry, and Augustown.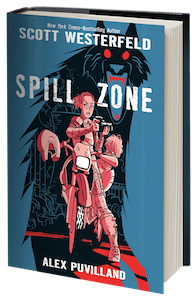 This week's newsletter is sponsored by Spill Zone by Scott Westerfeld.
Three years ago an event destroyed the small city of Poughkeepsie, forever changing reality within its borders. Uncanny manifestations and lethal dangers now await anyone who enters the Spill Zone. The Spill claimed Addison's parents and scarred her little sister, Lexa, who hasn't spoken since. Addison provides for her sister by photographing the Zone's twisted attractions on illicit midnight rides. Art collectors pay top dollar for these bizarre images, but getting close enough for the perfect shot can mean death—or worse.
When an eccentric collector makes a million-dollar offer, Addison breaks her own hard-learned rules of survival and ventures farther than she has ever dared. Within the Spill Zone, Hell awaits—and it seems to be calling Addison's name.
Wicked Wonders by Ellen Klages
Amazing oddities and fantastic flights of fancy dominate this fabulous collection of tales. A haunted penny arcade, faeries, and rebellious children are just part of the fun in these clever stories. Klages has been putting out incredible work for years and years – most recently The Green Glass Sea – and it would be wonderful to see her get a bigger audience and more recognition.
Backlist bump: You Have Never Been Here by Mary Rickert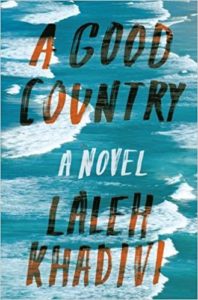 A Good Country by Laleh Khadivi
Alireza Courdee has always been a straight-A student, working to make his Iranian immigrant parents proud. But he's also a fourteen-year-old boy, and he has begun engaging in normal teenage behavior: experimenting with drugs, sneaking out to parties, surfing, sex. But what begins as a time of carefree experimentation for Reza slips into dangerous territory when he joins a group of boys who share his background and soon finds himself on his way to Syria. A Good Country is a timely and powerful read that questions how big a role we play in our destinies.
Backlist bump: The Reluctant Fundamentalist by Mohsin Hamid
Murder In Matera: A True Story of Passion, Family, and Forgiveness in Southern Italy by Helene Stapinski
Stapinski grew up in a family of thieves in Chicago – but they weren't the only relatives who may have broken the law. Growing up, she heard that her Italian grandmother had murdered someone before moving to America. Stapinski's interest in her grandmother's story only deepened as an adult, and over the years and several trips to Italy, she uncovered long-buried secrets that she then turned into this wonderful historical whodunit/family memoir. Makes you wonder about your own grandmother…
Backlist bump: Five-Finger Discount: A Crooked Family History by Helene Stapinski (One of my favorite memoirs!)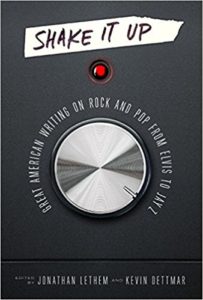 Shake It Up: Great American Writing on Rock and Pop from Elvis to Jay Z: A Library of America Special Publication by Jonathan Lethem (Editor), Kevin Dettmar (Editor)
A fantastic anthology of important music writing comprised of fifty pieces covering pretty much every genre. Featuring discussions on Axl Rose, heavy metal, Elvis, Prince, emo, Sam Cooke, and more. Contributors include Chuck Klosterman, Lester Bangs, Amiri Baraka, Eve Babitz, and John Jeremiah Sullivan. A beautiful gift for a dad, grad, or any other music lover in your life!
Backlist bump: Let it Blurt: The Life and Times of Lester Bangs, America's Greatest Rock Critic by Jim Derogatis
That's it for me today – time to get back to reading! If you want to learn more about books new and old (and see lots of pictures of my cats, Millay and Steinbeck), or tell me about books you're reading, or books you think I should read (I HEART RECOMMENDATIONS!), you can find me on Twitter at MissLiberty, on Instagram at FranzenComesAlive, or Litsy under 'Liberty'!
And ICYMI, I'm writing the new Book Riot newsletter, Book Radar, which will give you all those things! You can sign up here.
Stay rad,
Liberty