Holy CATS, it is hot here in Maine. But everything is green and the air smells so good – it's perfect reading weather. I hope it's lovely where you are, too. (But, um, Colorado, what was up with that snow???) Here's a bunch of bookish news to start your week off right. And remember, I love you and I like you. – xoxo, Liberty
---
Sponsored by the Lessons In Control Series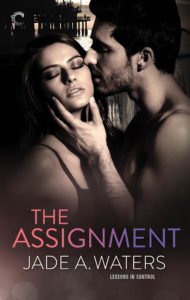 What would you do if someone offered to fulfill your wildest fantasies?
Seductive.
Charming.
Dominant.
Dean Sova is everything Maya Clery craves. From the first touch, their connection is intense. After leaving her troubled past behind, Maya thought she was happy—she is happy—but meeting Dean forces her to acknowledge dark needs she longs to explore yet has never had the courage to face.  
---
All the Deal News You Can Use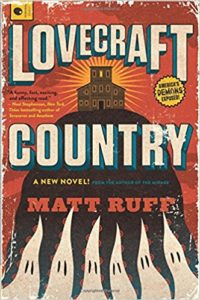 Jordan Peele to produce HBO series Lovecraft Country (based on the book by Matt Ruff) with J.J. Abrams, Misha Green.
The Chaperone, based on Laura Moriarty's best-selling American novel, will reunite Elizabeth McGovern and Julian Fellowes. 
Ursula K. Le Guin's The Left Hand of Darkness to be developed as a limited series.
Netflix is developing and producing a new English-language drama series based on the fantasy saga The Witcher by Andrzej Sapkowski.
Daveed Diggs (of Hamilton fame) is set to star in TNT's Snowpiercer pilot.
Ian McKellen, Gabriel Byrne and Connie Nielsen are set to star in Hamlet Revenant.
Today in Why Stop at Four: A fifth Game of Thrones spin-off is in the works.
Universal has bought the movie rights to the New York Times column You May Want to Marry My Husband, written by the late author Amy Krouse Rosenthal.
Grace And Frankie actress June Diane Raphael is writing a book to help women run for office.
Cover Reveals
Book Riot got the exclusive cover reveal of Jen Wang's The Princess and the Dressmaker!
The Mary Sue revealed the shiny new cover of Reign of the Fallen by Sarah Glenn Marsh.
And last but not least, the cover of Caleb Roehrig's new thriller, White Rabbit.
Sneak Peeks!
The Alienist series is coming! I looooove this novel. (It's hard to believe it has been 23 years since its release. I got the book right before *cough* graduation *cough*.)
Netflix debuts first images from its new miniseries based on Alias Grace, the Margaret Atwood novel.
 The first trailer for The Glass Castle, starring Brie Larson and Woody Harrelson.
The trailer for The Hippopotamus, based on the novel by Stephen Fry.
The trailer for The Limehouse Golem, based on Peter Ackroyd's 1994 novel Dan Leno and the Limehouse Golem.
Nicole Kidman and Elle Fanning star in How to Talk to Girls at Parties, based on the short story by Neil Gaiman.
Book Riot Recommends
At Book Riot, I work on the New Books! email, the All the Books! podcast about new releases, and the Book Riot Insiders new release index. I am very fortunate to get to read a lot of upcoming titles, and I'm delighted to share a couple with you each week!
The Prey of Gods by Nicky Drayden (June 13, Harper Voyager)
Can a young girl, a politician, a pop diva, and a teen stop the rise of a powerful demigoddess who is set on making her big hellish comeback? You should read this and find out because WOW WOW WOW. If I had to sum this up in two words: banana pants. This fantastic futuristic South African novel has witches, robots, genetic engineering, and mammal/crustacean sex. And that's just for starters!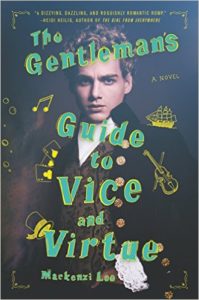 The Gentleman's Guide to Vice and Virtue by Mackenzi Lee (June 27, Katherine Tegen Books)
A bisexual British lord heads out on a wild world journey with his best friend/secret crush in this fun 18th century romp! Monty has reached an age when he is expected to finally settle down and act like a gentleman. But before he does, he takes his BFF Percy on one last adventure around the globe, which quickly turns dangerous – both romantically and to their actual lives! This is fun with a capital "YES."
And this is funny.
Who is driving the car?