Heyyy YA!!!!! 
(Imagine that in a Goonies voice)
This week's "What's Up in YA?" is sponsored by Carry On by Rainbow Rowell from St. Martin's Press.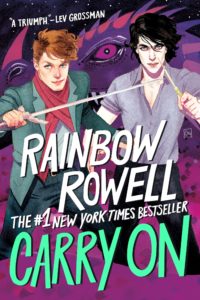 A #1 New York Times bestseller
Simon Snow is the worst Chosen One who's ever been chosen.
His mentor's avoiding him, his girlfriend dumped him, and there's a monster running around wearing Simon's face. Baz, his roommate and nemesis, would be having a field day with all this, if he were here—it's their last year at the Watford School of Magicks, and he hasn't shown up.
Carry On is a ghost story, a love story, and a mystery. It has as much kissing and talking as you'd expect from a Rainbow Rowell story—but far more monsters.
____________________
Let's take this week to catch up on a wealth of YA news and pieces of interest floating around. It might be more accurate, though, to call this a big round-up of recent adaptation news because there's been a lot of it. Grab yourself a snack and settle in!
And keep your eyes peeled for

a manga adaptation

of the YA Star Wars book

Lost Stars.

Say that ten times fast.
New trailer for

Everything Everything

is up. Do you plan on seeing this? I'm so curious about it, but it might be one I wait to Netflix down the road. I liked the book with some reservation and am curious how it'll be done on the big screen. Plus, Amandla.
Time to ask a very serious question now. If you've been listening to book news lately outside of the YA world, you likely have heard about the Bill Clinton/James Patterson book news. This begs the question: which politicians and YA authors would you love to see paired up? Hit reply and send your wildest and best pair ups. Feel free to ignore things like time and history; as far as I care, there's a magical time machine that would allow Abe Lincoln to sit alongside Nicola Yoon for a romantic YA novel, okay? Maybe we can connect Norma Klein and Wendy Davis, who'd have a lot to say together about adults and teens and maturity and sex and growing up.
Send me your picks and I might include them in a future edition of the newsletter. Let's have fun and let imagination run wild. 
See you back here next week.
– Kelly Jensen @veronikellymars