Hey YA fans!

This Week's "What's Up in YA?" is sponsored by The Pearl Thief by Elizabeth Wein, from Disney-Hyperion Books.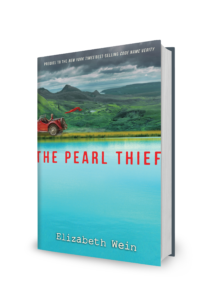 Before Verity . . . there was Julie.

In this prequel to the bestselling Elizabeth Wein novel, Code Name Verity, fifteen-year-old Julia Beaufort-Stuart wakes up in the hospital, she knows the lazy summer break she'd imagined won't be exactly what she anticipated.  Her memory of that day returns to her in pieces, and when a body is discovered, her new friends are caught in the crosshairs of long-held biases about Travellers. Julie must get to the bottom of the mystery in order to keep them from being framed for the crime.
____________________
During a vacation last week, I mainlined all 13 episodes of 13 Reasons Why on Netflix. I'm still grappling with some thoughts about the show, and while it's been many years since I read the book, I don't know that I remember disliking all of the characters as much as I did. I knew Hannah was manipulative going in, but I'd forgotten how annoying Clay was, too. Many have written thoughtful pieces about how it's a problematic cliche that Hannah serves as a boy's tool of growth, but that wasn't what bothered me most about the show. It's a simple, very very simple, thing that annoyed me.
I haven't pulled my words together coherently on it, but as soon as I do, I suspect this might be the right space to share them. I preface the newsletter with this because I'd love to hear what reactions you've had to the adaptation or see what pieces you've read analyzing it that you've found interesting. I'm not worried about agreeing or disagreeing with the takes. I want to see what's being sad because I don't think I've seen so much mainstream attention for a YA adaptation in a long time (maybe The Hunger Games was the last big one with the sort of exposure I'm seeing). Hit reply with your thoughts and links and next week, I'll come back with both what I want to say bothered me and what some of the biggest YA fans have been thinking about it.
Let's take the space today, though, and look back at the variety of great Book Riot posts about YA that have hit in the last few weeks. I know how easily it is for me to miss the pieces sometimes, and I read the site for work.
The pieces below aren't from Book Riot, but they hit my radar in the last couple of weeks and seemed worth sharing:
See you next week, and don't forget to hit reply with your thoughts and/or interesting reads on the 13 Reasons Why adaptation. If you do share your own opinion, I won't use your real name if I chose to include it in the next newsletter, so feel free to be totally honest.
-Kelly Jensen @veronikellymars