Happy Spring, lovers!
What's the weather like in your area? I'm down in the desert, and it's pretty much already summer here…which means by the time June rolls around…*shudder*
What's new in the romance world? Harlequin, for one.
---
This week's newsletter is sponsored by Hard Justice by Lori Foster.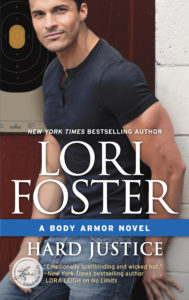 Justice Wallington knows how to harness his strength and intimidating size—skills he puts to good use as a bodyguard at the Body Armor agency. But no one has ever left him feeling as off balance as his new client, heiress Fallon Wade. It's a risk-free assignment, until he's required to fake a relationship with her… Fallon longs to experience life which isn't easy with Justice shadowing her every move. Despite their differences, pretending to be a couple stirs undeniable heat. And when danger strikes again, it's not just her safety in jeopardy, but a passion that's real, raw and absolutely against the rules…
---
First, Harlequin announced that a new imprint would be rolling out soon, and not the one you know about: Hanover Square Press, an adult fiction, general nonfiction, memoir, etc. imprint, was created, I guess, to attract non-Romance readers. Why did Harlequin decide they needed to expand their brand (and their image)? Your guess is as good as mine.
What else has Harlequin done? They had already announced that their sexy contemporary line, Blaze, would be discontinued. Then, they announced that they were starting a new line, DARE (not to be confused with the drug prevention program). This line would include hot, daring, contemporary stories with "eyebrow raising sex". Amanda Diehl and I are both confused as to what this would actually mean. Is this their drive to bring readers of more sexually adventurous or darker romance into the Harlequin fold? We don't know, but it could be promising. More in 2018, I guess.
And of course, the Romance Writers of America's RITA nominations were announced this week! And oh man, do I have some reading to do! How about you?
Over on Book Riot, nod along with guest author Natalya Muncuff as she declares her love for romance. It's all about love, baby.
Since it's Women's History Month, let's talk about some awesome historical women whose stories are out (or will be out soon):
An Extraordinary Union, Alyssa Cole (Out March 28 THAT'S NEXT WEEK!!!)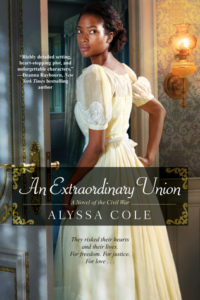 I have been bouncing with excitement for the chance to talk more about this book now that it will be out soon. If you haven't pre-ordered it yet, get on it! You'll want to devour it immediately, I promise. This book has gotten a lot of press in the romance universe, and for good reason: this is a Civil War romance that defies the boundaries of Civil War romance, while still grasping upon the realities of history and giving us an untold story. With kissing.
And spies.
SPIES.
This is a CIVIL WAR SPY ROMANCE.
The heroine, Elle, has an eidetic memory, which makes her the perfect candidate to go deep, deep, undercover, posing as an enslaved woman in the household of a Confederate senator. She's working with Malcolm, one of Pinkerton's men, to discover any plans around a plot to sideline the Union in Richmond. The pair share a striking, soulful chemistry, and their banter is fantastic. If you've read any Alyssa Cole, you know what I'm talking about. If not, this will make an extraordinary introduction to her talents.
See what I did there? Heh.
Chasing Moonlight, Raven St. Pierre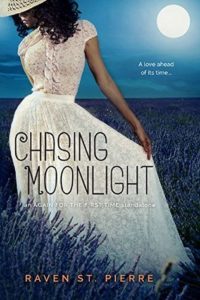 This was…an intense experience. Set in 1941 Alabama, this book is not a sugarcoated interracial romance. Where Cole's book is full of snark and humor, this one is much more earnest in its execution. Quinn, "the help" for a town reverend and his family, first meets Jesse when he comes to pick up the reverend's daughter for a date. The two are drawn to each other, even though they both know that even speaking to each other is dangerous. As the two form a tenuous relationship involving roadside walks at dusk and meetings in abandoned churches, we see the effects of Jim Crow in the daily workings of life. All is not lost, in the end, but some serious sacrifices have to be made for Jesse and Quinn to reach their happy ending. The third in the Again for the First Time series, it can be read as a standalone, but you're going to be curious about the other two books when you're done.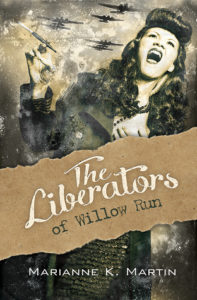 I'm currently working my way through The Liberators of Willow Run and it is fascinating. We're all familiar with the image of Rosie the Riveter, but what do we really know about the bomber factories putting together giant planes using an adapted version of Mr. Ford's assembly line? At the Willow Run factory in Detroit, Audrey and her fellow crewmates build B-24 bombers, working faster and faster every day to improve their record. We'll see what happens between her and Ruth, a young woman whose parents left her at a home meant to restore her moral fiber. Or something. Liberators has been nominated for a Lambda Literary Award for lesbian romance, so fingers crossed I make it through.
As an aside, for your Women's History Month pleasure, here's the newest, super awesome digital collection at the Library of Congress. 
And as usual, a few books to keep an eye out for between now and when we chat again.
Insight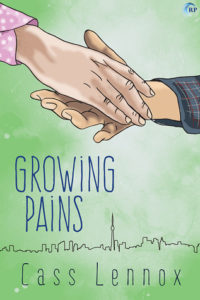 , Santino Hassell
Growing Pains, Cass Lennox
Hot On Ice: A Hockey Romance Anthology

No One But You, Catherine Maiorisi
Hard Justice, Lori Foster
Strays, Garrett Leigh (March 27)
Dirty Filthy Rich Men, Laurelin Paige (March 27)
Forever Mine, Erin Nicholas (March 28)
Catch me on Twitter @jessisreading or Instagram @jess_is_reading, or send me an email at jessica@riotnewmedia.com if you've got feedback or just want to say hi!
Until next time, m'loves!