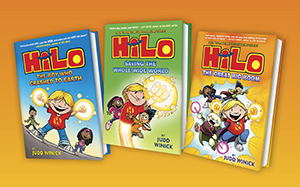 Blast off with HiLo in Judd Winnick's New York Times bestselling graphic novel series!
HiLo doesn't know where he came from or what he's doing on Earth. (Or why going to school in only your underwear is a BAD idea!) . . . But with the help of new friends D.J. and Gina, he's found his way into a whole lot of hilarious trouble.
Will be there be danger? YES? Will there be surprises? OF COURSE! Can Hilo survive a day at school? WE SURE HOPE SO!
Find out in Hilo Book 3: The Great Big Boom, on sale now!