E.L. James in Talks for 50 Shades Musical
Fifty Shades of Grey is one of the best-selling books, well, ever, and also a successful set of movies. Fans can now also look forward to a musical? E.L. James has confirmed that she's in talks with theater folks to put her work on Broadway. If a thing can be adapted to the screen I see no reason it can't also be put on the stage, but…songs? The snarkier corners of the internet is going to have so much fun coming up with song titles/lyrics.
President Obama on What Books Mean to Him
As we transition out of the era of literate presidents, I found solace in this interview with Obama, done by the New York Times chief book critic Michiko Kakutani, about what books mean to him. He isn't just talking about his favorite works of fiction, which is what most interviews about his bookishness focus on–he also discusses how literature impacted his work as a community organizer, and his life as a writer. I'm looking forward to his (hopefully soon, hopefully upcoming) memoirs.
Is Elizabeth Bennet the Original Manic Pixie Dream Girl?
A manic pixie dream girl is a trope most often used in film: she's a quirky, lovable female character with no inner life of her own, and only there to amuse the male main character and provide a means for his personal growth (think Penny Lane in Almost Famous). This piece does an interesting thought experiment: was Jane Austen's Elizabeth Bennet the original MPDG? The answer is, of course, no: Elizabeth isn't written by a man, she has a rich inner life of her own, and Darcy provides her means for growth as much as the other way around. But it's always fun (in an unbearably nerdy way) to re-examine our favorite characters through new, modern lenses.
---
Thanks to Once We Were Sisters by Sheila Kohler for sponsoring this week's newsletter.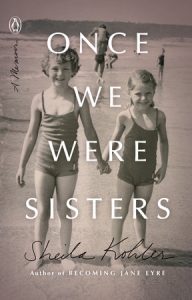 A stunningly beautiful, heartrending literary memoir about the tragic death of the author's beloved older sister and a tribute to their bond. When Sheila Kohler was thirty-seven, she received the heart-stopping news that her sister Maxine was killed when her husband drove them off a deserted road in Johannesburg. Stunned by the news, she immediately flew in, determined to find answers and forced to reckon with the lingering effects of their unusual childhood. In her signature spare and incisive prose, Kohler evokes the bond between sisters and shows how that bond changes but never breaks, even after death.