Happy New Year, YA readers!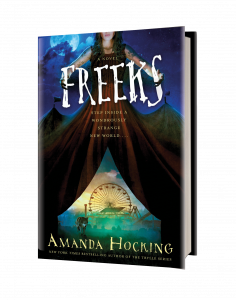 This Week's "What's Up in YA?" newsletter is sponsored by Freeks by Amanda Hocking.
Mara is used to the extraordinary. Roaming from place to place with Gideon Davorin's Traveling Carnival, she longs for an ordinary life where no one has the ability to levitate or predict the future. She gets her chance when the struggling sideshow sets up camp in a small town, where she meets a gorgeous guy named Gabe. But then Mara realizes there's a dark presence in the town that's threatening her friends. She has seven days to take control of a power she didn't know she had in order to save everyone she cares about—and change the future forever.
As you sweep up the last of the party glitter and prepare yourself for the fresh year ahead, are you thinking about how your year in reading will stack up? I know I am.
But rather than ramble on about the books I'm eager to dig into this year, I wanted to do something a little different with this week's newsletter. I reached out to a handful of YA authors in the final weeks of 2016 and asked them to share a couple of the books they're most excited about in the new year and why they're excited for them. It's an excellent round-up of titles, and it made me add a ton of things to my own TBR. I've linked to the author's websites who've shared their picks, too, so you can check out their respective books (& you should!).
And just for giggles, I've left in some of the additional comments the authors included when they realized that their title of choice had been picked by someone else.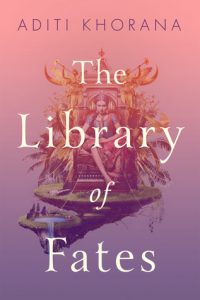 The Library of Fates (July 18)
Aditi Khorana's sophomore effort is a rich, lush quest story steeped in Indian mythology and involves one of my all-time favorite things — a library! Fugitive princess Amrita and former slave Thala must work together on their mission to find the library, and let's just say it's going to be a wild ride.
Beasts Made of Night (Fall 2017, no cover yet!)
When I saw the Publisher's Weekly blurb on this fall 2017 debut by Tochi Onyebuchi, it was one of those must-read-now moments. It's a Nigerian-inspired fantasy about a young man who's a sin-eater in a world where you can be expunged of your sins — for a cost. With such dark themes in play, this is one is bound to be amazing.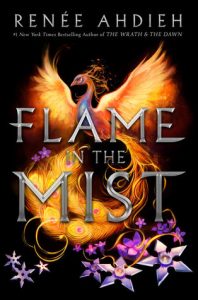 Flame In The Mist by Renee Ahdieh(May 16)
Renee Ahdieh spins magic with her words and creates lush and decadent retellings, and I'm thrilled for this Mulan inspired book set in Japan. I'm a sucker for smart, kickass heroines, and I know her main character Mariko will not disappoint.
Dear Martin by Nic Stone (October 17, no cover yet!)
Nic Stone's debut about a black boy caught in the crosshairs of police violence and his letters to Martin Luther King Jr as he tries to process the experience are ripe for heartache. I'm looking forward to this novel because it exposes the racist underbelly of American society and forces teens to grapple with it, so that they can be the change we need in the rocky years ahead.
You Bring The Distant Near by Mitali Perkins (September 12)
Three generations of friendship, sisterhood and shared – and learned – culture make this YA novel sound like the kind of family epic equally enjoyed by teen and older readers alike.Perkins' books for younger readers are the kind of complex, nuanced stuff that makes readers think; I'm looking forward to seeing what she has to offer YA next year.
When Dimple Met Rishi by Sandhya Menon (May 30)
A romantic comedy of an arranged marriage… there's just so much potential and so much of my personal catnip even in the description. This sounds like the best kind of emotionally engaging, hopeful, and ebullient love story I'd love to read after a hard 2016.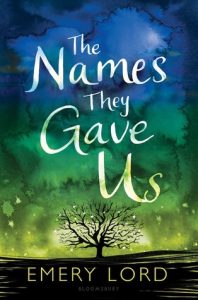 Always and Forever, Lara Jean by Jenny Han (May 2)
This whole series was an unexpected pleasure for me. I read the first book in a single setting, then downloaded the second immediately and stayed up way too late reading. So when Jenny announced a third book, I was ridiculously excited.
The Names They Gave Us by Emery Lord (May 16)
I feel like Emery just keeps getting better and better. I cried on a train to Washington DC as I read When We Collided, and as she shared a little about her next project, I couldn't wait. I still can't!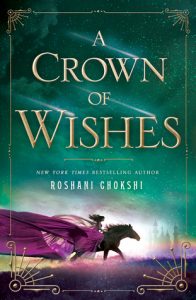 Here We Are: Feminism For The Real World ed by Kelly Jensen (January 24, note that I didn't pay her to pick this!)
I've been excited for this collection since I heard about it, because of the unique, scrap-book style and amazing array of voices–it reminds me already of a new This Bridge Called My Back, one of my all time favorite feminist anthologies.
A Crown of Wishes by Roshani Chokshi (March 28)
I loved Roshani's debut for its lush language and vibrant world, and the companion novel promises to be full of the same! Plus sworn enemies, prisoners of war, romance, and new mythological characters.
(SONA TOOK LIBRARY OF FATES FROM MEEEEEE)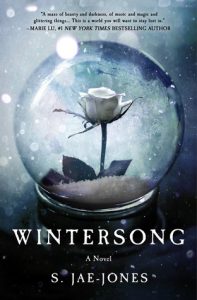 The Seafarer's Kiss by Julia Ember (May, no cover yet) is a nordic, f/f retelling of The Little Mermaid. An adventure story of longing and treachery, this lovely, brutal fantasy pulled me under dark tides and left me breathless.
Wintersong by S. Jae Jones (February 7) is a mythical, luscious fantasy with a bipolar main character. Inspired by Labyrinth (and with shades of the Persephone myth), this darkly beautiful tale of wintry woods, hedonistic feasts, and cascading music will steal your heart away.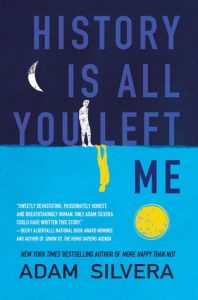 The Hate U Give by Angie Thomas (February 28)
Angie has been a powerful voice online and that, coupled with the the teaser I read earlier this year have made this the book I'm most anticipating in 2017. Starr feels like the kind of heroine we all need right now.
History Is All You Left Me by Adam Silvera (January 17)
Adam wrecked me with MORE HAPPY THAN NOT, and his follow-up seems like it's going to break my heart all over again in all the best ways. I can't wait!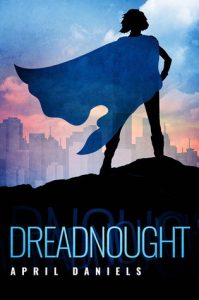 I am really, really looking forward to Windwitch by Susan Dennard (January 3). And yes, it comes out the day after this article is posted, but I am still tremendously excited. Dennard's world-building and politics work for me on every level, and the magic system is great. I can't wait to see what her characters get up to next.
(DARN IT, SOMEONE BEAT ME TO WHEN DIMPLE MET RISHI)
Dreadnought by April Daniels (January 24) is a superhero book with a trans teen girl as the main character, and I am SO VERY HERE FOR THAT. Genre fiction is my favourite, and I am so, so, so pleased that writers are cracking it open and making it what it should be.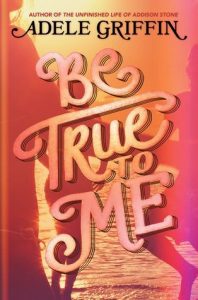 Be True To Me by Adele Griffin (June 13)
I've been panting for a new one from Griffin since The Unfinished Life of Addison Stone and no one does the nuances of the human psyche like she does. A complicated love story set in 1976, releasing just in time for beach season? Sold!
Lois Lane: Triple Threat by Gwenda Bond (May 1)
Because what the world needs now is kick-ass female protagonists and Bond does her subject justice. She infuses a familiar character with literary style and substance. When I'm done with this one, I'm saving it for my daughter.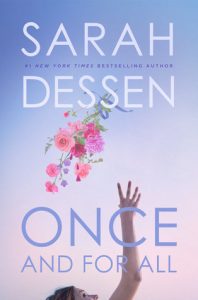 Once and For All by Sarah Dessen (June 6)
I love tales of self-discovery sprinkled with the possibility of romance after heartbreak, and I have no doubt that Dessen's latest novel will deliver the soaring moments and emotional punches that her books—and real life—are known for. This one is set in the world of wedding planning, so I also anticipate delicious food-and-party details, which are the icing on the cake.
Wonder Woman: Warbringer by Leigh Bardugo (August 29)
Iconic female superhero and mortal girl team up to fight darkness in the world? And you say Leigh Bardugo is going to tell me this story? I am IN. I'll use this one as a guide for how to stand up to injustice in 2017.
Hopefully, you found a book or two or ten that pique your interest. Curl up with a great read and we'll see you again next week!