Hello YA Fans!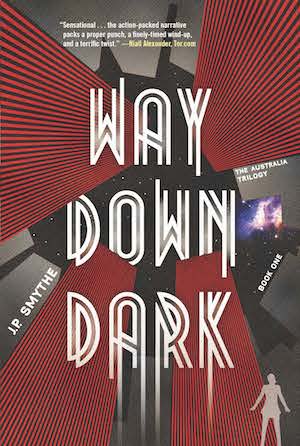 This week's edition of "This Week in YA" is sponsored by Way Down Dark.
Seventeen-year-old Chan's ancestors left a dying Earth hundreds of years ago, in search of a new home. Generations later, they are still searching . . . Every day aboard the interstellar ship Australia is hell, where no one is safe. The Australia is filled with murderous gangs and twisted cults, vying for supremacy. Fierce and self-sufficient, Chan has learned to avoid the mayhem but then she makes an extraordinary discovery–there may be a way to return to Earth. But doing so will bring her to the attention of the murderers and fanatics, putting her and everyone she loves in danger.
Let's take a look at the last few weeks in YA news, since there's been quite a bit worth sharing or thinking about:
First, the latest Book Mail box is up and available in the Book Riot Store. This is the YA edition, curated by your newsletter writer, and the theme for this box is Strange and Peculiar. There are two hardcover books, as well as three great bookish goodies — two of which are exclusive to this box.

Check it out

.
I've seen this same headline used in about eighteen other outlets and I find it a little annoying each time. That said, there have been some badass interviews lately with Ransom Riggs and Tahereh Mafi.

This is a particularly good one

.
I'm so glad to see the publication date for

The Hate U Give

got moved up,

especially after reading this excerpt

. One of my most anticipated 2017 reads, and I suspect I am not alone in that.
And a few links from Book Riot on YA:
Though there will be no edition of "What's Up in YA?" on Halloween, I couldn't end this one without talking about how great YA horror is. If you're itching for a title or two, may I suggest trying out any of these 65 great YA horror reads by women?
Thanks for hanging out for another round of YA news and talk. We'll be back in early November with more. Until then, grab yourself some candles, flashlights, blankets, and some spine-tingling reads.
Or, you know, whatever it is you want to spend your last days of October curling up with.