Big Books in Busy Fall Publishing Season
It's the biggest time of year in books. Most of the book-buying happens in the fall, and there are always major titles coming out in anticipation of holiday buying. Many media outlets are rounding up their picks, so I've gathered a few of them here for your perusal. A round-up of round-ups, if you will.
The Wall Street Journal's Books Every Geek Should Read This Fall
Amazon's Big Fall Books Preview
The Huffington Post's 20 Books You Need on Your Shelf This Fall
BuzzFeed's What Book Should You Read This Fall? Quiz
Entertainment Weekly's 55 Books to Read This Fall
You might also be interested in the Fall Books episode of our own All the Books! podcast.
What Will Obama Write?
President Obama is already of course a best-selling writer, but it seems that his most interesting days as an author will likely come after he leaves the White House. Apparently, President Obama still has one book left on his existing contract with Crown (an imprint of Penguin Random House), though that contract was from before he was elected, and it seems unlikely that those terms will be met (either ripped up, re-negotiated, or otherwise altered to reflect his enormous sales potential). But the most intriguing detail here is that President Obama has always wanted to write a novel. Books by former presidents are nothing new, but a literary novel by one is news indeed. Here's keeping our fingers crossed.
Alabama Willing to Put People in Jail for Library Fines
Under funding pressure, the Athens-Limestone Public Library in Athens, Alabama will begin enforcing an ordinance in which patrons who "fail or refuse to return" library materials are subject to up to $100 in fines and/or up to 30-days in jail. 
The library reports that it has over $200,000 in overdue library materials outstanding and that it would much rather receive the overdue materials than enforce the ordinance. The ALPL's move runs counter to many recent amnesty efforts from some public libraries to combat the same problem.
---
Thanks to Still a Work in Progress by Jo Knowles for sponsoring This Week in Books.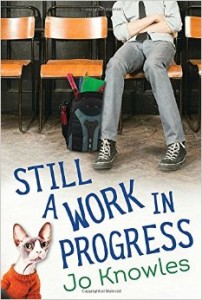 In a return to middle-grade fiction, master of perspectives Jo Knowles depicts a younger sibling struggling to maintain his everyday life when his older sister is in crisis.
Noah is just trying to make it through seventh grade. The girls are confusing, the homework is boring, and even his friends are starting to bug him. Not to mention that his older sister, Emma, has been acting pretty strange, even though Noah thought she'd been doing better ever since the Thing They Don't Talk About. The only place he really feels at peace is in art class, with a block of clay in his hands. As it becomes clear through Emma's ever-stricter food rules and regulations that she's not really doing better at all, the normal seventh-grade year Noah was hoping for begins to seem pretty unattainable. In an affecting and realistic novel with bright spots of humor, Jo Knowles captures the complexities of navigating middle school while feeling helpless in the face of a family crisis.