Welcome to September, YA fans!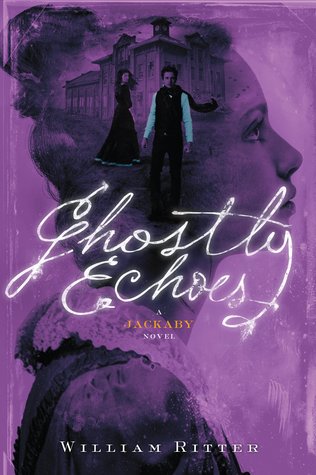 This week's newsletter is sponsored by Ghostly Echoes by William Ritter.
In the third volume of the highly addictive New York Times bestselling Jackaby series, Jenny Cavanaugh, the ghostly lady of 926 Augur Lane, has enlisted the services of her fellow residents  to solve a decade-old murder—her own. Abigail Rook and her eccentric employer, R. F. Jackaby, dive into the cold case, starting with a search for Jenny's fiancé, who went missing the night she died. EW.com calls the series "fast-paced and full of intrigue." It's "Sherlock Holmes crossed with Buffy the Vampire Slayer," says the Chicago Tribune.
As you're reading this, your newsletter writer is deep in the desert, soaking in the last few weeks of summer….and uninterrupted reading time. That means this week's newsletter is dedicated to catching up on the links of interest. Dig in!
First: did you know that we have

a new YA-based tote bag in the Book Riot Store

? This rad tote, with a quote from Nova Ren Suma's

The Walls Around Us

was created for the first YA Book Mail Box, but we decided we'd put it in the store, too. Check it out and snag one. If you're curious, it's very big and has a nice pocket inside — it's perfect for toting your library or bookstore hauls, some notebooks, pens, your phone, and other goods.
In Italy, their young adults are getting nearly $600 to spend on books.

This is awesome

.
Malorie Blackman's

Naughts and Crosses

is

being adapted by the BBC

. This is a huge deal for UK YA — Blackman has a massive and devoted following. (It's always fascinating to me to see how different the reception is in the UK or in Australia as opposed to the US and vice versa!).
There are

two more books

slated for the wildly popular "Ember in the Ashes" series.  
There are more questions to be asked about this than answers to be had, so stay with me here. There is a proposal — not a written book yet — for the YA audience about The Donner Party which has already had its rights snapped for film? And it's from Paper Lantern Lit (in basic terms, a book packager like Alloy that comes up with ideas and hires writers for them…think going for "Pretty Little Liars" type popularity and ubiquity). I don't know how I feel about such a tragic, horrifying event being…commodified like that? And it's not even a book yet! But the movie rights have been sold? "The Hunger?"

Like I said, questions

.  
And because we've had a lot of YA writing over on Book Riot recently, let's catch up with it:
May your books be fantastic and your end-of-summer delightful. We'll be back with another installment of "What's Up in YA?" in two weeks!