Amazon Bringing Physical Bookstore to the Big Apple
To this point, Amazon's handful of physical bookstores have been limited to the West Coast (California, Washington, and Oregon), but that is set to change by the end of next year. Amazon is opening a store in the heart of U.S. publishing: New York City. The store will be part of the Hudson Yards development in Manhattan, but not much else is known about it yet. One thing is for sure: expect to hear a lot of noise about this when it finally does open. The twist here is that physical bookstores are doing well enough and are valuable enough that Amazon is now fully in the game. Be careful what you wish for, eh?
The Curious Case of Gay Talese's New Book
Gay Talese wrote an amazing magazine article about a voyeur who for decades spied on the customers of his hotel. The dynamite story now forms the center of a whole book, with just one little problem: it's unclear what, if any of it, is true. Real estate records show that the owner didn't actually own the hotel in all the years he said he did, and other discrepancies are now coming to light. And after initially disavowing the book after these revelations, Talese is now un-disavowing it. Every few years we get a reminder that most publishers don't fact check most non-fiction books, and every few years we get these sort of disastrous messes.
Neil Gaiman's New Book
In what sounds like a match made in Valhalla, Neil Gaiman's next book will be a spin on Norse mythology. Gaiman was approached by Norton to do the book (give someone a raise for sheer pluck over there), and it will come out in early 2017. The exact nature of the book is a little sketchy: "an almost novelistic retelling of famous myths about the gods of Asgard." I am not exactly sure how a book is almost something that has qualities of a novel, but I guess we are going to find out.
Hero of the Week
Tyler Fugett of Clarksville, Tennessee decided to spend his summer allowance buying books for a local prison. He got the idea after seeing his stepfather in and out of jail, and as of this writing has bought more than 100 books to donate. He is nine years old.
---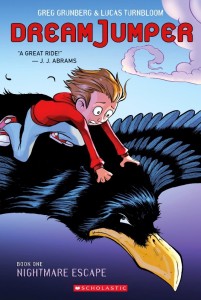 This Week in Books is sponsored today by Dreamjumper by Greg Grunberg and Lucas Turnbloom.
Ben's dreams are all nightmares . . . And his nightmares are real!  He can also jump into other people's dreams. So when his friends start falling victim to an evil dream-monster that prevents them from waking, Ben knows he has to help them. With help from a talking rabbit-companion who has a mysterious past, Ben might just be able to defeat the monster and save his friends . . . if he can figure out how to harness the power within him against his enemies. 
Find out more and start reading Dreamjumper here.