It's that time again: Fresh! Hot! Books! Tuesdays are my favorite days. I've highlighted a few of the week's best below, and on this week's episode of the All the Books! Rebecca and I talked about more great books, such as Chronicle of a Last Summer, All the Missing Girls, and We Could Be Beautiful.
This week's newsletter is sponsored by Fight Club 2 by Chuck Palahniuk and Cameron Stewart.
Some imaginary friends never go away . . .
Ten years after starting Project Mayhem, he lives a mundane life. A kid, a wife. Pills to keep his destiny at bay. But it won't last long—the wife has seen to that. He's back where he started, but this go-round he's got more at stake than his own life. The time has arrived . . . Collects issues #1–#10 of the series.
"Cameron Stewart and Chuck Palahniuk are working some twisted magic."—SCOTT SNYDER
"The book is fantastic, my highest recommendation."—BRIAN MICHAEL BENDIS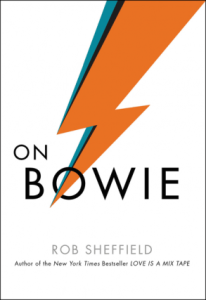 On Bowie by Rob Sheffield
There was no way I wasn't going to read this book! The death of David Bowie shocked and saddened the world, but his legacy will love on long after we're gone. Sheffield, one of the most respected music critics of our time, examines Bowie's catalog of work in a series of essays written in Sheffield's characteristic cultural astuteness. He explains why Bowie was so important to the world and his influences on music and culture, and why it's okay to be sad that he's gone. Because we sure are sad.
Backlist bump: Talking to Girls About Duran Duran: One Young Man's Quest for True Love and a Cooler Haircut by Rob Sheffield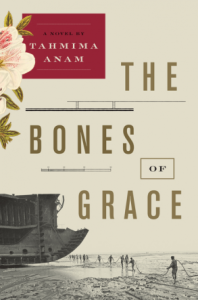 The Bones of Grace by Tahmima Anam
Zubaida is a student in Cambridge when she falls for Elijah, but the stars are not aligned for the star-crossed lovers, and she returns to her country to follow her family's plans for her future. Disheartened and stifled by her decision, she moves to the beaches of Chittagong to work on a documentary and seek the remains of "the walking whale." The Bones of Grace is a deeply moving novel of love, immigration, and loss, moving from Boston to India and back again, that will sweep you away with its beautiful language and sad, lovely story.
Backlist bump: A Golden Age by Tahmima Anam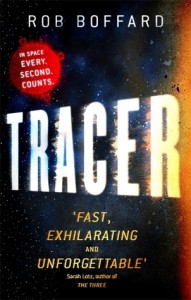 Tracer by Rob Boffard
It's the future, and what is left of the now-uninhabitable Earth is orbiting the planet inside a rundown space station. If mankind doesn't find a new place to live soon, it's lacy, gently wafting curtains for everyone. And as if the pressure of extinction isn't enough, there's also a villain aboard the space station with destruction on his mind. It's up to Riley Hale to stop the chaos on the ship before it's too late! I love this books tagline: "In space, every second counts. Who said nobody could hear you scream?"
Backlist bump: Lightless by C.A. Higgins (out in paperback July 26, but sooooooo worth it in hardcover.)
YAY, BOOKS! That's it for me. If you want to learn more about books (and see lots of pictures of my cats), or tell me about books you're reading, you can find me on Twitter at MissLiberty, on Instagram at FranzenComesAlive, or Litsy under 'Liberty'!
Stay rad!
Liberty