New book time, ring-ring! It is absolutely gorgeous here in the 207, and I hope you're enjoying some lovely early summer reading weather as well. BECAUSE WHOOOOOO NEW BOOKS! I've highlighted a few of the week's best below, and on this week's episode of the All the Books! Rebecca and I talked about our favorite books of 2016 (so far), such as Queen of the Night and Your Heart Is a Muscle the Size of a Fist.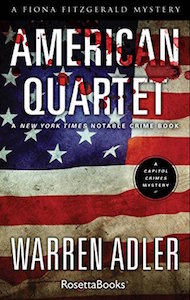 This week's newsletter is sponsored by the Fiona Fitzgerald Mystery Series by Warren Adler.
The Fiona Fitzgerald Mystery Series follows Detective Fiona Fitzgerald, an unlikely force for justice in Washington, D.C.'s predominantly male police force. As a Senator's daughter and top investigator in the homicide division of the Metropolitan Police Department, Fiona maneuvers between two vastly different worlds, moving quickly from opulent State galas to gritty crime scenes. Born into the elite social circles of the nation's capitol, and armed with intimate knowledge of the true face of the political establishment, Fiona is determined to expose the chicanery concealed within the highest echelons of the American political aristocracy.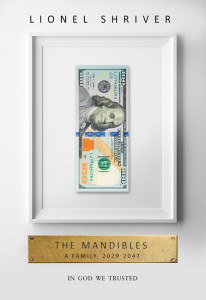 The Mandibles: A Family, 2029-2047 by Lionel Shriver
Shriver (We Need to Talk About Kevin) is back with a fantastic near-future novel about the effects of an economic collapse on four generations of a once-prosperous family. The Mandibles have always relied on the sizable family fortune, but when the U.S. engages in a bloodless war that wipes out the nation's finances, they must scramble to make ends meet, igniting old rivalries and jealousies.
Backlist bump: The Post-Birthday World by Lionel Shriver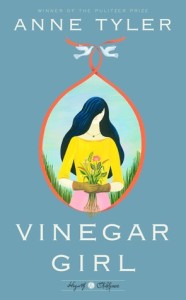 Vinegar Girl by Anne Tyler
Hogarth's Shakespeare series continues with Tyler's reboot of The Taming of the Shrew: Dr. Battista's assistant, Pyotr, is about to be deported, so the doctor comes up with a hairbrained scheme to keep him in the country. But that scheme involve's Kate, the doctor's stubborn, antisocial daughter. Kate feels she already has her hands full running the doctor's household and playing second fiddle to her younger, prettier sister, Bunny. Will the doctor's plan to bring love and work together succeed? I love Tyler soooo much, and was dismayed when Tyler announced she was done writing fiction after her last novel, but then she turned around and wrote this, which is so exciting! YOU'RE PLAYING WITH MY HEART, ANNE.
Backlist bump: The Gap of Time by Jeanette Winterson
White Trash: The 400-Year Untold History of Class in America by Nancy Isenberg
"Waste people." "Offals." "Rubbish." "Lazy lubbers." "Crackers." These are some of the names given to the poor in America spanning from colonial times to the present day, where the term "white trash" has taken over. Isenberg offers a fascinating, detailed examination of class system in America, and how class issues involving poor people have played a part in shaping America and historical events for the past four hundred years, from the earliest British colonial settlement to Here Comes Honey Boo Boo and Duck Dynasty.
Backlist bump: Fallen Founder: The Life of Aaron Burr by Nancy Isenberg
YAY, BOOKS! That's it for me. If you want to learn more about books (and see lots of pictures of my cats), or tell me about books you're reading, you can find me on Twitter at MissLiberty, on Instagram at FranzenComesAlive, or Litsy under 'Liberty'! (OMG I am OBSESSED with Litsy.)
Stay rad!
Liberty