The long weekend is over – luckily there are lots of wonderful books out today to help you cope. On this week's episode of the All the Books! Rebecca and I talked about some great new releases, such as The Hour of Land, Before the Fall, and Modern Lovers. I have a few more great titles for you below, and as always, you can find a big list in the All the Books! show notes. Okay – let's do this!
This week's newsletter is sponsored by Penguin Random House and Room & Board, who have partnered to offer one lucky book lover the prize of their dreams: modern furniture to create a reading nook and a library of books in their favorite genres to stock it!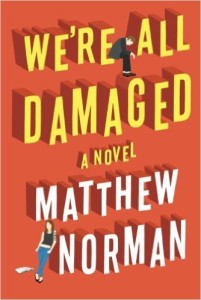 We're All Damaged by Matthew Norman
I am so excited for this book, because I am a HUGE fan of Domestic Violets, and I think Matthew Norman is one of the funniest writers out there. His new novel is the story of a man named Andy, who is flailing around in his life after his wife leaves him, he loses his job, and he relocates to NYC, where he leads a sad, drunken existence. A trip back home to visit his dying grandfather in Omaha puts a new path in front of him – but can Andy pull himself together enough to follow it? A funny and touching story about family and hopes and dreams.
Backlist bump: Domestic Violets by Matthew Norman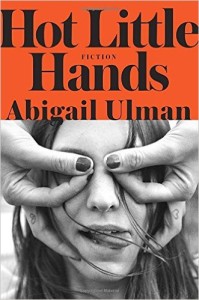 Hot Little Hands by Abigail Ulman
I love this collection! Nine connected stories comprise this smart, darkly funny book about contemporary young women. A Russian teen gymnast travels to America; two high schoolers go back to sleepaway camp; a young woman moves from London to San Francisco to start what she thinks will be her adult life; and more. Each story is about the impatient wish of these young women for their grown lives to start and the struggles they have dealing with that responsibility. Ulman's writing is concise and heartbreaking.
Backlist bump: Blueprints for Building Better Girls by Elissa Schappell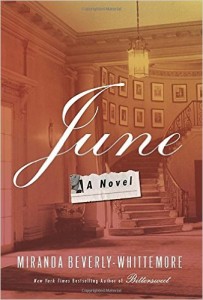 June by Miranda Beverly-Whittemore
Secrets and murder and blackmail, oh my! Young Cassie Danvers is mourning the loss of her grandmother, June, when she learns she is heir to the vast fortune of a film star. How did her grandmother cross paths with the famous actor? And why did he leave Cassie all his money? When Jack's daughters come looking for answers, together with Cassie, they'll slowly uncover what happened on a fateful day sixty years before. June is a perfect blend of mystery and family drama.
Backlist bump: Bittersweet by Miranda Beverly-Whittemore
YAY, BOOKS! That's it for me. If you want to learn more about books (and see lots of pictures of my cats), or tell me about books you're reading, you can find me on Twitter at MissLiberty, on Instagram at FranzenComesAlive, or Litsy under 'Liberty'! (OMG I am OBSESSED with Litsy.)
Stay rad!
Liberty