Hey, readers! I know it's only Thursday, but I couldn't wait to tell you about a few books I saw at Book Expo America 2016! Because despite a bus trip that I was sure would be the end of me, I survived to tell the tales.
If you're not familiar with BEA, it is North America's largest book convention. This year it was in Chicago at McCormick Place. I had never been to Chicago before – what a beautiful city! In addition to BEA, I visited the Art Institute of Chicago to see a Francis Bacon painting (I LOVE HIM), went to a party at the top of the Hancock Center, bought tons of books at Unabridged Bookstore, and ate basically every meal at an adorable place next to my hotel called Sunny Side Up.
Now, about the books. SO MANY AMAZING BOOKS! At BEA publishers pitch their upcoming titles and recent releases. Here are several of the books I picked up that I am the most excited about.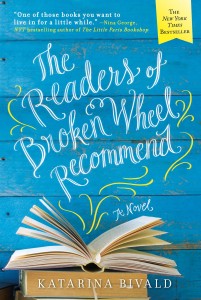 This special edition newsletter is sponsored by The Readers of Broken Wheel Recommend by Katarina Bivald.
Broken Wheel, Iowa has never seen anyone like Sara, who traveled all the way from Sweden just to meet her book-loving pen pal. When she arrives, however, she finds Amy's funeral guests just leaving. The residents of Broken Wheel are happy to look after their bewildered visitor—not much else to do in a small town that's almost beyond repair. They just never imagined that she'd start a bookstore. Or that books could bring them together—and change everything.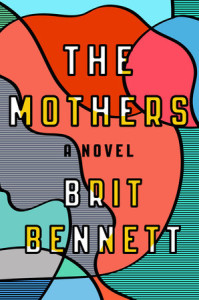 The Mothers by Brit Bennett: This was THE buzz book at BEA, a debut about a young woman who, reeling from her mother's suicide, has a teen romance with a former high school football star, becomes pregnant, and must deal with the resulting consequences.
Reel by Tobias Carroll: There are few people I know who champion indie press books more than Carroll, so I am delighted to see him getting his turn! And his publisher is Rare Bird Books, a new indie press I am hella-excited about. (You want to read Vow of Celibacy when it comes out.)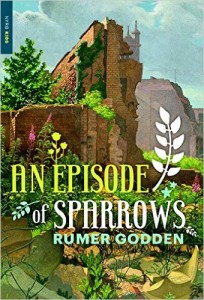 An Episode of Sparrows by Rumer Godden: NYRB Classics just released a new edition of this children's classic from prolific author Godden, about the mystery surrounding dirt disappearing from the garden.
Umami by Laia Jufresa (Author), Sophie Hughes (Translator): This blurb was all I needed to pick this up: "Ms. Jufresa: Where the f*#! did you learn to tell a story so well?" — Álvaro Enrigue, award-winning author of Sudden Death
The Island by Olivia Levez: A troubled young girl on her way to an Outward Bound-style program as part of her juvenile detention sentence finds herself stranded in the Indian Ocean when the plane crashes. I hear it's brutal, but worth it.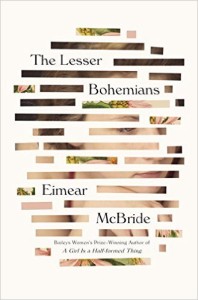 The Lesser Bohemians by Eimear McBride: This is McBride's follow-up to her jaw-dropping debut, A Girl is a Half-Formed Thing, about a teen who travels from London to Ireland to study drama and her relationship with an older actor.
All Our Wrong Todays by Elan Mastai: I am not going to remember this verbatim, but it was pitched to me as something like a time-travel novel that resulted from a conversation between Jonathan Tropper and Kurt Vonnegut in heaven. I couldn't grab it fast enough!
Sirens by Joshua Mohr: I am a huge fan of Mohr's books, most recently his last novel, All This Life (which just won the Northern California Book Award in Fiction). This is his memoir, out in the beginning of 2017 from the awesome Two Dollar Radio.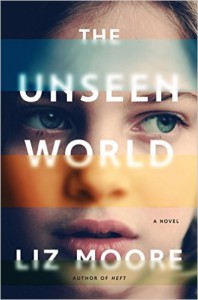 The Unseen World by Liz Moore: Moore's novel Heft is uh-may-zing (SERIOUSLY, READ IT), so I was eager to get my hands on her new one! It's about a young child prodigy who struggles to discover what her scientist father was working on before his mind failed.
Sleeping on Jupiter by Anuradha Roy: Longlisted for the Man Book International prize, it's about a seaside town in India where the citizens find their lives disrupted by the appearance of a young female documentary filmmaker.
Lincoln in the Bardo by George Saunders: Saunders has taken the structure of the novel as it is known, completely destroyed it, and rebuilt it to suit his brilliant beautiful mind. I am obsessed with this book – his first novel! – and will be talking about it a lot more in the months to come.
Vampire in Love by Enrique Vila-Matas (Author), Margaret Jull Costa (Translator): Collected for the first time in English, these are stories by the author called "arguably Spain's most significant contemporary literary figure." (Joanna Kavenna, The New Yorker). (Also, A++++ cover!)
Children of the New World: Stories by Alexander Weinstein: These stories, about living in an age of devices, were written by Weinstein after his students told him they would rather interact with people online than have face-to-face conversations.
The Underground Railroad by Colson Whitehead: You've heard me mention this a million times already, and I will mention it a million more, because this astounding novel of a slave's desperate escape should be required reading for everyone. I can't stop thinking about it.
Phew! I feel much better now that I've shared some of my incredible BEA finds. BOOKS ARE THE BEST. Now, if you'll excuse me, I have reading to do. I'll see you all next Tuesday (or sooner on Twitter or Litsy!) Happy reading!
Liberty