Hey YA readers! Let's talk YA books and ice cream.
"What's Up in YA?" is sponsored by Flatiron Books.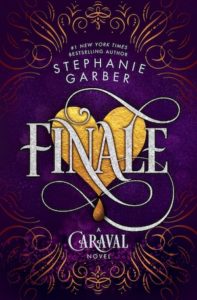 Welcome to Finale, the final book in Stephanie Garber's #1 New York Timesbestselling Caraval series! It's been two months since the Fates were freed from a deck of cards, two months since Legend claimed the throne for his own, and two months since Tella discovered the boy she fell in love with doesn't really exist. Tella must decide if she's going to trust Legend. After uncovering a secret, Scarlett will need to do the impossible. And Legend has a choice to make that will forever change him. Caraval is over, but perhaps the greatest game of all has begun.
---
It's Monday in the middle of July, and that means it's time to have a little fun. Did you know July is National Ice Cream Month in the USA? If you didn't know that, maybe you were aware that July 1 is Creative Ice Cream Flavors Day, July 7 is National Strawberry Sundae Day, July 17 is Peach Ice Cream Day, July 20 is National Ice Cream Soda Day, July 21 is National Ice Cream Day, or that July 23 is Vanilla Ice Cream Day.
Whatever one you celebrate — and kudos to you who celebrate all of them, as well as those of you with an intolerance for lactose who celebrate otherwise — let's honor this month of sweet treats with a look at some YA book covers that feature ice cream. These are fun, delicious, and indulgent in the best ways.
Since I've yet to read many of these, descriptions are from Amazon. By virtue of this being a look at book covers and thus being limited in scope (in scoop? heh), this is a pretty white list. Know of YA books with ice cream covers that feature people of color or are by authors of color? I'd love to know.
Caroline is counting the days until September, when she'll turn seventeen and she and her older boyfriend, Jake, will run away together. She doesn't feel connected to anyone at home now that she has him, and she can't wait to see the world with the most important person in her life. So with just a few more months until freedom, she spends her summer working at the local aquarium gift shop and dreaming of the fall.
Then she meets Georgia, a counselor at the aquarium's camp, and Caroline's world changes. Through pizza lunches, trips to amusement parks, and midnight talks, Georgia begins to show Caroline there's more to life than being with Jake.
The stronger Georgia and Caroline's bond grows, the more uneasy Caroline becomes about her plans to leave. When summer comes to a close, she'll have to say goodbye to someone…but who is she willing to lose?
Rosie Radeke firmly believes that happiness can be found at the bottom of a mixing bowl. But she never expected that she, a random nobody from East Liberty, Ohio, would be accepted to celebrity chef Denis Laurent's school in Paris, the most prestigious cooking program for teens in the entire world. Life in Paris, however, isn't all cream puffs and crepes. Faced with a challenging curriculum and a nightmare professor, Rosie begins to doubt her dishes.
Henry Yi grew up in his dad's restaurant in Chicago, and his lifelong love affair with food landed him a coveted spot in Chef Laurent's school. He quickly connects with Rosie, but academic pressure from home and his jealousy over Rosie's growing friendship with gorgeous bad-boy baker Bodie Tal makes Henry lash out and push his dream girl away.
Desperate to prove themselves, Rosie and Henry cook like never before while sparks fly between them. But as they reach their breaking points, they wonder whether they have what it takes to become real chefs.
Summer in Sand Lake isn't complete without a trip to Meade Creamery—the local ice cream stand founded in 1944 by Molly Meade who started making ice cream to cheer up her lovesick girlfriends while all the boys were away at war. Since then, the stand has been owned and managed exclusively by local girls, who inevitably become the best of friends. Seventeen-year-old Amelia and her best friend Cate have worked at the stand every summer for the past three years, and Amelia is "Head Girl" at the stand this summer. When Molly passes away before Amelia even has her first day in charge, Amelia isn't sure that stand can go on. That is, until Molly's grandnephew Grady arrives and asks Amelia to stay on to help continue the business…but Grady's got some changes in mind…
When a guy named Martin Nathaniel Munroe II texts you, it should be obvious who you're talking to. Except there's two of them (it's a long story), and Haley thinks she's talking to the one she doesn't hate.
A question about a class project rapidly evolves into an all-consuming conversation. Haley finds that Martin is actually willing to listen to her weird facts and unusual obsessions, and Martin feels like Haley is the first person to really see who he is. Haley and Martin might be too awkward to hang out in real life, but over text, they're becoming addicted to each other.
There's just one problem: Haley doesn't know who Martin is. And Martin doesn't know that Haley doesn't know. But they better figure it out fast before their meet-cute becomes an epic meet-disaster . . .
Rising high school senior Sadie is bracing herself for a long, lonely, and boring summer. But things take an unexpected turn when she steps in to help rescue a baby in distress and a video of her good deed goes viral.
Suddenly internet-famous, Sadie's summer changes for the better when she's introduced to other "hometown heroes." These five very different teens form an unlikely alliance to secretly right local wrongs, but when they try to help a heroin-using friend, they get in over their heads and discover that there might be truth in the saying "no good deed goes unpunished." Can Sadie and her new friends make it through the summer with their friendships–and anonymity–intact?
This rich and thought-provoking novel takes on timely issues and timeless experiences with a winning combination of romance, humor, and wisdom.
---
Thanks for hanging out, and we'll see you again later this week!
— Kelly Jensen, @veronikellymars on Instagram and editor of (Don't) Call Me Crazy and Here We Are.