Hey YA Readers! Let's talk books in translation.
"What's Up in YA?" is sponsored by Dragonshadow by Elle Katharine White.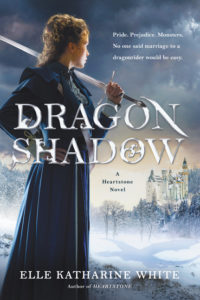 Pride. Prejudice. Monsters. No one said marriage to a dragon rider would be easy. Aliza and Alistair may have found their happy ending at the end of Heartstone, but the story is far from over. In Dragonshadow, the married couple once again finds themselves matching wits, charm, and swords as they are caught up in an epic battle, and author Elle Katharine White once again infuses elements of Jane Austen's beloved novels with her own brand of magic.
---
The number of books in translation in the US is astonishingly low. It hovers somewhere around 3.7 percent. The numbers are even more abysmal for young adult books in translation — it's a minuscule amount of that tiny percentage.
It makes so little sense why so little is in translation. Books published in the US sell across the world in translation, and because we live in a global society, we should be reading these books. More, it's further evidence that as many strides as have been made to diversify YA, there are still some gaping holes.
Finding and seeking out YA books in translation is no easy task, but I've found four titles hitting shelves in 2019 you'll want to know about.
Descriptions come from Goodreads, as I've not yet picked up any of these myself. Two are titles that either launch or continue a series, while two of them are standalone titles.
The Beast Player by Nahoko Uehashi, translated by Cathy Hirano (March 26, first in a series)
In epic YA fantasy about a girl with a special power to communicate with magical beasts and the warring kingdom only she can save.
Elin's family has an important responsibility: caring for the fearsome water serpents that form the core of their kingdom's army. So when some of the beasts mysteriously die, Elin's mother is sentenced to death as punishment. With her last breath she manages to send her daughter to safety.
Alone, far from home, Elin soon discovers that she can talk to both the terrifying water serpents and the majestic flying beasts that guard her queen. This skill gives her great powers, but it also involves her in deadly plots that could cost her life. Can she save herself and prevent her beloved beasts from being used as tools of war? Or is there no way of escaping the terrible battles to come?
I Remember Abbu by Humayun Azad, translated by Arunava Sinha (April 23)
I Remember Abbu offers a child's-eye view of the trauma and confusion of war, told in impressionistic style. In chapters alternating between the voice of a child and the diary entries of her beloved Abbu (father), we learn the history of Bangladesh's fight for independence through the experience of one family. When our young narrator's adoring Abbu heads off to fight, she keeps him close to her heart with beautiful reflections on their time together, never losing sight of him through his prolonged absence. But as the hardship and fear begin to take a toll on the family, Abbu's focus turns ever more toward the fragile political situation, and he must leave his daughter's side. In this beautiful story of family and freedom, love is the life force leading us home.
The Missing of Clairdelune by Christelle Dabos, translated by Hildegarde Serle (May 7)
Book Two in the Internationally Bestselling Mirror Visitor Quartet
When our heroine Ophelia is promoted to Vice-storyteller by Farouk, the ancestral Spirit of Pole, she finds herself unexpectedly thrust into the public spotlight and her special gift is revealed to all. Ophelia knows how to read the secret history of objects and there could be no greater threat to the nefarious denizens of her icy adopted home than this. Beneath the golden rafters of Pole's capitol, Citaceleste, she discovers that the only person she may be able to trust is Thorn, her enigmatic fiancé. As one after another influential courtier disappears, Ophelia again finds herself unintentionally implicated in an investigation that will lead her to see beyond Pole's many illusions to the heart of the formidable truth.
In Paris With You by Clémentine Beauvais, translated by Sam Taylor (January 8)
A runaway bestseller in France, Clémentine Beauvais's In Paris With You is a love story you won't soon forget.
Eugene and Tatiana had fallen in love that summer ten years ago. But certain events stopped them from getting to truly know each other and they separated never knowing what could have been.
But one busy morning on the Paris metro, Eugene and Tatiana meet again, no longer the same teenagers they once were.
What happened during that summer? Does meeting again now change everything? With their lives ahead of them, can Eugene and Tatiana find a way to be together after everything?
Written in gorgeous verse, In Paris With You celebrates the importance of first love. Funny and sometimes bittersweet this book has universal appeal for anyone who has been in love.