Hey YA fans: Time to preview even more upcoming titles!
"What's Up in YA?" is sponsored by Epic Reads.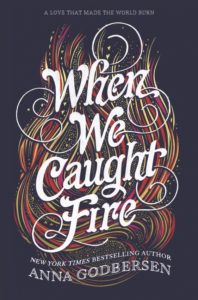 It's 1871, and Emmeline Carter is poised to take Chicago's high society by storm. Between her father's sudden rise to wealth and her recent engagement to Chicago's most eligible bachelor, Emmeline has it all. But she can't stop thinking about the life she left behind, including her childhood sweetheart, Anders Magnuson. Fiona Byrne, Emmeline's childhood best friend, is delighted by her friend's sudden rise to prominence, especially since it means Fiona is free to pursue Anders herself. But when Emmeline risks everything for one final fling with Anders, Fiona feels completely betrayed. As the summer turns to fall, the city is at a tipping point: friendships are tested, hearts are broken, and the tiniest spark might set everything ablaze.
---
Grab your TBR. Here are six more YA books — fiction and nonfiction — that will be hitting shelves in 2019 that you should get excited about right now. Descriptions have been pulled from Goodreads since I've not yet read all of these (but oh, let me tell you how excited I am!).
What all of these books have in common is that they feature rad-sounding female main characters/rad females from real history.
After unwittingly helping her mother poison King Louis XIV, seventeen-year-old alchemist Mirabelle Monvoisin is forced to see her mother's Shadow Society in a horrifying new light: they're not heroes of the people, as they've always claimed to be, but murderers. Herself included. Mira tries to ease her guilt by brewing helpful curatives, but her hunger tonics and headache remedies cannot right past wrongs or save the dissenters her mother vows to purge.
Royal bastard Josse de Bourbon is more kitchen boy than fils de France. But when the Shadow Society assassinates the Sun King and half the royal court, he must become the prince he was never meant to be in order to save his injured sisters and the petulant Dauphin. Forced to hide in the derelict sewers beneath the city, any hope of reclaiming Paris seems impossible—until Josse's path collides with Mirabelle's, and he finds a surprising ally in his sworn enemy.
She's a deadly poisoner. He's a bastard prince. Together, they form a tenuous pact to unite the commoners and former nobility against the Shadow Society. But can a rebellion built on mistrust ever hope to succeed?
"Tyrants cut out hearts. Rulers sacrifice their own."
Princess Hesina of Yan has always been eager to shirk the responsibilities of the crown, but when her beloved father is murdered, she's thrust into power, suddenly the queen of an unstable kingdom. Determined to find her father's killer, Hesina does something desperate: she engages the aid of a soothsayer—a treasonous act, punishable by death… because in Yan, magic was outlawed centuries ago.
Using the information illicitly provided by the sooth, and uncertain if she can trust even her family, Hesina turns to Akira—a brilliant and alluring investigator who's also a convicted criminal with secrets of his own. With the future of her kingdom at stake, can Hesina find justice for her father? Or will the cost be too high?
In this shimmering Chinese-inspired fantasy, debut author Joan He introduces a determined and vulnerable young heroine struggling to do right in a world brimming with deception.
The Revolution of Birdie Randolph by Brandy Colbert (August 20)
Dove "Birdie" Randolph works hard to be the perfect daughter and follow the path her parents have laid out for her: She quit playing her beloved soccer, she keeps her nose buried in textbooks, and she's on track to finish high school at the top of her class. But then Birdie falls hard for Booker, a sweet boy with a troubled past…whom she knows her parents will never approve of.
When her estranged aunt Carlene returns to Chicago and moves into the family's apartment above their hair salon, Birdie notices the tension building at home. Carlene is sweet, friendly, and open-minded–she's also spent decades in and out of treatment facilities for addiction. As Birdie becomes closer to both Booker and Carlene, she yearns to spread her wings. But when long-buried secrets rise to the surface, everything she's known to be true is turned upside down.
Fresh from med school, sixteen-year-old medical prodigy Saira arrives for her first day at her new job: treating children with cancer. She's always had to balance family and friendships with her celebrity as the Girl Genius—but she's never had to prove herself to skeptical adult co-workers while adjusting to real life-and-death stakes. And working in the same hospital as her mother certainly isn't making things any easier.
But life gets complicated when Saira finds herself falling in love with a patient: a cute teen boy who's been diagnosed with cancer. And when she risks her brand new career to try to improve his chances, it could cost her everything.
It turns out "heartbreak" is the one thing she still doesn't know how to treat.
In the early years of World War II, Josef Stalin issued an order that made the Soviet Union the first country in the world to allow female pilots to fly in combat. Led by Marina Raskova, these three regiments, including the 588th Night Bomber Regiment—nicknamed the "night witches"—faced intense pressure and obstacles both in the sky and on the ground. Some of these young women perished in flames. Many of them were in their teens when they went to war.
This is the story of Raskova's three regiments, women who enlisted and were deployed on the front lines of battle as navigators, pilots, and mechanics. It is the story of a thousand young women who wanted to take flight to defend their country, and the woman who brought them together in the sky.
Packed with black-and-white photographs, fascinating sidebars, and thoroughly researched details, A Thousand Sisters is the inspiring true story of a group of women who set out to change the world, and the sisterhood they formed even amid the destruction of war.
Watch Us Rise by Renée Watson and Ellen Hagan
Jasmine and Chelsea are sick of the way women are treated even at their progressive NYC high school, so they decide to start a Women's Rights Club. They post everything online—poems, essays, videos of Chelsea performing her poetry, and Jasmine's response to the racial macroaggressions she experiences—and soon they go viral. But with such positive support, the club is also targeted by online trolls. When things escalate, the principal shuts the club down. Jasmine and Chelsea will risk everything for their voices—and those of other young women—to be heard.
____________________
Thanks for hanging out, and we'll see you on Thursday! PS: if you haven't, go enter to win a custom book stamp for your personal library in our giveaway.
— Kelly Jensen, @veronikellymars on Instagram