Hey YA Readers: Lots of great news to catch up on today! Grab a cuppa your favorite drink and settle in.
"What's Up in YA?" is sponsored by Muse of Nightmares by Laini Taylor.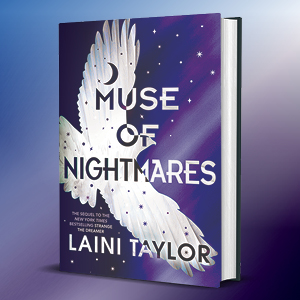 In the wake of tragedy, neither Lazlo nor Sarai are who they were before. One a god, the other a ghost, they struggle to grasp the new boundaries of their selves as dark-minded Minya holds them hostage, intent on vengeance against Weep. Lazlo faces an unthinkable choice–save the woman he loves, or everyone else?–while Sarai feels more helpless than ever. But is she? Sometimes, only the direst need can teach us our own depths, and Sarai, the muse of nightmares, has not yet discovered what she's capable of.
---
Movie news, new book news, and more! But before you dive in, go check out this awesome giveaway for a custom bookplate stamp we're giving away.
So proud of this young king! https://t.co/GGhOw2J9FQ

— Angie Thomas (@angiecthomas) September 20, 2018
Recent Book Mail
It's been a while since I've shared what's hit my inbox, so this is a big, juicy collection of titles. Listed from top to bottom, starting with the pile on the left.
Words We Don't Say KJ Reilly
Odd One Out by Nic Stone
Black Enough edited by Ibi Zoboi
Circle of Shadows by Evelyn Skye
Witch Born by Nicholas Bowling
Strangers Assume My Girlfriend Is My Nurse by Shane Burcaw
Almost Invisible by Maureen Garvie
A Field Guide To The North American Teenager by Ben Philippe
And The Ocean Was Our Sky by Patrick Ness
The Opposite of Innocent by Sonya Sones
The Fever King by Victoria Lee
A Thousand Sisters by Elizabeth Wein
Voices: The Final Hours of Joan of Arc by David Elliott
A Sky For Us Alone by Kristin Russell
Easy Prey by Catherine Lo
Damsel by Elana K. Arnold
Bridge of Clay by Marcus Zusak
Impostors by Scott Westerfeld
Sex Plus by Laci Green
Watch Us Rise by Renee Watson and Ellen Hagan
What If It's Us by Becky Albertalli and Adam Silvera
As She Ascends by Jodi Meadows
Anything But Okay by Sarah Darer Littman
Before She Ignites by Jodi Meadows
Sawkill Girls by Claire Legrande
Cheap Reads
Grab these great books while they're easy on the wallet. Since it's spooky season, you'll see a theme in this selection. Prices current as of Wednesday morning, October 3.
Last Seen Leaving by Caleb Rohrig is $3.
Alice in Zombieland by Gena Showalter is $3.
Chandler Baker's Teen Frankenstein is $3.
Shutter by Courtney Alameda is $3.
The Devil's Engine: Hellraisers by Alexander Gordon Smith is $3.
Madeleine Roux's Asylum is $2.
Ten by Gretchen McNeil is $2.
____________________
Thanks for hanging out and we'll see you next week!
–Kelly Jensen, @veronikellymars on Instagram