Happy Friday, necromancers and Neolutionists! Today's installment includes reviews of The Other Lands and River of Teeth, a Hugo Awards spreadsheet, South Asian speculative fiction, and more.
---
This newsletter is sponsored by Reign of the Fallen by Sarah Glenn Marsh.
Odessa is one of Karthia's master necromancers, catering to the kingdom's ruling Dead. Whenever a noble dies, it's Odessa's job to raise them by retrieving their soul from a dreamy and dangerous shadow world called the Deadlands. But there is a cost to being raised: the Dead must remain shrouded. If even a hint of flesh is exposed, a grotesque transformation begins, turning the Dead into terrifying, bloodthirsty Shades. Odessa is forced to contemplate a terrifying question: What if her magic is the weapon that brings the kingdom to its knees?
Reign of the Fallen is a gutsy, unpredictable read with a surprising and breathtaking LGBT romance at its core.
---
Prepare your ears: The Audie Award finalists have been announced, and the SFF contenders include my personal favorites The Stone Sky and Provenance.
Calling all voters: The 2018 Hugo Awards are open for nomination by Worldcon members. If you're a voting member OR if you just want to see what's eligible, there's an epic collabroative spreadsheet to track titles.
Get regional: This beautifully thorough first installment of the history of South Asian speculative fiction goes back to the 1800s, and considers both how to define the genre and its benchmark books.
Immortality for all: Netflix's new adaptation Altered Carbon is playing with consciousness transfer, and so are actual scientists.
Dueling in a dress: This thread on the logistics of swordfighting in a ballgown made my … week? Possibly my month.
Need some spacey gifts, for yourself or another? Here are some excellent options (that Hitchhiker's bag!).
Already read all of Le Guin's work? Never fear: Danika rounded up 75+ books that Le Guin herself recommended over the course of her career.
In this week's reviews, we've got an incredible Book 2 and some very angry (also hungry) hippos.
The Other Lands (Acacia #2) by David Anthony Durham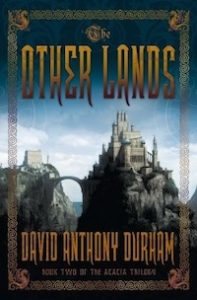 I wouldn't normally review a Book 2 — either I'd do the first one, or wait til I'd read the entire series. But I just finished The Other Lands, and it's in the top 10 second-in-trilogy books I've read, so you're gonna hear about it.
The Acacia series is my go-to read-alike, alongside Kameron Hurley's Worldbreaker Saga, for fans of Game of Thrones who are desperate for something to read in the long dry years of ASoIaF. The War With The Mein (Acacia #1) introduces us to the main players: the Akarans, a dynasty headed by the addicted widower king Leodan; the Mein, a violent tribe out to take over control of the empire and resurrect their dead ancestors; the League, who control trade and have a vested interest keeping up the status quo. When Leodan is assassinated, his four children are flung out into the world under the (occasionally dubious) protection of separate guardians. Through Leodan's children, we get a varied and truly global view of the world Durham has created. The children grow up in very different circumstances and when they're put back in touch years later, in a plot to overthrow the Mein, they must reinvent their relationships as well as take back their kingdom.
While there's plenty of action in The War with the Mein, it's also a deeply introductory book, and it ends on a fairly satisfying note. So it took me a bit of time to get to The Other Lands; I am here to tell you that you should get to it ASAP. After a helpful recap of the first book, it plunges into an intricate, complicated plot that had me almost missing my train stops. Here is a fantasy series that complicates Good and Bad, that includes swords and sorcery as well as diverse populations, that gives you many sides of the same story and lets you decide who to root for. And the ending? Pure cliffhanger. Happily, The Sacred Band (Acacia #3) is out and waiting for me at the library.
River of Teeth by Sarah Gailey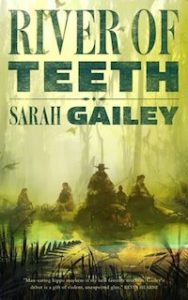 This novella packs a bigger punch than you might expect, and its premise is a delight. In Gailey's alternate 1890s America, the US government has imported hippos for ranching. Which sounds great in theory, until they start to escape, turn feral, and murderously infest Louisiana. Enter Winslow Houndstooth, former hippo rancher and mercenary for hire. Houndstooth receives a contract to rid the bayou of its giant violent pests, and puts together a crew to get the job done. The crew includes, for reasons only Houndstooth knows at the beginning, the expert thief Regina "Archie" Archambault, knife expert Adelia Reyes, demolitions expert Hero, and requisite patsy Cal.
Of course, nothing goes to plan. Revenge, love, and bribery all complicate the situation. People get eaten by hippos, stabbed, blown up, you name it. This is a gloriously fun, inclusive, queer, "Weird West" frontier romp — and it's just the first in the series.
And that's a wrap! You can find all of the books recommended in this newsletter on a handy Goodreads shelf. If you're interested in more science fiction and fantasy talk, you can catch me and my co-host Sharifah on the SFF Yeah! podcast. For many many more book recommendations you can find me on the Get Booked podcast with the inimitable Amanda.
Live long and prosper,
Jenn