Happy Monday, readers! It's Liberty, back again with deals and reveals and more upcoming book goodness. I never get tired of talking about books!
---
This week's newsletter is sponsored by Invisible Dead by Sam Wiebe.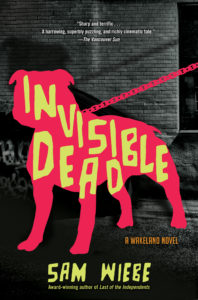 An ex-cop who navigates by a moral compass stubbornly jammed at true north, Dave Wakeland is a talented private investigator with next to zero business sense.
He continues to be drawn to cases that are usually impossible to solve and frequently don't pay. Whatever ghosts drive him, they seem to drive him inexorably toward danger –a journey he's content to take so long as it means finding out what happened to someone the rest of the world seems happy enough to forget. With nothing to protect him but his wit and his empathy for the downtrodden and disenfranchised, Wakeland is on the case.
---
All the Deal News You Can Use
Diane Keaton, Jane Fonda and Candice Bergen are making a movie about reading Fifty Shades of Grey.
BBC to adapt Vikram Seth's A Suitable Boy as its first period drama with a non-white cast.
An adaptation of Little Women is in series development at CW. And a film as well!
Stephen King's Firestarter is getting a remake.
HBO announces four (!!!) Game of Thrones spin-offs.
Tor Books announces a new fiction imprint dedicated to experimental storytelling.
Anna Paquin & Terrence Howard to guest on Philip K. Dick's Electric Dreams for Amazon.
There's a bidding war over Amy Krouse Rosenthal's Modern Love column.
Adrienne Celt, author of The Daughters, sold a second novel to Bloomsbury.
The Dryad of Fairmont Park by Eric Smith is coming in spring of 2018.
Jeremy Renner will star as Doc Holliday in adaptations of the Mary Doria Russell novels.
Anne Rice's Vampire Chronicles series is in development.
Cover Reveals
The new cover for The Speaker, the second book in Traci Chee's Sea of Ink and Gold series, has landed! It's out Nov. 17.
And speaking of second books, here's the cover for The Dragons of Nova, the new book in Elisa Kova's Loom Saga. It's out July 11.
Here's the seventh installment in Quirk Book's Star Wars/Shakespeare mash-up series, The Force Doth Awaken, out on Oct. 3.
Joe Hill's Stranger Weather, out Oct. 24, has a dazzling cover.
And there's a lovely cover for Supriya Kelkar's Ahimsa, out Oct. 1.
Wowza!
Check out the trailer for The Dark Tower adaptation featuring my boyfriend Idris Elba and Matthew McConaughey.
Book Riot Recommends
At Book Riot, I work on the New Books! email, the All the Books! podcast about new releases, and the Book Riot Insiders new release index. I am very fortunate to get to read a lot of upcoming titles, and I'm delighted to share a couple with you each week!
Goodbye, Vitamin by Rachel Khong
When Ruth's life slips out of her control and she gets rid of both her job and her fiancé, she decides to visit her parents and spend some time collecting her thoughts. But Ruth's priorities suddenly change once she arrives and discovers her ailing father has started losing his memory. This is a funny, and sad, debut novel about family and what is most important in life. (July 11)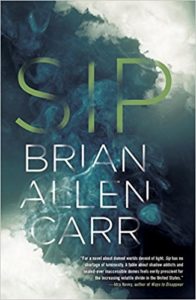 Sip by Brian Allen Carr
I am a HUGE FAN of Carr, and could not be more excited about Sip, his first novel. A post-apocalyptic western nightmare, set in a world overrun by people who have discovered they can get high by ingesting the shadows of living things. But beware the shadow sippers, because if you lose your shadow, you'll lose your soul. If you like smart, crazy, and crazy-smart novels, this is the book for you. (Aug. 29)
And this is funny.
If book reviews were written as fanfiction.