Dear Book Friends,
Happy Monday. I think it's time for me to open up to you about a hard truth. Something I'm almost embarrassed to share. Okay. Are you ready? Here it is. Sometimes I don't get much reading done. There are plenty of reasons why this might happen. Work stress. An ill-advised Love Island marathon. Travel. General distraction. I won't get into the whys, but it happens. And this past week was one of those weeks where I just didn't get much reading done. I'm coming clean because I feel like it's my job to read and be up on all the books for you, and look, I dropped the ball this week. But ultimately, reading should be joyous, and it was just not something I had space for this week that often. And I didn't want to stress about it.
With that in mind, if the "What I'm Reading This Week" section of this newsletter seems really similar to the one from last week, well. You'll know why. I hope we can move on from this and still be book friends.
For now, here's a newsletter full of some of the things I do know about books this week.
❤️ Emily
Book Deals and Reveals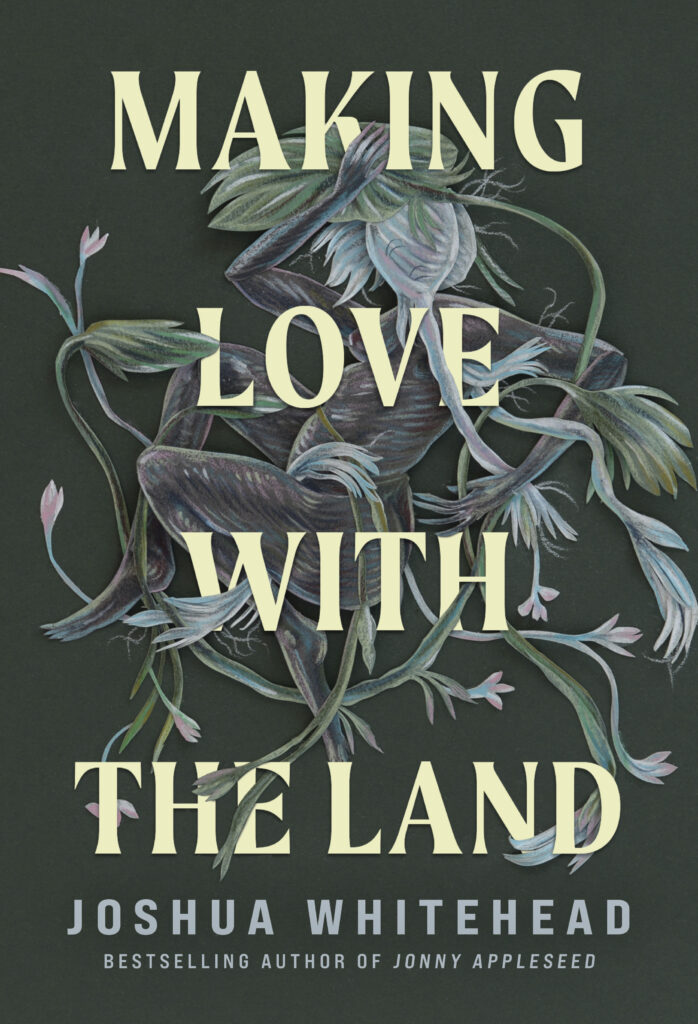 Here's the cover reveal and an excerpt from Joshua Whitehead's upcoming novel Making Love With the Land. This novel will be out in August.
Netflix has released the first full-length trailer for the sophomore season of the Shonda Rhimes' hit series Bridgerton.
My Dear Henry, A Jekyll and Hyde remix by Kalynn Bayron, will be on in February 2023. And here's the cover reveal!
Tordotcom Publishing revealed the cover of C.L. Polk's fantasy noir novel Even Though I Knew The End. You'll see this one hit shelves in November.
Cinedigm has picked up the North American rights to Pennywise: The Story Of IT, a feature documentary that takes an in-depth look into the creation of Stephen King's iconic character.
Attached to its sitcom Abbott Elementary, ABC has partnered with Scholastic to become the first entertainment brand to provide underfunded schools with free book fairs.
HBO has released a trailer for Atlas of the Heart, a new six-part HBO Max original documentary series from best-selling author Brené Brown.
Honoring the finest works of translated fiction from around the world, the International Booker Prize has announced its 2022 longlist.
Book Riot Recommends
I'm a Contributing Editor at Book Riot, I write the Today in Books newsletter, and I'm a Bibliologist for Book Riot's Tailored Book Recommendations subscription service. I also have a PhD in English, so I'm basically a doctor of books. Books are my life, in other words, so in this section of the newsletter, let me share with you some upcoming books I'm super excited about. And I think you will be too!
Prepare Your Shelves!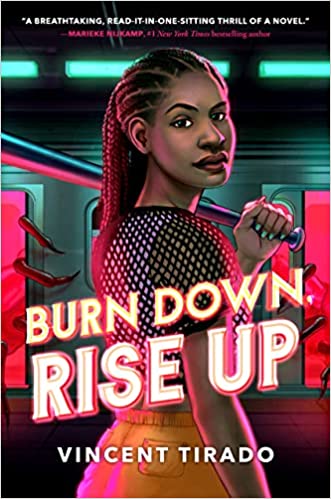 Burn Down, Rise Up by Vincent Tirado (Sourcebooks Fire, May 3rd)
Vincent Tirado's Burn Down, Rise Up was originally slated to release some time in early April, but with all the publishing and supplies shake ups, this book has been pushed back to a May 3rd release. But May will be here before you know it. So you know what I say? I say it's already time for you to start preparing your shelves for this one.
Tirado's debut novel is a young adult mystery that's called a cross between Jordan Peele's work and Stranger Things. We know how these buzzy comps go. This comparison is sort of accurate, but also rest assured that this book is unique enough that it doesn't really compare to anything else. And I mean that in the best way possible.
This is the story of a group of friends determined to save their city. In the Bronx, people have started going missing, and no one can explain these strange disappearances. At first, 16-year-old Raquel tries to ignore it. After all, police only look for missing white kids. But then her crush Charlize's cousin goes missing, and Raquel's mother comes down with a mysterious illness that seems to be linked to the disappearances. When Raquel and Charlize team up to investigate what's happening to the people and city they care about, they discover that all of these disappearances might be connected to an urban legend called the Echo Game.
What I'm Reading This Week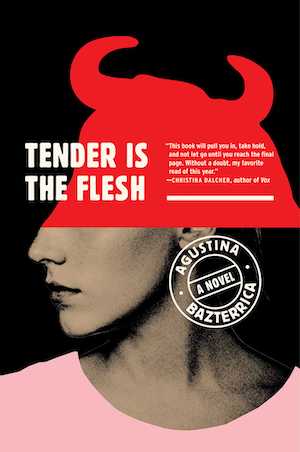 Tender is the Flesh by Agustina Bazterrica
Moon Witch, Spider King by Marlon James
Fiona and Jane by Jean Chen Ho
Sailor Moon: Eternal Edition 7 by Naoko Takeuchi
A Girl is a Body of Water by Jennifer Nansubuga Makumbi
Monday Memes
IDK but this could be part of the reason I didn't get much reading done this week.
Other Things That Make Me Happy
Over the weekend, I went home to see my family, which means getting to visit one of my favorite restaurants in the whole world! I know I mentioned The Grit cookbook around Christmas time, because it's my go-to recipe book for whenever I'm planning a big comfort meal. But dang, there's nothing quite like visiting The Grit in person. If you're ever in Athens, GA, you should pop on in! My other favorite thing about my hometown (besides my family, I guess)? Jittery Joe's Coffee.
And Here's A Cat Picture!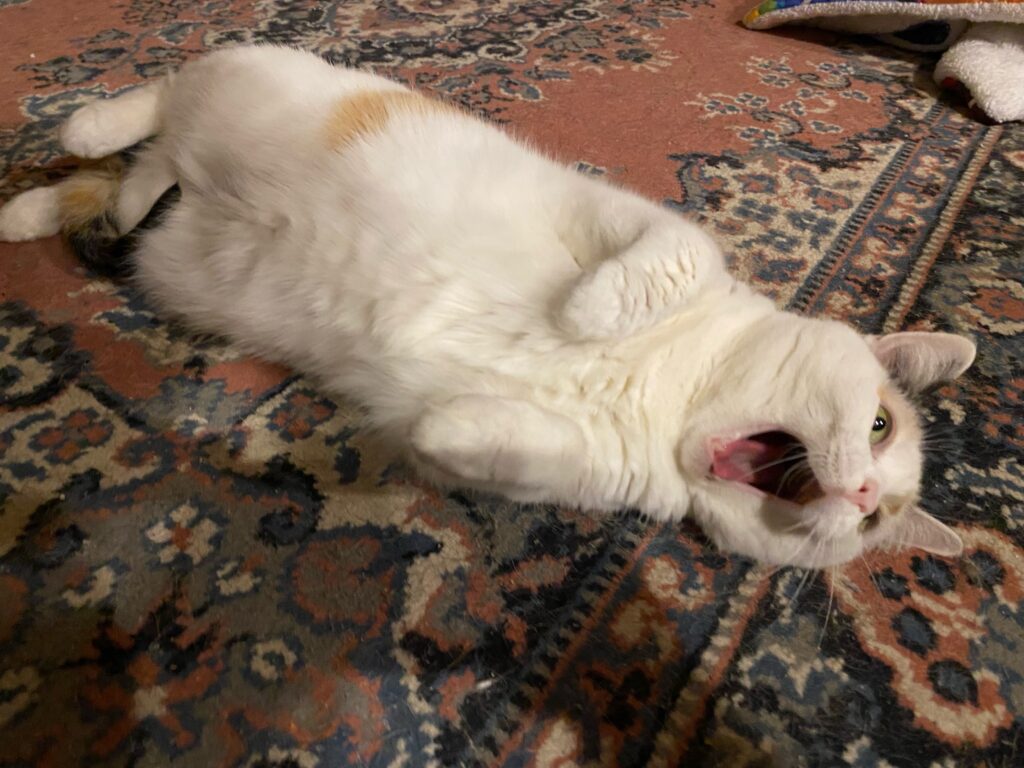 I love a good cat yawn action shot, don't you? Here's the queen Cersei, lounging on a rug and giving us her best yawn. Looks like somebody has a case of the Mondays!
And that's all for today, friends. Talk soon? Maybe I'll even read some books for next time.
❤️ Emily