Sponsored by Amazon Publishing.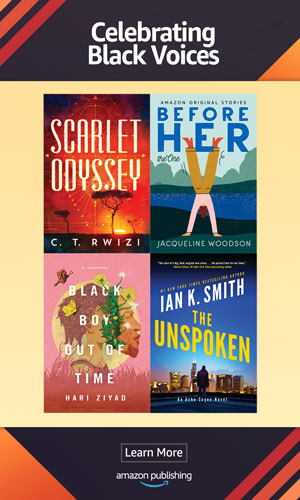 tk
Netflix Adapting Brian Jacques' Redwall Books
Brian Jacques' Redwall books are being adapted into a movie and television series thanks to a new rights deal between Netflix and Penguin Random House Children. Patrick McHale, creator of Cartoon Network's "Over the Garden Wall," is penning the movie based on the first book in the Redwall series. This is the first time a movie of any of Jacques' works will have been made.
Senator Elizabeth Warren's Picture Book Pinkie Promises Will Be Published This Fall
Senator Elizabeth Warren is publishing a picture book based on her favorite presidential campaign ritual. When she would meet a young girl on the campaign trail, Warren would tell her, "My name is Elizabeth, and I'm running for president because that's what girls do," then seal their bond with a pinkie promise. The book, entitled Pinkie Promises, will be out this fall.
Apple Highlighting "We Read Too" App in Celebration of Black History Month
In honor of Black History Month, Apple has been highlighting the work of Black developers, businesses, and more. Today, Apple shared the story of Kaya Thomas, the app developer behind We Read Too. The app aims to make diverse books more accessible to young readers. This includes a directory of picture, chapter, middle grade, and young adult books written by authors of color featuring authors of color.
Reducing the Environmental Toll of Paper in the Publishing Industry
What is the environmental impact of the publishing industry? And what can publishing companies do to create more sustainable practices? Find out here.