Sponsored by Tor Books
A foundational work from the New York Times bestselling author of The Three-Body Problem, now in English for the first time. Eight lightyears away, a star has died, creating a supernova event that showers Earth with deadly radiation. Within a year, everyone over the age of thirteen will die. And so the countdown begins. Parents try to pass on the knowledge the children will need to keep the world running. But the last generation may not want to preserve the ways of their parents' world. And though they imagine a better life, they may bring about a future humanity won't survive.
Happy Tuesday, shipmates! It's Alex, still recovering from a busy weekend at the local SFF literary convention, Mile Hi Con. (If you're ever in Denver in late October, drop on by! It's a friendly place.) Halloween prep has begun in earnest, with my housemate squirreling away bags of candy for the big day and me investing in a pumpkin cookie cutter. But in the meantime, here are some new releases to sink your fangs into, as well as some SFF-related news!
New Releases
The Blue Eye by Ausma Zehanat Khan – Arian of the Companions of Hira has set her sights on an artifact that could end the patriarchal, authoritarian rule of the Talisman once and for all: The Bloodprint. But to find this artifact she must leave her dearest friends and battle companions behind, making a dangerous journey to a new city–and finding new, much less trustworthy allies.
Empress of the Fall by David Hair – In the wake of Emperor Constant's death, political factions fight for influence over who will next sit on the throne–and risk plunging the empire into civil war as they do so.
And in honor of the year's spookiest month, how about two new Dracula books?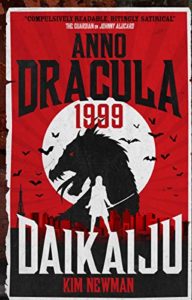 Anno Dracula 1999: Daikaiju by Kim Newman – Vampire princess Christina Light has decided to usher the new millenium in with a massive party–and a declaration that this will herald an age of light, no longer overshadowed by Dracula. Unfortunately, there are some party crashers coming who have a different, bloodier vision of the future.
From Hell to Breakfast by Meghan Tifft – Lucinda's boyfriend, a UPS driver who works the night shift, may or may not be Dracula. They each have their own set of problems in small town America: Lucinda has a boss who's a creep and is trying to produce a play she's written in the community theater; Dracula has a bicycle cop who is out to get him, and his girlfriend's brother keeps asking him to help kill birds… for art?
News and Views
In this week's SFF Yeah! podcast, Sharifah talks travel SFF.
Congratulations to the 2019 British Fantasy Award winners! The Bitter Twins by Jen Williams won Best Fantasy Novel, Best Novella went to Aliette de Bodard's The Tea Master and the Detective, and All the Fabulous Beasts by Priya Sharma won Best Collection.
Also, Congratulations to the 2019 Aurora Awards winners! Kate Heartfield took home the award for best novel for Armed in Her Fashion and Fonda Lee took home the award for best YA Novel for Cross Fire. Also, Disabled People Destroy Science Fiction got Best Related Work!
Essay of the week: Metropolis Meets Afrofuturism: The Genius of Janelle Monáe
If my mini-list of SFF cookbooks whetted your appetite, we've got a much bigger one for you to peruse!
Victoria Schwab's books have been getting a lot of adaptation action lately–here's the rundown in case you've missed anything.
Okay, fine, I will mention something Joker-related, because SyFy asked real clowns to reveiw it, and their answers are actually super interesting.
Some casting news for HBO's Station Eleven adaptation.
The first all-woman spacewalk has finally happened!
Next up: Bug Butter. (If you have no idea what I'm referring to, please see A Civil Campaign.)
---
See you, space pirates. You can find all of the books recommended in this newsletter on a handy Goodreads shelf. If you'd like to know more about my secret plans to dominate the seas and skies, you can catch me over at my personal site.