Welcome to Check Your Shelf. I'm writing this newsletter before the long weekend, so I am eagerly anticipating a chill weekend of doing nothing. Except maybe some reading! I just discovered that digital scrapbooking is an excellent activity to pair with audiobooks, and my free time productivity has increased exponentially.
Attention librarians, booksellers, and book nerds! You can apply to become a Bibliologist for Tailored Book Recommendations and get paid for your bookish knowledge! TBR is a subscription-based book recommendation service where customers receive three hand-picked recommendations per quarter that are tailored to their specific reading likes and dislikes. Of special interest: bibliologists who can recommend across several genres, and mystery expertise is a plus. Click here to read more and fill out an application.
And don't forget during the month of September, all new free subscribers to The Deep Dive will be entered to win Parable of the Sower by Octavia Butler plus 5 mystery books from The Deep Dive. To enter, simply start a free subscription to The Deep Dive. No payment method required!
Collection Development Corner
New & Upcoming Titles
Publishers Weekly has a bunch of big indie titles for Fall 2023.
20 indie books to read this fall.
New indie books recommended by booksellers.
Melissa de la Cruz has a cover reveal for Beyond the Isle of the Lost, a prequel adventure to the Descendants series.
The best and most anticipated books of 2023 (so far).
Weekly book picks from Crime Reads, LitHub.
September picks from Kirkus, The Millions, New York Times.
Fall picks from AARP, Associated Press, CBC (nonfiction), Kirkus (nonfiction), LA Times, Parade (celebrity titles), Tor.com (indie speculative fiction), The Week.
What Your Patrons Are Hearing About
The Fraud – Zadie Smith (Guardian, LA Times, New York Times, Washington Post)
Happiness Falls – Angie Kim (Good Morning America, LA Times)
Terrace Story – Hilary Leichter (New York Times, Washington Post)
RA/Genre Resources
The fanfic-to-romance pipeline goes mainstream.
Related: How Adam Driver ended up as the inspiration for many new romance novel heroes. I will happily jump on this bandwagon!
The strange, secretive world of North Korean science fiction.
On the Riot
If you want to work in publishing, consider an indie press.
8 upcoming nonfiction books to get you excited about fall.
How this reader became a horror convert.
All Things Comics
On the Riot
9 magic school graphic novels for kids and teens.
The most unique comic book stores across the US.
Audiophilia
The best audiobooks for August.
Book Riot has podcasts to keep your ears listening for days! Check them out and subscribe.
Book Lists, Book Lists, Book Lists
Children/Teens
Children's books that promote a growth mindset.
Adults
9 books about women's loneliness.
10 books for Taylor Swift's ten eras.
11 books about misunderstood women in history and mythology.
10 books about solitary living.
Legal thrillers for fans of Suits.
On the Riot
The best picture books for building classroom community.
The best YA books for back-to-school.
Must-read historical romance set in the 20th century.
9 historical romance novels for newbies.
10 of the best horror and mystery novels set in the woods.
8 fantasy novels with "no rules, just vibes" magic systems.
Compulsively consumable short story and essay collections.
The 20 most influential fantasy books of the last 10 years.
8 of the best fantasy royalty.
9 great Dutch books in translation.
20 must-read paranormal romances.
Level Up (Library Reads)
Do you take part in Library Reads, the monthly list of best books selected by librarians only? We've made it easy for you to find eligible diverse titles to nominate. Kelly Jensen has a guide to discovering upcoming diverse books, and Nora Rawlins of Early Word has created a database of upcoming diverse titles to nominate as well that includes information about series, vendors, and publisher buzz.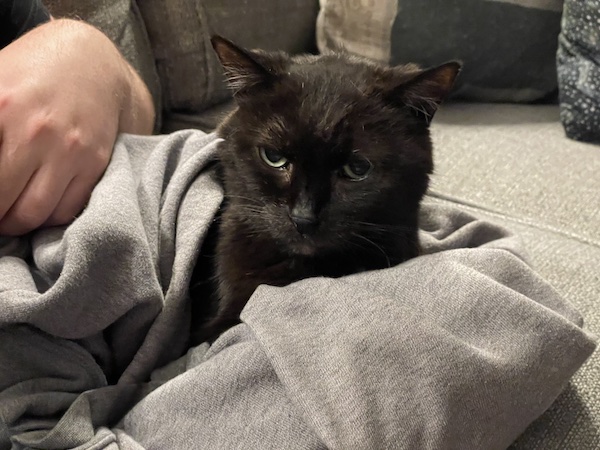 This is Gilbert in his happiest environment – wrapped in a blanket so that only his head is visible. He looks rather nonchalant here, but I assure you he was purring up a storm. A happier kitty I've never seen!
Hope everyone had a great weekend. See you on Friday!
—Katie McLain Horner, @kt_librarylady on Twitter