Welcome to Check Your Shelf. This last week, my husband and I went to see Jurassic Park for its 30th anniversary, with the score performed live by the Chicago Symphony Orchestra. HOLY CATS, it was incredible! I've seen that movie over 50 times, and yet I was so engrossed that I forgot at times there was an entire symphony playing.
Attention librarians, booksellers, and book nerds! You can apply to become a Bibliologist for Tailored Book Recommendations and get paid for your bookish knowledge! TBR is a subscription-based book recommendation service where customers receive three hand-picked recommendations per quarter that are tailored to their specific reading likes and dislikes. Of special interest: bibliologists who can recommend across several genres, and mystery expertise is a plus. Click here to read more and fill out an application.
Plus, a Deep Dive update! During the month of September, all new free subscribers to The Deep Dive will be entered to win Parable of the Sower by Octavia Butler plus 5 mystery books from The Deep Dive. To enter, simply start a free subscription to The Deep Dive. No payment method required!
Libraries & Librarians
News Updates
ALA is encouraging libraries to participate in National Voter Registration Day on September 19, 2023.
The Allen County Public Library (IN) reported an unprecedented (positive!) response to their recent community-wide strategic planning survey.
Cool Library Updates
Sal McCloskey, daughter of beloved children's author Robert McCloskey, drew a crowd of 225 people at the Curtis Memorial Library in Maine as she read her father's book, Blueberries for Sal.
Worth Reading
A buying guide to current eReaders.
Book Adaptations in the News
Jana Monroe, a former FBI agent and author of the upcoming memoir Hearts of Darkness: Serial Killers, The Behavioral Science Unit and My Life as a Woman in the FBI, will have her latest book packaged for TV.
Dune: Part 2 has been delayed until 2024 amidst the ongoing strikes.
Trailer for The Marsh King's Daughter.
Trailer for Love at First Sight, which is based on the book The Statistical Probability of Love at First Sight by Jennifer E. Smith.
Censorship News
Library bomb threats continue to increase.
More about the string of bomb threats that have happened to libraries across the country in the last couple of weeks.
The first app to "help" libraries and schools with book bans has arrived, but it's not what it seems.
"Don't stand by as books are banned; stand up for libraries."
In the age of book bans, how independent bookstores can change the world for the better.
ShopQueer.co has launched a fundraiser to purchase a Rainbow Book Bus, "a loud, proud, and very queer bookmobile, bringing queer joy, stories, and community to the towns that need it the most." They're almost at 90% of their $150,000 goal!
A banned books bingo card for book clubs.
Texas is leaving the American Library Association.
Book debate gets heated at a Fort Worth ISD (TX) board meeting. Plus, what are the 100+ books that have been removed from Fort Worth ISD? (Paywalled)
"The national debate over books has come to West Texas. And librarians are stuck in the middle."
Starting this year, Katy ISD (TX) parents will be notified whenever their child checks out a library book.
"It's an irony of the book banning movement that the people who want to remove books from school libraries can't stop themselves from reading aloud what they describe as "pornography" in crowded school board meetings, often with children present." This is in Round Rock ISD (TX).
Paywalled: The Granbury ISD (TX) board has censured the trustee accused of sneaking into the school library to review books.
"In images taken from school district videos, parent Bruce Friedman, left, addresses the Clay County School Board on Aug. 4, 2022, and teacher Vicki Baggett, right, speaks to the Escambia County School Board on May 16, 2023. Together, the two advocates submitted more than 600 book complaints over the last year, accounting for more than half the statewide total." TWO PEOPLE. TWO.
"The Escambia County School Board on Monday urged a federal judge to toss out a lawsuit filed by authors, a publishing company, parents and a non-profit organization challenging the removal or restriction of books in school libraries." I bet they have.
How Florida's Clay County became the book ban heartland of the US.
Paywalled: Some of the next titles Moms for Liberty will be targeting next. (A really bad article to be paywalled, honestly.)
These are the 43 books that have been removed from Manatee County (FL) schools this year.
Cobb County Schools (GA) have removed Flamer and Me and Earl and the Dying Girl.
Paywalled: "Book ban hits Louisiana libraries with This Book is Gay."
"Frustrated with the slow pace that has kept dozens of books — mostly those with LGBTQ+ themes — sequestered from the rest of the collection, one patron submitted three more book challenges to titles she described as anti-transgender." This is at the St. Tammany Parish Library (LA), where the board is also discussing policy changes that would allow them to toss challenges submitted under false names, or challenges from patrons who had not read the material in question.
22 challenges to Maine school library books have been filed since 2022. Some of the noteworthy points in the article: about a third of the people who filed challenges admitted to not reading the book in its entirety, at least two people reported using the M4L website BookLooks to support their challenge, and only the RSU 56 district has actually removed a challenged book. (It was Gender Queer.)
Galway (NY) school board overwhelmingly voted against banning The 57 Bus and Ink Knows No Borders: Poems of the Immigrant and Refugee Experience.
Two teenagers in Orchard Park (NY) have created a group known as Students Protecting Education, which will help teach other students how to speak out on educational issues, such as book banning.
Librarian Sharon Coronado, who works at the Ligonier Valley Library (PA), says that when it comes to book bans, "It's a small number of people who are very loud."
Hempfield Area School Board (PA) is establishing new guidelines that require schools to post lists of books to be purchased, and then parents have up to 30 days to submit a form and potentially challenge any of the books from being purchased.
The Oxford Area High School board (PA) voted to override a committee's recommendation to keep four challenged books in the high school library. The Hate U Give will stay, but the other three books (The Perks of Being a Wallflower, Lucky, and The Bluest Eye) will either be entirely removed, or relocated to a restricted area. Why have an advisory committee if you're going to ignore their recommendations??
The Erie County Council (PA) unanimously passed a resolution against library censorship.
"More than 110 novels and plays – a mix of classic and contemporary literature including several best-sellers and award-winners – are included in Prince William County Schools' [VA] division-wide "sexually explicit" list of library books and instructional materials."
An update on the situation at the Samuels Public Library (VA), where the Clean Up Samuels group asked county supervisors to cut funding to the library until it removed books that they found objectionable.
Paywalled: How North Carolina's new Parents' Bill of Rights will lead to more book bans across the state.
"'We already have a district policy to vet books,' Jean Foster, one of the 28 people who spoke out Monday, said. 'Trust our educators and administrators to do their jobs. Stop wasting the limited time and resources we have, and get on with the business that our district needs from this board instead of pandering to the agenda of a small minority comprised mostly of the members of a known hate group.'" MORE. OF. THIS.
After a five-hour board meeting, the Catawba County School Board (NC) has removed Out of Darkness from high school libraries. This happened after a sitting board member challenged Out of Darkness and Beyond Magenta, a review committee recommended that the board retain both books, the board member appealed that decision, and the board ultimately decided to remove Out of Darkness. (Beyond Magenta was allowed to stay.)
Inside the 44 books challenged at the Prattville Public Library (AL).
Children under 15 need parental permission to check out anything from the Foley Public Library (AL), and there are 24 books currently under review. Also, this is yet another article that centers its reporting around the book banners – can we stop pretending that their platforms are valid?
Dothan Houston County Library (AL) confirms that there is no "sexually explicit" content in the children's section. Now what I really want to see is a second part to that statement, saying that libraries have NEVER put sexually explicit content in the children's collections, and that this entire argument is nonsense and not worth engaging with.
"The Ozark Dale County Library [AL] pulled all young adult LGBTQ+ books from the shelves to review them after a complaint from Ozark Mayor Mark Blankenship. The books have been returned to the shelves, but the library is now planning a community meeting to hear from the public and discuss what actions will be taken in the future."
A group of people who filed book challenges at the Mobile Public Library [AL] have withdrawn the challenges after admitting they had not actually read the books in question.
Columbia-Marion County Public Library (MS) have removed the Heartstopper series for review, with all available copies currently being stored in the director's office. The article also includes this line about a board meeting on August 9th, which we need to see more of. "During the Aug. 9 hearing, the residents who showed up to speak against the books described them as "pornography"—a claim the Columbian-Progress report did not correct."
Paywalled: Wilson County Schools (TN) have removed six books since April 2022. Almost two dozen books have been selected for review.
The Rutherford County Board (TN), which oversees all public libraries in the county, voted to remove four books from shelves.
The Anderson County Library Board (TN) approved a tiered library card system to restrict checkouts for minors.
The Knox County Schools Policy Committee (TN) is considering revisions to their book challenge policy.
The Williamson County School Board (TN) is being sued by a group of parents over the decision to keep "obscene" materials on school library shelves.
"Daviess County Public Library Director Erin Waller has reviewed nearly 70 of the 248 titles deemed "inappropriate for developing minds" by the Daviess County Citizens for Decency (DCC4D) group. Waller said she recommends the ones she's reviewed so far remain in their respective sections" This is in response to the Daviess County Citizens for Decency conducting and releasing an audit of the library's teen and children's collections. Waller has also altered the status of all 248 titles to "In repair" or "Being reviewed" so they can't be checked out during the review process. But WHY is the library engaging with this group?? Have the Citizens for Decency filed official challenges on these books, or is it standard procedure to just let anyone demand on a whim that the library review hundreds of books?
Troy (OH) school board members remove Beyond Magenta from all school libraries, and move Magical Boy from the middle school to the high school.
"Until the full school board votes on this specific topic, there will continue to be a hold on adding any sexually explicit material, but many asked for the definition of what is sexually explicit." This is at the Brandywine School District (MI), where the board has not yet figured out how to handle books that may be considered "inappropriate."
"A group of anonymous Iron River [WI] residents is trying to build support in the community to ban what it calls books "promoting gender ideology" from the local library." Look, if you're going to ban books, you should have the guts to identify yourself.
Paywalled: Book banners in Marathon County, Wisconsin want the public library to rate the books available to minors.
The Vernon Area Library (IL) received a bomb threat. This is the latest in a string of bomb threats sent to public libraries in northeastern Illinois. I live about 15 minutes from this library.
Paywalled: Empire of Storms is being reviewed by the board at Brainerd Public Schools (MN).
Friday Night Lights has been returned to school libraries in Mason City, Iowa, where the school district had used AI to remove books that may have violated the new state law.
It cost the Grand Forks School Board (ND) almost $11,000 to review six books that were challenged in the district.
Keene Memorial Library (NE) has approved a tiered library card system "of age-specific library cards that allow parents to control what their children can check out."
A Tulsa elementary school has been targeted by bomb threats twice because of a librarian's social media post, and the state superintendent has made the situation worse by labeling the video "an example of a 'woke agenda,'" except he used a modified version of the video created by Libs of TikTok. A state superintendent who doesn't care that an elementary school has been targeted by bomb threats, and actively spreads the message of a social media account known for targeting teachers and librarians with violence.
Douglas County Libraries (CO) elects to keep all four challenged books on the shelf.
"Library books explained to county commission after complaints by a small group of far-right activists." This is in Washoe County (NV) and I feel like the headline, intentionally or unintentionally, conveys the ridiculousness of these discussions.
"Pahrump [NV] library trustees declined to make any changes to the public's book collection on Monday after its director reported that none of the libraries she had surveyed over the past month had censored or banned any youth books about race, gender or sexuality." Yay?
The FBI is investigating a series of bomb threats made against the Yolo County Library (CA). "Investigators believe there is a connection between the bomb threats and a controversial meeting held at the Mary L. Stephens Library, the Davis branch, days before the first threat."
After canceling their Social Justice Book Club, the Klamath County Library (OR) has replaced the program with a book club called Real Reads, which will cover similar topics. The primary difference is that a library staff member will not lead the discussion, as commissioners "have expressed concern about taxpayer-funded staff being involved in political discussions in the role of moderators."
"Did you read the editorial and think that could never happen here? Think again." A resident of Fort Vancouver (WA) wrote a letter to the editor reporting on what's happening at the local board meetings. We need more people (and letters) like this.
The Anchorage Assembly (AK) has rejected the mayor's latest library board picks. One of the assembly members said, "'They're essentially pushing the same agenda: to attack our public libraries and schools, and to further a hateful and discriminatory agenda, specifically against LGBTQ youth and adults…But also more broadly against freedom of speech … such as book banning, banning programming such as the drag queen story hour from the public library.'"
Books & Authors in the News
Stephen King, Zadie Smith, and Michael Pollan are among thousands of writers whose copyrighted works are being used to train large language models.
Michael Oher talks about his new book and the controversy surrounding The Blind Side.
The author of the American Girl book The Care and Keeping of You looks back at the book on its 25th anniversary. "I wrote [this book] for girls. This wasn't the future I imagined for them."
Numbers & Trends
"Girl" trends and the repackaging of womanhood.
The bestselling books of the week.
Plus, which authors have tried to buy their way onto the New York Times Bestsellers list?
Join Rebecca & Jeff in the First Edition podcast to consider the 10 finalists for the "It Book" of August and pick a winner.
Award News
The Pulitzers look to open books and arts prizes to noncitizens.
In Memoriam by Alice Winn wins the 2023 Waterstones Debut Fiction Prize.
The winners of the inaugural TikTok Book Awards have been announced.
The 2023 Kirkus Prize finalists have been announced.
Bookish Curiosities & Miscellaneous
This literature clock publishes a quote every minute, but each quote directly references that specific time.
On the Riot
The 10 best librarian characters in TV and film.
A brief history of book dedications.
What this Rioter wishes they could tell their younger reading self.
How reading books about books helped this Rioter bust out of their reading slump.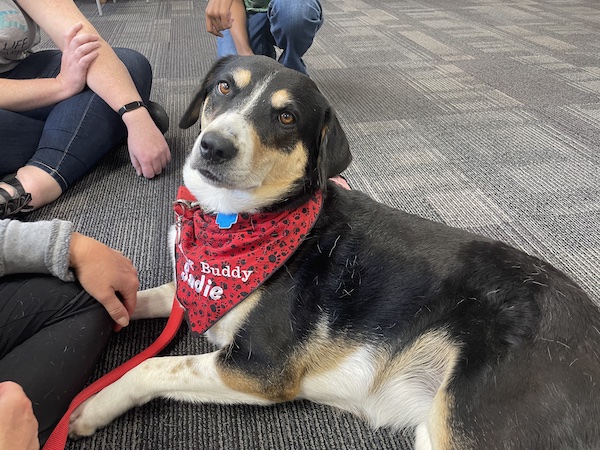 Is that…a dog picture?? Yep. In recognition of all the stress our staff have been dealing with, from nearby bomb threats to massive changes at work, our director brought in a couple therapy dogs as a surprise for staff. Sadie (pictured here) was just the most chill dog I've ever met, and she LOVED being able to nap on the floor and get belly rubs for an hour!
All right, friends. I'm done for the week. Enjoy the holiday weekend if you're in the US, and I'll check in again on Tuesday!
—Katie McLain Horner, @kt_librarylady on Twitter.