Welcome to Check Your Shelf. I've realized over the last week or so that we've received a lot of positive comments from our patrons – not just casual "I love the library!" statements, but patrons seeking us out to tell us how much they've enjoyed a particular initiative or program. Our fall newsletter has a Banned Books Week theme, and a patron called to tell us how much they appreciated it, and how much the right to read means to them. Another patron came to the desk to tell us that our summer story times at the local farmer's market were fantastic. I know not every library is in a supportive community, but I hope all of you are on the receiving end of a nice compliment from a parent or a patron this week.
Make sure to check out Book Riot's New Release Index, which has been keeping velocireaders in the know about all the latest books since 2017! Subscribe today!
Collection Development Corner
Publishing News
How some marketing execs use well-placed ellipses to turn critical rants into apparently rave reviews.
Related: book publicity – what works and what doesn't.
Understanding AI and how it works.
How AI's carbon emissions are about to become a problem.
New & Upcoming Titles
Stacey Abrams is re-releasing her espionage romantic thriller, The Art of Desire, which was originally written under her Selena Montgomery pseudonym.
Michael Wolff, author of Fire and Fury, is publishing a book about Fox News this fall, called The Fall: The End of Fox News and the Murdoch Dynasty.
Cover reveal for Noah Medlock's debut horror novel, A Botanical Daughter, described as "Mexican Gothic meets The Lie Tree by way of Oscar Wilde and Mary Shelley."
Here's a first look at the upcoming book Amy Winehouse: In Her Own Words.
The 6 best romance novels of the summer.
Weekly picks from Crime Reads, LitHub, New York Times.
The best debut crime novels of August.
September picks from Barnes & Noble (adults, teens, kids), The Root.
Fall picks from AARP (celebrity memoirs), CBC (poetry), Kirkus (fiction), Vulture.
What Your Patrons Are Hearing About
Happiness Falls – Angie Kim (New York Times, Washington Post)
The Bee Sting – Paul Murray (New Yorker, Washington Post)
Join Rebecca & Jeff in the First Edition podcast to consider the 10 finalists for the "It Book" of August and pick a winner.
RA/Genre Resources
Why queer adults love (and need) queer YA media.
Plus: "Heartstopper, Red, White & Royal Blue, and Bottoms lead a new surge of LGBTQ content."
Why readers are hungry for Colleen Hoover.
Understanding Elon Musk through romance novel tropes. (I'm not kidding. That's what the headline says.)
A crime thriller author talks about the big serial killer myth they'd like to debunk.
On the Riot
What is happening with books and AI?
"AI will never be good enough to replace real authors" is the wrong conversation.
Why the hockey BookTok controversy screams toxicity.
The best new weekly releases to TBR.
What does it mean if a character is "morally gray?"
What murder mysteries get wrong about bail.
Attention librarians, book sellers, and book nerds! Apply to become a Bibliologist for Tailored Book Recommendations and get paid for your bookish knowledge! TBR is a subscription based book recommendation service where customers receive three hand-picked recommendations per quarter that are tailored to their specific reading likes and dislikes. Our bibliologists pull on collected decades of experience to find the right books to surprise and delight our customers.
Think you have what it takes to recommend books with the best of them? We're especially interested in those good at recommending across several genres; mystery expertise is a plus. Click here to read more and fill out an application.
All Things Comics
Jeff Smith, creator of the Bone series, cancels his book tour following a cardiac event.
10 page-to-screen graphic novels & comics to enjoy.
On the Riot
What we (don't) talk about when we talk about adult graphic nonfiction books.
Reading pathways for Gabriel Bá and Fábio Moon.
Audiophilia
Hear actor Adam Scott read a short story from the anthology, From a Certain Point of View: Return of the Jedi.
Disney's Frozen podcast marks the company's first foray into audio-first storytelling.
10 must-listen audiobooks for September.
Where do audiobooks come from?
Book Lists, Book Lists, Book Lists
Children/Teens
Evocative books by Afro-Latine authors to read with your child.
15 book recs for fans of We Were Liars.
Adults
A climate change reading list.
5 SFF books with superpowered characters.
7 books about reckoning with intergenerational trauma.
The top 10 female spies in fiction.
Tor.com and USA Today have reading recommendations for fans of Heartstopper.
5 fast-paced African urban fantasy books.
Powerful female characters in crime fiction.
A reading list of comeback stories.
5 book recommendations from Harlan Coben.
6 book club reads with themes tied to current events.
On the Riot
12 books to encourage kids to go outside.
Young adult authors who made their adult fiction debuts.
The best quietly sad, contemplative books for when you're trying to feel something.
11 romance novels featuring romances between celebrities and regular people.
10 terrific transhumanist sci-fi books.
12 of the best opposites attract romance novels.
9 terrifying road trip horror novels
23 must-read military historical fiction novels.
20 award-winning historical fiction books.
10 fever dream books that will have you checking your temperature.
10 books on healthcare inequity and misogyny in medicine.
A back-to-school-inspired reading list for adults.
Level Up (Library Reads)
Do you take part in Library Reads, the monthly list of best books selected by librarians only? We've made it easy for you to find eligible diverse titles to nominate. Kelly Jensen has a guide to discovering upcoming diverse books, and Nora Rawlins of Early Word has created a database of upcoming diverse titles to nominate as well that includes information about series, vendors, and publisher buzz.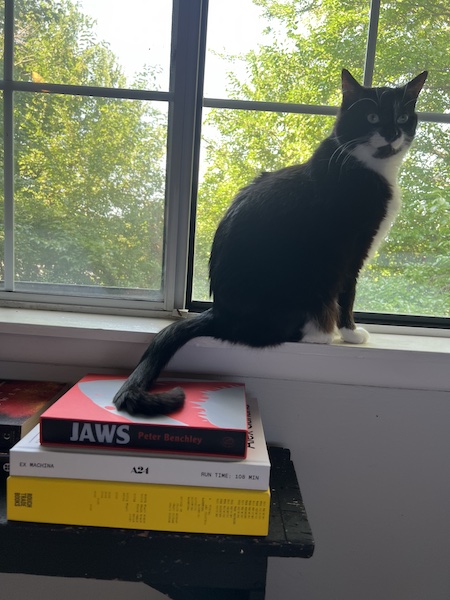 Dini keeps watch on the outside and stands guard over our books.
Well, that's all I have for today. By the time I check in again, it will be September! *insert shocked emoji here* Have a great week!
—Katie McLain Horner, @kt_librarylady on Twitter.