Welcome to Check Your Shelf. I realized when I was putting this newsletter together that most of the library news this week was related to censorship and book banning. If that's not a commentary on the state of our profession, I don't know what is.
In better news, make sure to check out Book Riot's New Release Index, which has been keeping velocireaders in the know about all the latest books since 2017! It's new books for days! Subscribe today — you won't be able to read them all, but it's fun to try.
Book Adaptations in the News
Dan Ackerman, editor-in-chief of Gizmodo and author of The Tetris Effect, is suing Apple and the Tetris Company for adapting his book into the recent film, Tetris.
Everything we know about the Red, White, and Royal Blue movie.
Censorship News
The return of child-free libraries.
A teacher talks about their experience with putting an LGBTQ+ book on a reading list and then having someone file a police report.
Fed up and filing suit for intellectual freedom.
Why intellectual freedom advocates need more people to show up to their school and library board meetings.
U.S. Senators Kevin Cramer, Marco Rubio, and Mike Braun have demanded that the Institute of Museum and Library Services investigate ALA's "active religious discrimination" against Brave Books.
Follett is asking publishers to help rate their own books in order to be in compliance with Texas' new state law, but publishers are rightfully concerned, saying that this would make them complicit with censorship.
Grappling with the new state law, fearful Florida teachers are getting rid of a ton of books, most of them featuring books depicting underrepresented characters.
Thankfully, Clay County Schools (FL) have determined that Arthur's Birthday did not damage any souls, and can remain on school shelves.
Florida education commissioner Manny Diaz Jr. clarifies that high schools can offer AP Psychology. Of course, he made this clarification literally hours before schools reopened for the new school year, so nothing like giving teachers a heads-up, huh?
Lake County (FL) schools have reversed their ban on And Tango Makes Three.
Amanda Jones has filed the first legal brief in her appeal of the ongoing defamation suit.
A look at how the teen council at the Brooklyn Public Library is helping to combat book bans nationwide.
The Glenside Public Library (PA) is promoting books that Central Bucks residents are trying to ban in the school district.
Botetourt County (VA) debates age restrictions in their library. Under consideration: not allowing patrons under 18 to check out any adult materials, and not allowing anyone under 18 to be in the library without a parent or guardian present, although 16 and 17 year olds could potentially be in the library by themselves with written permission from a parent. YIKES ON BIKES, people!
The Wake school board (NC) approves a new book challenge policy.
Wilmington (NC) school board members are hearing complaints about Stamped being available to students. One attendee at a recent board meeting told the trustees that "[they] were elected to restore conservative values to protect [their] children and parental rights." Also, other people in favor of getting rid of Stamped say that they're advocating for the book's "removal," not a "ban," which IS THE SAME THING OH MY LORD WHY ARE WE EVEN HAVING THIS CONVERSATION??
Two teachers at Hilton Head Island Middle School (SC) talk about how a single parent, David Cook, has harassed them and made them feel physically unsafe. Staff and administrators have advised the teachers to move to different areas of the building when Cook is present due to his in-person and online harassment, and Cook has posted social media messages such as "If you're in support of giving sexually explicit material to children, it's important to remember……Dead Pedophiles Don't Re-Offend." As of right now, he is still allowed on school property. (This is also the man who threw a bag of chicken feed at a recent school board meeting.)
(Paywalled). Meanwhile, in the same county (Beaufort), a fourth book has been removed, while five titles have been returned.
A new Mississippi law blocks online access for minors in public schools and libraries. The onus is on the vendors, not the libraries, to verify that the material is "appropriate," but libraries are still tasked with figuring out how to restrict access in order to comply with the state law.
I can't succinctly summarize the nonsense happening at the Hamilton East Public Library (IN) board meeting, so just read the article, and pay attention to the ridiculous review process the staff have to undergo to determine what books need to be moved to the "adult" collection.
The Coronado Public Library (CA) now has a new pre-storytime procedure that displays selected books at least 15 minutes before they're read. This was due to a group of people objecting to The Rainbow Parade being read at a storytime during Pride Month.
Temecula Valley Unified School District (CA) is being sued over Resolution 21, which their board passed last year. It bans teaching "critical race theory," and the group filing the lawsuit says that the resolution violates California's censorship and anti-discrimination statutes.
Books & Authors in the News
The fiction analytics site Prosecraft has been shut down after tremendous author backlash. Benji Smith, the creator, used the full text of over 25,000 published books to feed his analytics project, all of which was taken without authors' consent.
Numbers & Trends
The best-selling books of the week.
The best-selling science fiction books of all time.
Join Rebecca & Jeff in the First Edition podcast to consider the 10 finalists for the "It Book" of August and pick a winner.
Bookish Curiosities & Miscellaneous
There is now an Octavia Butler Avenue in Lake Forest Park, Washington.
101 best websites for writers.
On the Riot
What is the Writers in Residence juvenile detention program?
Book award categories we wish existed.
How (and why) to read academic journals for fun.
Why we need Indigenous languages in children's books.
Why readers should care about the WGA strike.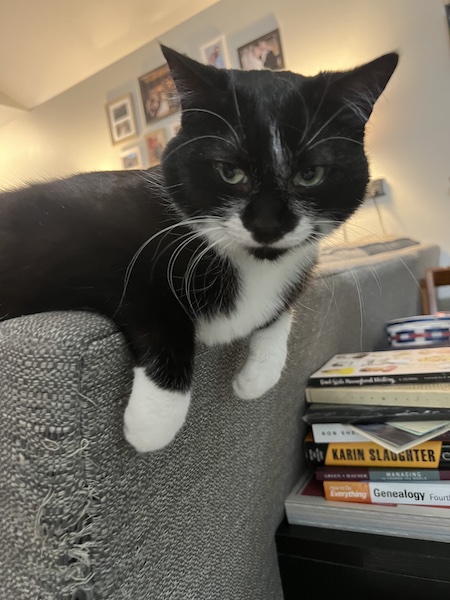 Here's Dini being a happy little helper on Sunday. Actually, he may have just been waiting for a snack, or supervising one of us on the treadmill. But he sure looks like he's doing important work!
Well, that's all folks. I'll pop back in on Tuesday.
—Katie McLain Horner, @kt_librarylady on Twitter