Welcome to Check Your Shelf. *record scratch* Yeah, that's me. You're probably wondering how I got into this situation. Well, my husband and I were at the Cubs game on Saturday, and the people behind me decided to create the longest cup snake I've ever seen…so impressive that we ended up on the Atlanta broadcast. Cup snakes are a Wrigley Field bleacher tradition, and as Blaine pointed out, "You don't choose the cup snake – the cup snake chooses you." (Also, Cubs won!)
On a more topical note, make sure to check out Book Riot's New Release Index, which has been keeping velocireaders in the know about all the latest books since 2017! Subscribe today — you won't be able to read them all, but it's fun to try!
Collection Development Corner
Publishing News
The bidding for Simon & Schuster draws to a close.
Is TikTok going to ruin the book industry?
AI's inroads in publishing touch off fear and creativity.
The art of telling forbidden stories in China.
The editor and fighter behind many of the most beloved children's books of all time: Ursula Nordstrom.
New & Upcoming Titles
Emily Henry has a new book coming out next spring!
12 celebrities from Barbra Streisand to Sly Stone who have books coming out.
Rachel Maddow is writing a book about right-wing extremism in the U.S., including a plot to overthrow the government at the start of WWII.
Paul Reubens was working on a memoir when he passed away, and some are hoping it will be published posthumously.
Here's the delightful cover of Billy Dee Williams's upcoming memoir, What Have We Here?
10 noteworthy nonfiction debuts to watch for this fall.
The 23 best debut novels of 2023 (so far).
30 horror novels to watch for this year.
76 new mystery books that will have you on the edge of your seat.
112 new books to add to your reading list this year.
Weekly book picks from Crime Reads, LitHub, USA Today.
August picks from Barnes & Noble, LitHub (SFF), New York Times, The Root, Town & Country.
What Your Patrons Are Hearing About
A Pocketful of Happiness – Richard E. Grant (Atlantic, LA Times, New York Times, People)
Witness: Stories – Jamel Brinkley (Guardian, LA Times, New York Times)
Waiting To Be Arrested At Night: A Uyghur Poet's Memoir of China's Genocide – Tahir Hamut Izgil, tr. by Joshua L. Freeman (New York Times, Time, Washington Post)
Time's Mouth – Edan Lepucki (Datebook, New York Times, Shondaland)
Tom Lake – Ann Patchett (Datebook, New York Times)
Kala – Colin Walsh (Washington Post)
Whalefall – Daniel Kraus (New York Times)
RA/Genre Resources
How to find the right online book club for you.
How translated fiction captured a new generation of readers. ​
All of Daniel Silva's books in order.
On the Riot
Barbie, books, and publishing for young readers.
The best new weekly book picks.
August picks for mystery/thrillers, horror, SFF, romance, nonfiction, YA, children's.
All Things Comics
Hyperion Avenue is debuting a new Marvel crime series! These will be novels rather than graphic novels, and they'll feature writing from S.A. Cosby, Lisa Jewell, and Alex Segura to kick things off.
Heart-stopping books to pick up after finishing season 2 of Heartstopper.
12 fantasy YA graphic novels to escape into.
Here's the trailer for season 2 of Loki.
On the Riot
August picks for graphic novels/comics and manga.
Join Rebecca & Jeff in the First Edition podcast to consider the 10 finalists for the "It Book" of August and pick a winner.
Audiophilia
The August 2023 Earphones Award winners are announced.
Book Lists, Book Lists, Book Lists
Adults
7 books that use fairy tales to reveal the strangeness of the real world.
10 books about chosen families.
5 classic science fiction stories about letting AI do all the work.
A reading list where the animal companions steal the show.
5 gripping SFF narratives composed of interlinked short stories.
Unlikely investigative teams in crime fiction.
25 books about being Black in Canada.
8 books every hip-hop feminist should read.
8 books about friendship with wealth disparities.
75 essential books for Gen Xers.
10 must-read cat-and-mouse thrillers.
On the Riot
Books about going viral on social media.
23 of the swooniest romantasy books.
8 novels that go behind the scenes in the entertainment industry.
8 coming of age books that take place in adulthood.
Mindf*ck books that leave you wondering WTF just happened.
8 award-winning literary fiction novels you've probably never heard of.
9 of the best recent epic fantasy series.
Level Up (Library Reads)
Do you take part in Library Reads, the monthly list of best books selected by librarians only? We've made it easy for you to find eligible diverse titles to nominate. Kelly Jensen has a guide to discovering upcoming diverse books, and Nora Rawlins of Early Word has created a database of upcoming diverse titles to nominate as well that includes information about series, vendors, and publisher buzz.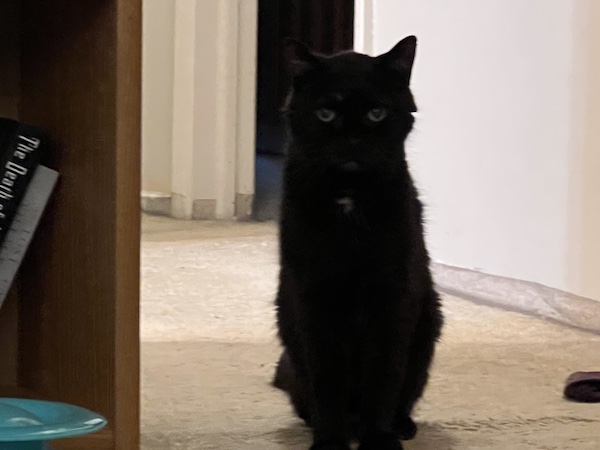 Is that a death omen? Or just Gilbert waiting for us to feed him? Is there really a difference?
All right friends, that's all I have for right now. I'll be back on Friday.
—Katie McLain Horner, @kt_librarylady on Twitter.