Welcome to Check Your Shelf. Summer reading is winding down, but we have at least three new projects/initiatives that are planned for the first week of September, so I haven't felt any of that post-summer reading relief yet!
Make sure to check out Book Riot's New Release Index, which has been keeping velocireaders in the know about all the latest books since 2017! It's new books for days! Subscribe today — you won't be able to read them all, but it's fun to try.
Libraries & Librarians
News Updates
An overdue library book was returned 119 YEARS (!!!) late.
Cool Library Updates Worth Reading
Libraries must rethink who and how they recruit to the field.
Book Adaptations in the News
Daniel Kraus's upcoming novel, Whalefall, has already been snagged for a film adaptation.
Censorship News
Libraries are under attack because they're anti-fascist.
Age-restricted library cards aren't a solution: they're a liability.
A report from the 2023 San Diego Comic-Con on post-pandemic censorship in libraries.
City leaders have rightly criticized the Houston ISD superintendent Mike Miles over his plans to turn most of the school libraries into detention centers. Meanwhile, ALA and the American Association of School Librarians have each issued statements opposing this decision.
Montgomery County (TX) libraries are limiting teen access to LGBTQ+ books and increasing the number of materials with politically conservative themes as a "counterbalance." Holy hell, that's not how libraries work!
Moore Memorial Public Library (TX) has drafted a pretty solid new book challenge policy.
Jesse Andrews on "Me and Earl" and the book-banning girls in Tallahassee.
More about the ban on Arthur's Birthday in Clay County (FL) schools…apparently Bruce Friedman thinks the book could "damage souls." I give up. This is too much internet for one day.
Lake County Schools (FL) have reinstated access to And Tango Makes Three.
Someone filed an appeal in Polk County Schools (FL) over Assassination Classroom being returned to the shelves.
A look at the book challenges that were reported in Massachusetts this last school year. None of the books should be a surprise.
North Smithfield High School (RI) has removed an elective class on Gothic literature and fairy tales because parents didn't like that the class used the book The Virgin Suicides.
Yancey County Public Library (NC) considered withdrawing from the larger regional library consortium because another library had Pride displays. The resolution did not pass, thanks to the community's support.
Charlotte-Mecklenburg Schools (NC) continue to deal with the repercussions of giving Moms for Liberty a sense of legitimacy.
Wake County schools (NC) have a new book challenge policy.
New Hanover County (NC) Board of Education will have an appeal hearing on whether or not to ban Stamped.
A federal judge has blocked Arkansas's new library materials law from taking effect.
Saline County Public Library (AR) may be under the jurisdiction of the county judge soon.
A look at how St. Charles County (MO) libraries are creating new library card classifications to comply with state law.
The Perks of Being a Wallflower will stay in Sumner County Schools (TN), although the school may end up revising its obscene materials policy as a result of this decision.
Athens County Public Library (OH) patrons showed up to support the library, which refused to alter its Pride Month displays or programming.
The Michigan Library Association has launched a new "Right to Read" campaign to counter the book banning efforts happening in the state.
Metropolitan School District of Steuben County (IN) is requiring school librarians to be the co-parents that the book banners claim they don't want: "Any titles that were on the list have been pulled to a section that requires the media specialist to hand that book to the child and they have a conversation and check appropriateness for the child and the age of the material."
A middle school in Kimberly, Wisconsin, is facing backlash for their digital collection, which includes This Book is Gay.
Book challenges in the Dakota County (MN) library system drew big crowds to a recent committee meeting.
Mankato Area Public Schools (MN) upheld the decision to retain March by John Lewis as part of a high school English lesson on racism, AKA an age-appropriate book used to talk about an age-appropriate subject.
The Urbandale School District (IA) just made a list of 374 books that need to be pulled from classrooms, thanks to the new state law. Jodi Picoult has thoughts about this.
The Campbell County (WY) Public Library board and director are at odds over the library's book weeding policy — the board wants library staff to weed books with "egregious" sexual content. Update: the board voted to fire the director, and were met with a group of attendees giving the trustees the finger in response. It's a funny image, but the actions of this board are extremely scary.
Academy District 20 (CO) has returned several books to shelves after a community member objected to their removal and then challenged the Bible on the same grounds. The district's legal counsel says that the schools will follow their policy for removing titles moving forward, which they should have done in the first place.
Grangeville-Centennial Library (ID) will not be reclassifying a group of YA novels as adult titles
Boundary County Library (ID) is creating a "new adult" section of the library, which is different than the section for their "young adult" books. I don't foresee any confusion whatsoever.
Temecula School District (CA) has decided to adapt the social studies curriculum they've been fighting against, but they still don't plan to acknowledge Harvey Milk. And the board president has said, "I've already instructed the superintendent, if books come from shipping and receiving, to say 'No,' and we'll ship them right back," in response to Governor Newsom saying that the state will purchase the textbooks and "fine them [the board] for their incompetence."
Two San Diego residents tried to "Hide the Pride" at their local library. It backfired.
Residents speak out against creating a book rating system at the Timberland Regional Library (WA).
Paywalled: Dayton Public Library is relocating multiple YA books to other areas of the library. It is also at risk of losing funding.
Books & Authors in the News
Singer, author, and activist Sinéad O'Connor has died at 56.
How Supreme Court justices make millions from book deals.
Killers of the Flower Moon tops the bestseller lists ahead of the upcoming movie adaptation.
Numbers & Trends
The best-selling books of the week.
Join Rebecca & Jeff in the First Edition podcast to consider the 10 finalists for the "It Book" of August and pick a winner.
Award News
The 2023 Booker Prize longlist has been announced.
The longlist for the 2023 First Novel Prize from the Center for Fiction has been released.
The Emmy Awards have been postponed due to the WGA and SAG-AFTRA strikes.
Pop Cultured
Actor Paul Reubens, best known for playing Pee-Wee Herman, has died at 70.
5 TV shows to watch if you like Only Murders in the Building.
Bookish Curiosities & Miscellaneous
The gamification of reading is changing how we approach books.
Washington Post editor Michael Dirda shares his 29 rules for reading.
On the Riot
13 fantasy books that should be adapted for the big screen.
What's it like to be a disabled writer?
Should Book Twitter switch to Book Tumblr?
The bookish lives of Harry Belafonte and Zendaya.
No more writers as protagonists!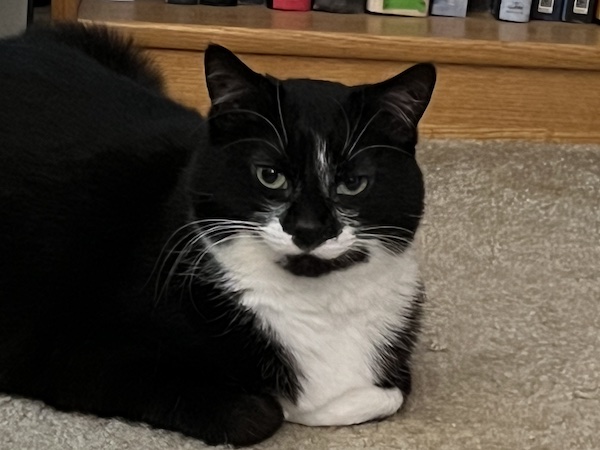 Dini gets newsletter honors this week, because Monday was his third Gotcha Day! As you can tell from this very skeptical photo, he is overjoyed to be a part of the family.
All right folks. Have a good weekend and I'll catch you again on Tuesday!
—Katie McLain Horner, @kt_librarylady on Twitter.