Welcome to Check Your Shelf. The big excitement in the Horner household this week is that we just ordered a semi-collapsable treadmill, and now neither of us will have an excuse for not getting some exercise. Honestly though, we're both trying to improve our stamina a bit before we visit Colorado again in September — we want to spend more time hiking and enjoying the scenery, and less time trying to catch our breath!
Don't forget to check out Book Riot's newest podcast, First Edition, where BookRiot.com co-founder Jeff O'Neal explores the wide bookish world, and talks to authors including S.A. Cosby, Khaled Hosseini, and Sarah Bakewell. Subscribe to hear them and stay to hear Book Riot's editors pick the "it" book of the month.
Libraries & Librarians
News Updates
UC Berkeley will keep its anthropology library…sort of.
Salt Lake City librarians are pushing to unionize.
Cool Library Updates
Boston locals are fundraising for the city's first nonprofit library created by and for LGBTQ+ folks.
NYC libraries are giving away 15,000 books this summer.
Barack Obama is making heartwarming cameos in library TikTok videos.
Book Adaptations in the News
The release date for Force of Nature: The Dry 2 has been postponed due to the ongoing actors' strike.
George R.R. Martin says his HBO deal has been suspended due to the Hollywood strikes as well.
Here's a first look at the Pet Sematary sequel, Pet Sematary: Bloodlines.
Trailer for A Haunting in Venice, which is based on Agatha Christie's Hallowe'en Party.
Censorship News
Rep. Lauren Boebert promoted an amendment to the National Defense Authorization Act that would ban the purchase of "pornographic books" for military schools, despite not having a solid definition of what constitutes a pornographic book, and the fact that schools don't buy pornographic materials.
Before Book Looks, there was Common Sense Media.
The Digital Public Library of America announces the launch of the Banned Books Club, which shows readers the books that have been banned in their area, and lets them read the digital versions for free.
How book banning campaigns have changed the lives and education of librarians: they now need to learn how to plan for safety and legal protection.
Librarians have started an open letter of support for ALA President Emily Drabinski, who the Montana State Library Commission cited as the primary reason why they were cutting ties with ALA.
Fort Worth (TX) schools are removing three books: Gender Queer, Flamer, and Wait, What? A Comic Book Guide to Relationships, Bodies, and Growing Up.
Houston ISD (TX) is eliminating school librarians and converting many of the school libraries into disciplinary centers at New Education System schools. I'm not making this up.
Two Texas bookstores and three national bookseller associations have filed a lawsuit against Texas House Bill 900, which requires private booksellers to rate books on "appropriateness" for young readers.
Florida's "removed book" list is coming. Schools plan to use it.
Two more calls to ban the Bible in response to other book bans — one in Leon County, Florida, and the other in Palm Beach, Florida.
In other Leon County news, they are keeping I Am Billie Jean King on school library shelves.
Right-wing bigots are trying to ban Arthur's Birthday from Clay County (FL) school libraries because…well, it's not totally clear why. But it's probably the work of Bruce Friedman, who has submitted nearly all of the challenges in the Clay County school district thus far.
Paywalled: Miami educators are enraged by Florida's Black history standards.
Oconee County (GA) has a Moms for Liberty group targeting the public library with book challenges.
Let's break down some numbers in regard to the St. Tammany Parish Library's (LA) ongoing book challenges. Each challenge costs the library system about $400 and dozens of staff hours. In the 11 months since receiving its first challenge, the library has only worked its way through 11 challenged titles. They have over 150 (!!!) challenged books to review at this time. At this rate, they're looking at an estimated total of $60,000, 5400 additional staff hours (if we're optimistic and calculate 36 additional hours per challenge), and it'll take them 12.5 years to get through everything at this rate. And that's only if no additional challenges are submitted, which is highly unlikely. What a spectacular waste of time and money.
This Book is Gay will stay in Brookfield (CT) schools.
This New York librarian talks about what it's been like being called a "groomer" and a "pedophile" on social media.
Jay-Z helps finance anti book ban initiatives in New York.
Cedar Grove Public Library (NJ) is restricting access to Gender Queer.
What happened when students led fights to reverse book bans at Central York High School (PA).
Telford Borough Councilman (PA) Robert Jacobus continues his crusade to defund the Indian Valley Public Library.
Paywalled: 39 books have been challenged in Carroll County Public Schools (MD).
Samuels Library (VA) issues a ruling on the location of three challenged books, and also rolled out two new library card types that restrict access for kids and teens and prevent access to digital media.
Williamsburg-James City County Schools (VA) have changed their book challenge policy, saying that parents can still submit a complaint through appropriate channels, but "no library resources should be restricted or removed from the library as a result of the concern or complaint."
Hanover County (VA) residents are concerned about possible book bans after two pro-book banners are appointed to the library board.
The Appomattox County (VA) Board of Supervisors are poised to reinstate a library board member that they removed last month. One of the supervisors made the request to reinstate the board member, saying that "he had voted to remove library board members due to his own beliefs, and not the law of Virginia." Yeah…that's not good.
Virginia: Public libraries are the latest front in a culture war battle over books.
Iredell-Statesville Schools (NC) have removed or relocated over 250 (!!!) books after complaints.
Moore County (NC) Board of Education member Philip Holmes wants to remove several "vulgar" books from the schools.
Paywalled: A single parent was able to get 12 books removed from Horry County Schools (SC).
York County (SC) voted to shrink the library board from 10 trustees to 7, making it easier for board members to push their potential book banning agendas.
Ta-Nehisi Coates attended a Lexington-Richland 5 school board meeting (SC) in support of a high school teacher who was told to stop using his book Between the World and Me in her AP English class.
Alabama Senator Chris Elliott proposed removing $5 million in funding from the Alabama Department of Archives and History because they hosted a one-hour lecture on LGBTQ+ history. The bill failed, but he said he will continue to pursue other measures next year.
A group of Prattville (AL) library challengers are recruiting people to help ban books, as well as negatively review books so that their language aligns with state anti-obscenity laws.
In response to the new state law, the Springdale Public Library (AR) will require all children 12 and younger to have a parent with them at all times while using the library, while children 13-14 must have an adult physically present in the building in order to use the library. I know most libraries have policies regarding the ages of unsupervised children, but I think we can all agree this is extremely restrictive.
A Fayetteville (AR) federal judge will be issuing a preliminary ruling soon on the constitutionality of the new state law targeting libraries and booksellers.
The Crawford County Library (AR) preps for two federal lawsuits.
Jay Ashcroft is the latest politician to admonish the ALA and threaten to cut state ties — this time in Missouri.
Elizabethtown Independent Schools (KY) are getting "visitors" at the school board meetings "sharing book concerns" with the trustees. It sounds almost wholesome, doesn't it?
Marathon County Public Library (WI) will retain Let's Talk About It, and will not be creating a book rating system for their collection.
The West Bend School (WI) review committee voted unanimously to keep The 57 Bus.
Keene Memorial Library (NE) is also implementing new restricted age category library cards. Teens will be unable to borrow any materials from the adult section, which means that all nonfiction books are off-limits for research papers, along with any classic novels that they may need to read for school. This is such a short-sighted policy.
A Tulsa (OK) school board member is getting their undies in a bundle because an organization that partners with the school district to provide tutoring and mentoring students for students posted an LGBTQ booklist on Instagram during Pride Month.
59% of Utahns oppose local school boards removing books from classrooms and libraries.
Claim: A Washoe County (NV) resident claimed that Lawn Boy was being read out loud to students in Washoe County Schools. Reality: "The school district reports it could find no evidence of Evison's Lawn Boy being read to students."
Temecula Valley Unified School District (CA) recently banned an elementary school social studies textbook because it mentioned Harvey Milk. California governor Gavin Newsome will now purchase copies of the book for students in the district and then "bill the district and fine them for violating state law."
Lewis County Board of Commissioners (WA) contacted the Timberland Regional Library about developing a policy around creating a rating system for the children's collection, which is NOT how library policy should be developed!
The Columbia County Rural Library (WA) heard from several people who want certain books relocated from the children's section, with one person suggesting that "some of the offending books could be kept off the shelves and shipped to patrons who wished to check them out." That's…that's not how libraries work!
6 LGBTQ-themed YA books have gone missing from the Tri-Valley Community Library (AK).
Business owners in Winkler, Manitoba, are pushing to defund libraries over "pornographic" books.
When precocious readers want mature books: it's your call, parents.
The book ban backlash has arrived just in time to mobilize voters.
Books & Authors in the News
If you've read Robert Kolker's 2013 true crime book The Lost Girls: An Unsolved American Mystery, they may have finally solved the mystery: a suspect has recently been arrested in the Gilgo Beach serial killings.
The Roald Dahl Museum has issued a statement addressing the author's antisemitism.
Numbers & Trends
These are the most-assigned novels by women in U.S. colleges.
The bestselling books of the week.
Delighting velocireaders since 2017, Book Riot's New Release Index will keep you in the know about all the latest books. Start your 14-day free trial today.
Award News
The inaugural TikTok Book Awards shortlist has been announced.
Javier Zamora: "It's time for the Pulitzer Prize for Literature to accept noncitizens."
Drew Barrymore is hosting this year's National Book Awards, with Oprah Winfrey delivering remarks as well.
The finalists for the World Fantasy Awards and the British Fantasy Awards have been announced.
Pop Cultured
Not sure where this news should actually go, but Twitter has now been rebranded as "X." I, for one, will not be referring to it as "X."
On the Riot
Why you should run a 10 day reading challenge at your school.
How Good Omens gave this reader hope as a trans college student.
This Rioter reflects on their reading eras, the books they loved, and the books they only pretended to love.
Does tracking reading make it less enjoyable?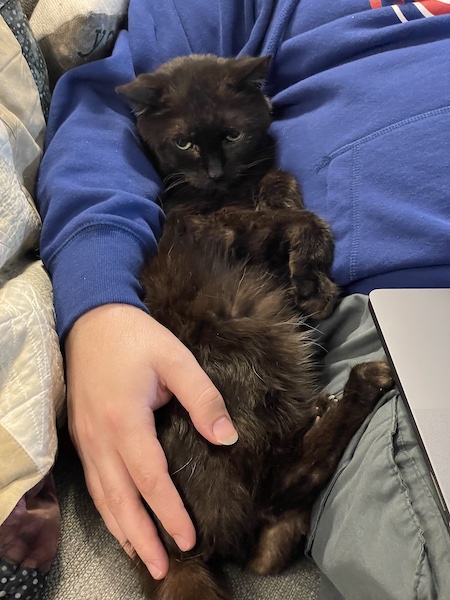 I'm not sure, but I think Gilbert turned into a sea otter!
All right, folks, have a great weekend, and hopefully it's not unbearably hot where you are. I'll see you again on Tuesday!
—Katie McLain Horner, @kt_librarylady on Twitter.