Hey YA Readers!
I hope many of you enjoyed your Barbenheimer weekend. I won't lie: I was thrilled my drive-in was making the double feature Barbie and Clueless, as it hit the sweet spot of "low investment" + "extremely entertaining," which is about all I can handle with movies. My high investment is reserved for reading. Let's dive into this week's YA book talk and soak up summer in what might be the most enjoyable way this year: books.
Psst: What do S.A. Cosby, Khaled Hosseini, Sarah Bakewell, and Yahdon Israel have in common? They've been guests on Book Riot's newest podcast, First Edition, where BookRiot.com co-founder Jeff O'Neal explores the wide bookish world. Subscribe to hear them and stay to hear Book Riot's editors pick the "it" book of the month.
Bookish Goods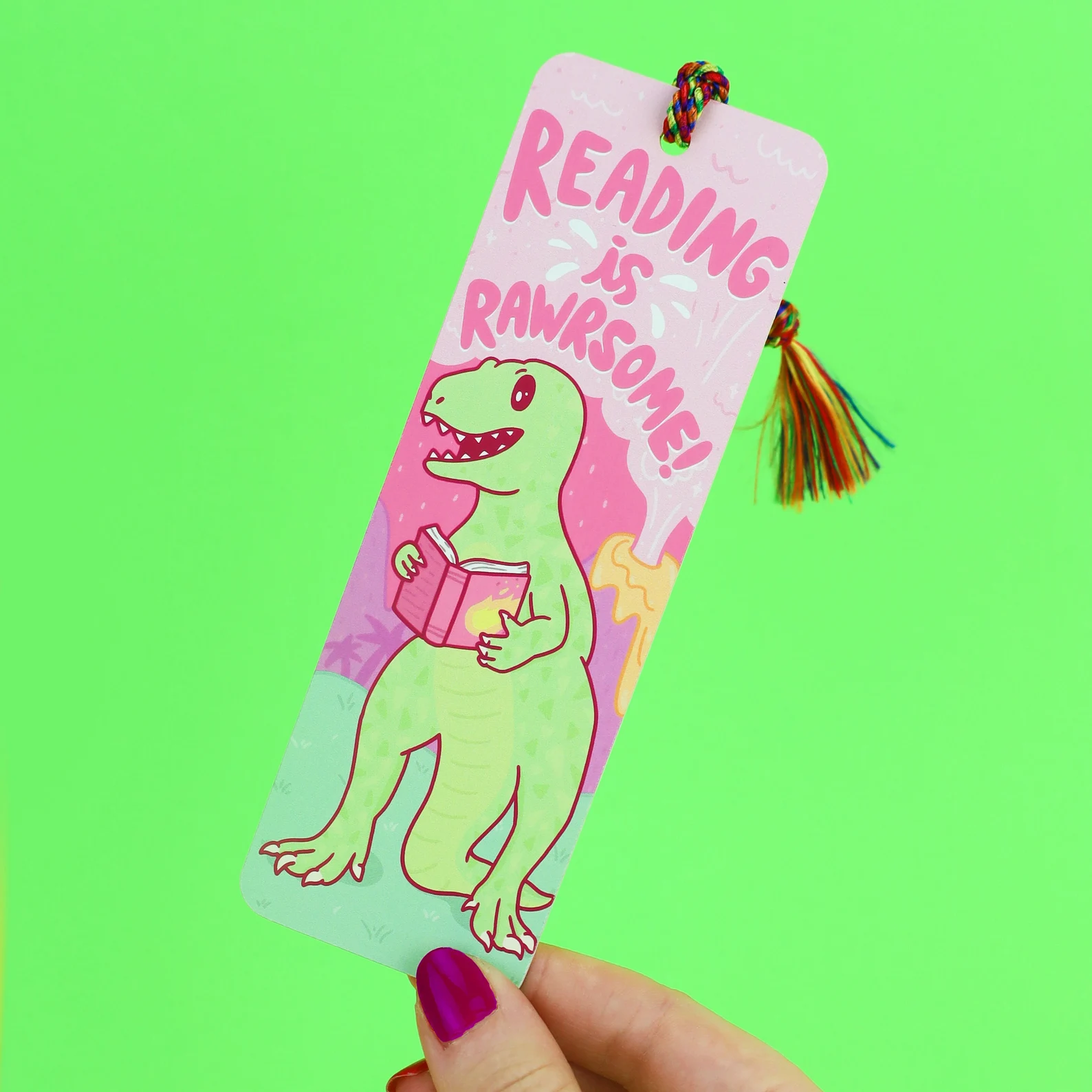 Look how cute this dinosaur bookmark is. As if the colors and dino were not enough, then we get the language play on top of it. Rawrsome indeed. $4.
New Releases
There is a new Karen M. McManus book out today, so I want to acknowledge that before anyone doesn't see it below and wonders why. You can find out more about that book and the dozen or so other great new YA books hitting shelves in hardcover over here. When you only pick two titles to talk about in each newsletter, sometimes the big ones get set aside for titles which may not have the name recognition.
So today's highlights? How about a mystery/thriller that's already been optioned for adaptation and an original fairy tale?
In 1880 Bavaria, Hilde and her five sisters were given coats by their creator Odin. These coats transform them into swans and each comes with a gift unique to them. Hilde is not interested in her gift, which would allow her to help transport souls of dying creators into the afterlife. She uses it anyway, and when helping a hawk cross over, she meets Baron Maximilian von Richter. Hilde is taken with him immediately and makes a deal with the inheritance-less boy: she'll make him rich if he can take her to the human world.
Hilde does not fit in the human world though, and the story follows what happens as she tries and when she finds herself in the center of a potential love triangle. Then her coat goes missing…
This one is described as Swan Lake meets The Last Unicorn by way of the Brothers Grimm.
Adina Walker knows she's got to work twice as hard to get half as much, especially at her elite New England school, where she attends on scholarship. She makes one slip, though, and she finds herself on the blacklist of her top Ivy League college.
She is disappointed but plans to see if she can redeem herself. The opportunity to do so lies in Finish, a high-intensity contest held by the founders of her high school. The three-part challenge asks 12 women to compete, and the winner is able to become part of the institution's family. This recognition? It'll be the key to anything the winner wants.
Just as Adina prepares for the Finish, she feels something is off. The deeper she is into the games, the more off they become, and soon this is no longer about getting into her dream school. It's about staying alive.
This debut has already been options for potential adaptation and has been pitched as Ace of Spades meets Squid Games with hints of The Batchelor (sounds like I am describing a fancy dinner, doesn't it?).
For a more comprehensive list of new releases, check out our New Books newsletter.
Sum-Sum-Summertime Reads
We're in the thick of summer now in the northern hemisphere. Here in the upper Midwest, this has been the summer of smoke, so outside time has not been as abundant as usual…and even if it were, the heat has been high. I know it's been even more brutal elsewhere, so you may not have had smoke issues but you still weren't going outside.
Whether you're able to get your summer reading outdoors or prefer it from inside, here are some YA books that published this year which have summer written all over them. Literally. Summer is in the title.
As always, thanks for hanging out. We'll see you later this week for your paperback + YA book news roundup. Next Monday, we'll dive into some non-contemporary titles, since we went a little heavy here this week. Deal? Deal.
Until then, happy reading!
–Kelly Jensen, who you can now catch over on substack.