Welcome to Check Your Shelf. We just had some legit tornados touch down in the Chicago area this afternoon/evening, and while there's obvious concern for the people who were injured or lost their homes, there's also an unintentionally hilarious photo making the rounds on Twitter. If you can't see the photo, it's an image of a funnel cloud forming near Elgin (a Chicago-area suburb), but the foreground is of a very crowded Portillo's drive-thru line. It is perhaps the most Chicago thing I've ever seen, and if you're from the Chicago area (or have eaten at Portillo's), you probably understand.
Don't forget to check out Book Riot's newest podcast, First Edition where BookRiot.com co-founder Jeff O'Neal explores the wide bookish world, and talks to authors including S.A. Cosby, Khaled Hosseini, and Sarah Bakewell. Subscribe to hear them and stay to hear Book Riot's editors pick the "it" book of the month.
Libraries & Librarians
News Updates
The governing board of the International Federation of Library Associations and Institutions is seeking an advisory referendum from its members about the IFLA's recent decision to host the 2024 World Library and Information Congress in Dubai, despite the dangers presented to LGBTQ+ attendees, and the restrictions around holding LGBTQ+-related discussions as part of this conference.
ALA has issued a resolution stating their strong objections to IFLA hosting their conference in Dubai.
Flagler County (FL) Library's budget, hours and staffing have shrunk, while the county population has increased by 25%.
Cool Library Updates
Queens Public Library celebrates the 50th anniversary of hip-hop with special edition library cards.
Worth Reading
Are law librarians' jobs at risk from the rise of generative AI?
Book Adaptations in the News
Greta Gerwig will direct the upcoming Netflix adaptation of The Chronicles of Narnia.
Censorship News
How Moms for Liberty teaches its members to spin the media.
Can even a short K-12 library book ban lead to a civil rights violation? This legal firm says yes.
Library event cancelations, changes, and support for Pride Month 2023.
The most banned books in the U.S. are not new books.
From The New York Times: It's getting hard to stage a school play without political drama.
Why parents are trying to ban so many picture books.
Book bans aren't actually about books.
Book vendors are not happy about the new Texas legislation requiring them to rate sexual content in school materials.
A group of Klein ISD (TX) residents are upset that a high school teacher assigned The Bluest Eye as part of an elective dual-credit course offered in conjunction with a local community college.
Orange County (FL) schools have removed books by John Milton and Toni Morrison, and Shakespeare has been restricted under DeSantis' rules.
Paywalled: Santa Rosa County (FL) have removed 10 out of 14 titles in the first round of reviews for a list of 65 challenged books.
Hernando County (FL) schools removed Marvin Redpost: Is He a Girl? from one of their elementary schools because of "gender identity" issues.
Leon County School Board (FL) recommends keeping a children's biography of Billie Jean King in the school library.
Paywalled: More than 400 residents in Old Lyme (CT) signed a letter in support of the library and its collections after the library received two challenges to age-appropriate sex ed books for teens.
Lower Cape May Regional School District (NJ) will not ban Gender Queer.
Following Illinois' example, Pennsylvania has introduced a new bill to ban book bans.
Moms for Liberty came to Philadelphia, where they were met by a sea of counter-protesters having a dance party outside of the M4L conference.
A Cocalico School board member (PA) is upset over "pornographic" books in school libraries (in this case, Blankets and the graphic novel adaptation of The Handmaid's Tale).
Montgomery County Public Schools (MD) issued a statement reaffirming their decision to not allow parents to opt their children out of LGBTQ+ stories used in school. This is a really solid example to follow.
Samuels Library (VA) trustees defend the collection, staff, and review process. (What a refreshing thought!)
Well, here's a new one. A Beaufort County (SC) resident threw bags of chicken feed at a recent school board meeting because the trustees were "too chicken" to ban books. The board has voted to retain most of the 97 books that were challenged back in October.
Parents of Chapin High School (SC) students say that a teacher needs to be fired for teaching "critical race theory."
Hoopla and Overdrive/Libby have been banned for all school and public library patrons under the age of 18 in Mississippi. The first sentence of the article says it best: "Despite the age of consent in Mississippi being 16, no one under the age of 18 will have access to digital materials made available through public and school libraries without explicit parental/guardian permission."
This letter to the editor from Garland County (AR) has an interesting suggestion: since book challenges are considered public information, any challenges submitted to the library should be forwarded to the local newspaper.
Paywalled: A new tactic we'll probably start to see more of is on display in Murfreesboro, Tennessee: citing public decency standards in city ordinances in order to ban books.
Indiana residents are getting their undies in a bundle over a group of books by Ellen Hopkins in Evansville Vanderburgh Schools…half a dozen of her titles have been banned or restricted within the last couple of years, even though they've been in the school library for a lot longer.
A Chaska (MN) boutique received community support for a recent drag queen storytime event, after an initial wave of backlash.
Wilmette (IL) Library patrons sing loud and proud in response to a protester at a recent Pride event.
An Elmhurst (IL) bigot is upset that the local paper referred to him as a conservative, saying that they never refer to his opponents as "progressives." Except the paper showed that they absolutely have. (Also, we really need to stop referring to these people as "activists.")
Fellow Rioter Tirzah Price talks about what it's like being the director of an Iowa public library that shares its collection with the local school district, which is required by law to remove inappropriate books for students. (Bottom line: the public library isn't going to remove books from the collection.)
The former director of the Sterling Library (KS) claims that the board fired her and her assistant because of their unwillingness to take down a rainbow infinity flag from a display about diversity.
The Douglas County (CO) Library board will vote on the fate of several challenged LGBTQ books. Despite the challenges, however, most of the residents who showed up to the meeting were in favor of retaining the books.
A parent has challenged the Bible in the Academy 20 school district in Colorado Springs.
An ImagineIF Libraries (MT) trustee wants to remove provisions in the library's Fair Treatment policy that expressly resist censorship. (Insert "This is fine" meme here.)
A new lawsuit challenges Montana's statewide ban on drag performances.
The Montana State Library Commission voted to withdraw its membership from ALA. The Montana Library Association (not the same group) has issued a statement condemning the decision.
This second-generation Utah school librarian is taking a step back after 10 years in the profession. This is such a sad read, knowing that this librarian's story is reflective of so many librarians and teachers who are leaving the work that they love because of harassment and lack of administrative support.
These articles really need to stop pretending like the "porn in libraries" is a legitimate concern or framing. This is in Idaho, where a resident was so upset about the presence of two books by Sarah J. Maas that she bypassed the library's policies and went right to the city council since the library trustees already indicated they weren't interested in her hysterics.
A Portales (NM) teacher says that she was forced out of her job after a couple of students complained about the use of The Hate U Give in class.
The Rancho Peñasquitos Library (NM) revives their Pride display after protesters removed most of the books.
Paywalled: The uncertain fate of the Dayton Memorial Library (WA) looms after a recent board meeting.
A warning that if the U.S. continues along this censorious pathway, they could end up in the same position as Poland, where it's illegal to talk about Poland's complicity in the Holocaust.
The Canadian Federation of Library Associations has published the results from their 2022 Intellectual Freedom Survey, including the five most banned or challenged books last year.
Hundreds march in solidarity with Cork, Ireland library staff members, who have faced harassment from far-right protesters over the library's inclusion of LGBTQ+ books.
Books & Authors in the News
Mona Awad and Paul Tremblay have filed a lawsuit against OpenAI, alleging that their copyrighted books were used to train ChatGPT without their consent.
A new article shows that Supreme Court Justice Sonia Sotomayor's staff have often prodded the public institutions that have hosted her as a speaker to purchase her books.
Milan Kundera, the author of The Unbearable Lightness of Being, has died at 94.
Numbers & Trends
How TikTok made a '00s dating advice book a best-seller.
The highest-rated book in each country, mapped.
The best-selling books of the week.
Award News
Booksellers have launched the new Cercador Prize for Translation.
The 2023 Hugo Award finalists have been announced.
Bookish Curiosities & Miscellaneous
"Goodreads now only permitting reviews from people who haven't read the book." (Don't worry — this is from The Onion.)
Delighting velocireaders since 2017, Book Riot's New Release Index will keep you in the know about all the latest books. Start your 14-day free trial today.
On the Riot
Who was Tessa Kelso? A feminist history of the librarian pioneer.
How to find library bookshelves.
Why all of this Rioter's book clubs have imploded.
How to find discounted children's books. ​​
What are "living books" and how do you use them?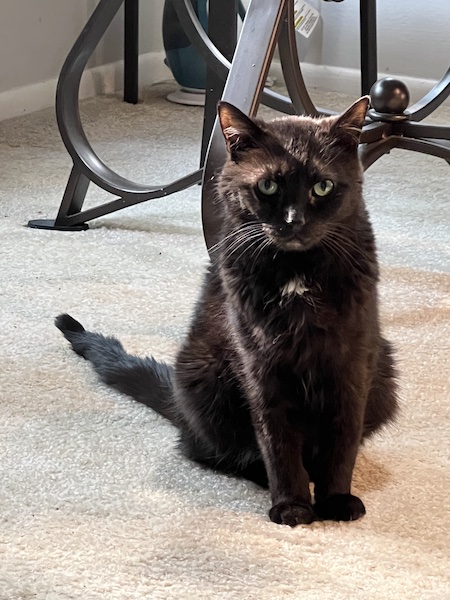 I shared this photo of Gilbert on Facebook, and kept him updated about how many likes and comments he was getting! I mentioned he was 17, and people responded with "What a classy gentleman!" and "Sweet old grandpa kitty!" I detect no lies here.
All right friends, I hope everyone's safe from the tornados, and let's try to save our Portillo's runs for when there's better weather, okay?
—Katie McLain Horner, @kt_librarylady on Twitter.