Welcome to Check Your Shelf. Well, this weekend came and went, as did all of my intentions of doing something semi-productive. However, one thing I DID do was pull a weird muscle under my rib cage. Was it from using the foam roller too much to stretch my back? Or from slouching while I played video games? Did I sleep in a wonky position? Or is it the universe reminding me that I'm a month away from my 34th birthday and all aches and pains are just going to get worse from this point forward?
But you know what's not painful? (Sorry, bad segue…) The Deep Dive, a biweekly newsletter to inform and inspire readers, delivered to your inbox! Your first read (The Power Reader's Guide to Reading Logs & Trackers) is on the house. Check out all the details and choose your membership level at bookriot.substack.com.
Collection Development Corner
Publishing News
The fierce debate over rewriting children's classics.
What happens when AI reads a book?
New & Upcoming Titles
Publishers Weekly has their Fall 2023 Adult announcements out.
Did you hear the rumor that Donna Tartt is releasing a new novel? (Well, hopefully you didn't, because it's actually not true.)
You know what is true, though? Mary Trump and E. Jean Carroll are collaborating on a "politics-free" romance novel.
Salman Rushdie is writing a book about his attack last year.
Kellye Garrett has finished writing her latest book, Missing White Woman.
Cover reveal for Alex Michaelides' upcoming novel, The Fury.
Cover reveal for Gretchen Felker-Martin's Cuckoo.
Summer picks from AARP, Crime Reads, Datebook, New York Times, NPR, Shondaland, Time, USA Today (suspense), Vulture, Washington Post.
The best royal romances to read this summer.
Weekly book picks from Crime Reads, New York Times, USA Today.
June picks from Amazon, Barnes & Noble, Crime Reads, Epic Reads, Kirkus, LA Times, The Millions, New York Times, Washington Post.
Best books of 2023 so far from PopSugar, Time.
What Your Patrons Are Hearing About
Open Throat – Henry Hoke (LA Times, New York Times, Washington Post)
Kairos – Jenny Erpenbeck (New York Times, Washington Post)
Lesbian Love Story: A Memoir in Archives – Amelia Possanza (Autostraddle, Shondaland)
Burn it Down: Power, Complicity, and a Call For Change in Hollywood – Maureen Ryan (Deadline, Vanity Fair, Vulture)
RA/Genre Resources
Where to start with Kazuo Ishiguro's works.
6 favorite authors writing in new or unexpected genres.
On the Riot
How queer-owned bookstores are celebrating Pride Month.
9 authors whose TikTok popularity helped them get published.
10 of the best sci-fi books for Summer 2023.
25 best horror novels of 2023.
Recent horror and thrillers written by authors of color.
8 excellent new cozy books to curl up with this summer.
The best new weekly book releases to TBR.
We need more close platonic male friendships in fiction.
All Things Comics
Dark Horse Comics is releasing a deluxe edition of Neil Gaiman's entire Norse Mythology.
On the Riot
20 award-winning graphic novels for your TBR.
Subscribe to First Edition for interviews, lists, rankings, recommendations, and much more, featuring people who know and love books.
Audiophilia
The 2023 Golden Voice Award winners have been announced.
True buckaroo Mara Wilson is narrating the audio version of Chuck Tingle's first traditionally published novel, Camp Damascus.
6 great audiobooks to listen to this month.
Book Lists, Book Lists, Book Lists
Children/Teens
13 enchanting mermaid books for kids.
28 sweet picture books that celebrate fatherhood.
Adults
5 SFF road trip stories to fuel your wanderlust.
Reading lists for fans of Succession from Esquire and Vulture.
15 contemporary books by Latina authors that have become classics.
4 SF novels set in future versions of San Francisco.
The best unhinged books to read while smiling on the beach. (Now that's my kind of beach read!)
8 books set in Hawai'i by local authors.
8 historical fiction books set in Colonial America.
10 sinister small-town thrillers.
On the Riot
8 middle grade magical realism novels.
8 YA fantasy books you won't be able to put down.
The best books you've never heard of from the 2000's.
14 grumpy/sunshine romance books to make your day.
9 beautiful nonfiction books by trans and nonbinary Asian authors.
24 must-read nonfiction books for horror fans.
Level Up (Library Reads)
Do you take part in Library Reads, the monthly list of best books selected by librarians only? We've made it easy for you to find eligible diverse titles to nominate. Kelly Jensen has a guide to discovering upcoming diverse books, and Nora Rawlins of Early Word has created a database of upcoming diverse titles to nominate as well that includes information about series, vendors, and publisher buzz.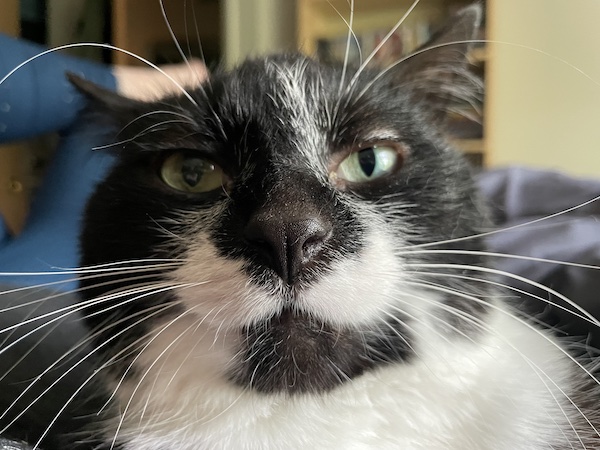 Dini wanted to tell all of you that Sunday June 4th was National Hug Your Cat Day. But don't worry if you forgot to acknowledge it…belated kitty hugs are still acceptable.
As Porky Pig used to say, that's all folks! I'll check back in again on Friday!
—Katie McLain Horner, @kt_librarylady on Twitter.