The Thursday vibes are real, friends.
What does that mean? It means it's been a long week and I can't believe it's not Friday yet. Ya girl is tired. I just want to cuddle cats and bury myself in quilts. That's what I mean by Thursday vibes. What does Thursday mean to you? Let me know. And in the meantime, let's talk books or something.
Book Riot has a new podcast for you to check out if you're looking for more bookish content in your life. First Edition will include interviews, lists, rankings, retrospectives, recommendations, and much more, featuring people who know and love books. You can subscribe to First Edition on Spotify, Apple Podcasts, or your podcatcher of choice.
Book Deals and Reveals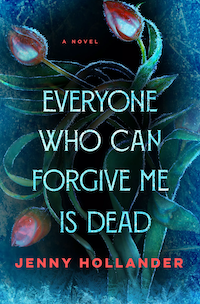 Marie Clare revealed the cover of Jenny Hollander's Everyone Who Can Forgive Me is Dead. This twisty thriller is out from Minotaur Books on February 6, 2024.
The first trailer for the musical film The Color Purple has finally dropped! The Color Purple is out in theaters on Christmas Day.
Jane Lynch, Robert Colindrez, Carrie Brownstein, Roxane Gay, and Jenn Collela will offer their voice work in Audible's Dykes to Watch Out For, an adaptation of Alison Bechdel's comic series.
Best-selling author Megan Abbott's latest novel is being adapted for the big screen. In a tweet, Megan Abbott wrote, "I'm so excited about this. Plus: when (& only when) the WGA strike ends and we get our fair contract, I'll be writing the script." Abbott's novel Beware the Woman is coming out on May 30.
Marvel's weekly podcast has announced that Daredevil will relaunch with Daredevil #1 on September 13. Taking over for writer Chip Zdarsky is Saladin Ahmed, the beloved Miles Morales and Ms. Marvel writer.
Actress Thora Birch will be making her feature directorial debut on an adaptation of Elmore Leonard's 2004 crime novel Mr. Paradise.
Chiwetel Ejiofor will be joining the cast of Venom 3, starring Tom Hardy. Details about Ejiofor's character are still being kept under wraps, but Hardy will return as the titular character and serve as producer.
Barnes & Noble Union Square's ticketed event with Ali Hazelwood in conversation with Adriana Herrera and Sarah MacLean is sold out. But you can attend the event virtually by purchasing a ticket from Eventbrite.
Want to see South Carolina's first and only independent queer bookstore open its doors? Then support Queen Haven Books on Kickstarter!
Meg Cabot is sharing the first 50 pages of her new novel Enchanted to Meet You, the next in her Witches of West Harbor series.
Barnes and Noble is putting on the costume of a local indie bookstore, but their inner mechanics are still all big-box chain corporation. How should we feel about Barnes & Noble now?
Fantasy to YA, romance to lit fic, this is what TikTok is reading in 2023.
Book Riot Recommends
Hi, welcome to everyone's favorite segment of Book Radar called Book Riot Recommends. This is where I'll talk to you about all the books I'm reading, the books I'm loving, and the books I can't wait to read and love in the near future. I think you're going to love them too!
Can't Wait for This One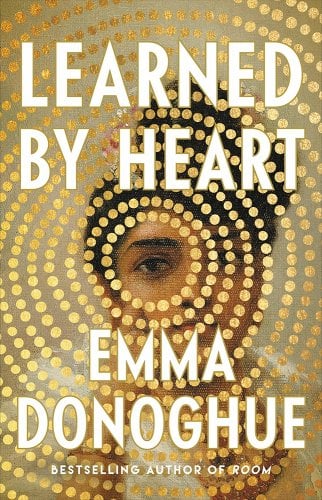 Learned by Heart by Emma Donoghue (Little, Brown and Company, August 29)
Emma Donoghue's Room is a book I still can't stop thinking about years later. And yes, I know she's written several great books since then, but it still goes back to Room for me. Could Learned by Heart usurp Room and become my new favorite Emma Donoghue novel? With this premise, it's very possible. Also, look at this cover! I have heart eyes.
Learned by Heart is based on a true story and was written after years of research and real words from Anne Lister's (the "first modern lesbian") secret journal. Eliza Raine was an heiress who was orphaned and sent to England from India when she was only 6 years old. At the age of 14 in the year 1805, Eliza is sent to Manor School for young ladies. There she meets Anne Lister, a brilliant tomboy who is always getting herself into trouble. This book is their love story, full of passion and heartbreak.
Learned by Heart isn't out until the end of August, but with the way this year is going, that's basically tomorrow. I can't wait!
Looking for fascinating stories, informed takes, useful advice, and more from experts in the world of books and reading? Subscribe to Book Riot's The Deep Dive to get exclusive content delivered to your inbox.
Words of Literary Wisdom

"It's not so much that I like him as a person, God, but as a boy he's very handsome."
— Are You There God? It's Me, Margaret by Judy Blume
What I'm Watching This Weekend
Well, The Little Mermaid is out this weekend, and just like every millennial who grew up wishing they were Ariel, I will be at the theater watching the new live action remake. Do I think it will be good? Look, probably not. But I do think Halle Bailey looks beautiful and sings like an angel. Hot take: the only Disney live action remake that's been good so far is Aladdin. I'm ready for the hate mail, but I will die on this hill.
And Here's A Cat Picture!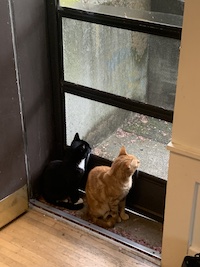 We've been having a bit of nice weather lately, and the cats are loving sitting by the screen door and checking out the tennis players in the park across the street. Yes, our cats are big tennis fans, it's true. They probably know more about tennis than I do.
Okay…well. Hopefully the weekend gets here soon, right? I hope it's a good one for you!