Hi Book Friends!
I hope you're having a wonderful week. Today, I took the day off from work and spent the day wine tasting, so I'm feeling very relaxed and ready to talk books. So let's get right into it, shall we? Here are all the book things you should know!
Interested in fascinating stories, informed takes, useful advice, and more from experts in the world of books and reading? Check out our newest newsletter, The Deep Dive, to get exclusive content delivered to your inbox! Choose your membership level today at bookriot.substack.com
Book Deals and Reveals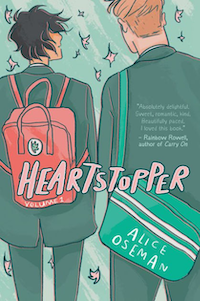 Netflix has confirmed that Heartstopper will return for a second season on August 3. The series, based on Alice Oseman's graphic novels of the same name, has also already been renewed for a second season.
Malala Yousafzai, the Nobel Peace Prize winner and author of the bestseller I Am Malala, is publishing a new memoir with Atria Books. Atria described the book as a "revealing journey of self-discovery — a breathtaking story of recovery and search for identity, a candid exploration of her coming-of-age in the public spotlight, and an intimate look at her life today."
Screenwriter and author Staci Robinson is publishing a biography entitled Tupac Shakur: The Authorized Biography. Robinson knew Shakur in high school and was selected by Shakur's mother to write the book. Publication is set for October.
YA author Mary E. Pearson is publishing her adult debut, The Courting of Bristol Keats with Flatiron. Flatiron said the novel "follows a grieving young woman who learns that her father's death may have been faked, and is plunged into an unexpected world of gods, fae, and monsters."
Over the past three years, entry-level wages at many publishing houses have risen 23%, on average, in response to unions, inflation, and a demand for a living wage.
Ada Limón has been appointed to serve a two-year second term as the nation's 24th Poet Laureate Consultant in Poetry. This is the first time a laureate will serve a two-year term.
Kennedy Ryan's bestselling novel Before I Let Go is in development at Peacock from Universal TV & UCP.
At this year's London Book Fair, literary agency Jenny Brown Associates launched an award for debut novelists in the UK aged 50 and above. The new award invites unpublished writers without an agent to submit the first 5,000 words of their novel by May 31.
Brandon Sklenar has been cast to star alongside Blake Lively and Justin Baldoni in the upcoming film adaptation of Colleen Hoover's best-selling novel It Ends With Us.
Apple TV+ has released the first trailer for the new series Lessons in Chemistry, starring Brie Larson.
Ted Lasso star Juno Temple is in talks to join Tom Hardy in a lead role in the upcoming film Venom 3. Details about Temple's character are being kept under wraps.
To celebrate the 40th anniversary of Tamora Pierce's Song of the Lioness Quartet, Athenium is reissuing special editions of the books.
Book Riot Recommends
Hi, welcome to everyone's favorite segment of Book Radar called Book Riot Recommends. This is where I'll talk to you about all the books I'm reading, the books I'm loving, and the books I can't wait to read and love in the near future. I think you're going to love them too!
Can't Wait for This One!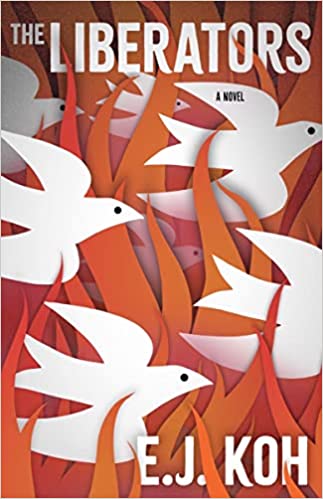 The Liberators by E.J. Koh (Tin House Books, November 7)
Poet and translator E.J. Koh released her memoir The Magical Language of Others back in 2020, but I, like many readers, still can't stop thinking about it in 2023. Now Koh is releasing her debut novel, The Liberators, a literary novel spanning continents and four generations of two Korean families.
After their arranged marriage, Insuk and Sungho move from South Korea to San Jose, California. In a new country, Insuk feels grief over the loss of her home and everything she left behinds, and she enters into an affair that will change the course of two families' lives over many generations. Koh's novel weaves in real historical events, from the Gwangju Massacre to the 1988 Olympics, to tell the story of family legacies, loss, memory, love, and war.
The Liberators will be out from Tin House Books on November 7, and it's sure to include some of the most beautiful prose you've read all year. Make sure to put this one on your TBR!
Do you need help finding your next great read? Subscribe to Tailored Book Recommendations for really great reads year-round.
Words of Literary Wisdom
"Fire is immense and immeasurable; it will keep expanding, reproducing, until water or air stop it. If the Lord cherishes us, why are we so fragile and fire so grand? Pointless debate. We are the fire, and the fire is us. We were born with electricity in our hearts, the divine flame. When we die, we return to the elements. Ashes to fucking ashes."
— Scorched Grace by Margot Douaihy
What I'm Watching This Weekend
I'm finally catching up with some of those TV shows I know I should have been watching but just hadn't gotten around to watching yet. At the top of my list are Yellowjackets and Swarm. Are you watching these too? Or have you watched them? I would love to hear your thoughts!
And Here's A Cat Picture!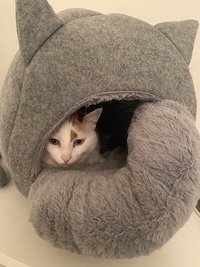 Sweet Cersei Anne continues to be a hermit. hiding in her little cat house. Her new trick, as you'll see in this pic, is pushing the pillow halfway outside of her house so that it's even harder for the other cats to get to her. Relatable, TBH.
Aaaand…that is all for today, friends! Have a great weekend.