Hey YA Readers!
Somehow, this year is both the slowest and the fastest ever — we're already in the last week of April. Let's launch this final week of month four with some new books and some action items.
First! Are you interested in fascinating stories, informed takes, useful advice, and more from experts in the world of books and reading? Check out our newest newsletter, The Deep Dive, to get exclusive content delivered to your inbox! Choose your membership level today at bookriot.substack.com
Bookish Goods
I ran across these earrings by accident last week and have not gotten them out of my own head since. How fun are they? Showcase your love of books and reading with these unique dangles. $8.
New Releases
These are just a sample of the new books hitting shelves this week. If you'd like the full list of new hardcover YA releases, you can check 'em out over here.
Content warning on this one for disordered eating, as this is a comic about Valerie Chu. Valerie grew up with a mom who obsessively monitored and commented on her eating, and as she grew up, Val developed bulimia. This gorgeously illustrated story follows Val as she navigates a horrific loss while simultaneously coming to understand the whys and hows of her obsession with thinness.
One of the threads in this book that tore me apart is where Val approaches her best friend, who is fat, and wonders why the fat girl got the attention of a boy. It's heartbreaking because for anyone who has been fat, that sort of commentary is not only uncommon but one of the worst fears: people think you are unworthy because your body is not the thin ideal. But more than being heartbreaking for Val's friend, it's the big moment when Val realizes just how deep her mental illness is and knows she has to get help.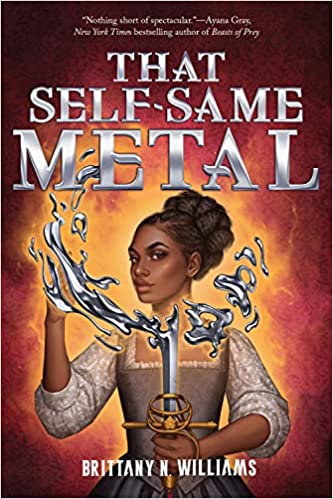 This is the first in a new series that will tick all the boxes of those who love history, Shakespeare, swords, fae, and Black girls at the heart of adventure stories.
Joan works as the person who makes and keeps up with the swords for Shakespeare's acting company. As a member of the Orisha, she's been given the gift of controlling metal. Her family, all Orisha, are also tasked with keeping an eye on London's Fae population; usually there's nothing to worry about, but there has been more and more Fae activity recently, including some attacks. So when Joan hurts a powerful member of the Fae, she finds herself in the middle of battle between the human world and the world of the Fae.
The pitch for this one says it is for readers of Holly Black and Justina Ireland and I agree. It sounds like the perfect adventure-meets-romance-meets-political-intrigue.
For a more comprehensive list of new releases, check out our New Books newsletter.
Take Action for National Library Week
PEN America released their latest report on the state of book bans across the U.S. last week in anticipation of National Library Week. It should come as little surprise, even to those who have tuned out book ban news, that it's YA books receiving the most bans — and by a lot. Most books being banned are those meant for YA readers.
I won't go into the whys or hows. You can keep up with that on Book Riot, where we've been writing about this wave of politically-motivated censorship since the start of this wave.
Instead, for this week's celebration of National Library Week, I offer you a handful of actionable things to do. Whether you're a regular user of your local library or not, you can do these simple things to ensure library access remains what it is: accessible to all.
– Get a library card. If you don't have one yet, now is the perfect time. I know there are real challenges here, including the fact many people do not live within the boundaries of a public library. If you can't get one personally, encourage someone else to do so or find out if subscribing to a nearby library is an option. Here in Illinois, for example, you can pay an annual fee to become a cardholder for a library — generally it's about the cost of a few hardcovers a year.
– Show up to or write a letter to your local school or library board in support of books most likely to be banned. I made a template here you can use or modify to fit your unique voice and library.
– Request library purchases. Did you know most public libraries take requests for books they should acquire? If you know about queer/books by or about people of color that your library might be missing or that will be publishing soon, request them. Purchase requests are usually available in the library or many make them available on the library website as well.
– Get involved or launch a Friends group. The Friends of the library are the fundraising and volunteer arm at many libraries. Some require an annual fee but others — including my own! — have gotten rid of membership fees in order to make the groups more accessible to all. Being in the Friends means you'll help be an ambassador for the library, and you'll have the opportunity to participate in or create events to help get more money to the library. But it's not just money. In my Friends group, we've put together a declaration of support for the hard work of the staff, which will be read and presented at the local city council meeting. It has been signed by hundreds of people in the community. If your library does not have a Friends group, inquire about beginning one. There are plenty of groups from whom you can steal borrow ideas and inspiration.
– Send a letter to your state representatives in support of public and school libraries. I've got a template for that, too. It focuses on supporting intellectual freedom, but you can also go broader here and emphasize the need to continue funding and supporting these public institutions.
– It is so tempting to want to donate books to your local library and in some cases, that is a welcomed gesture. Those books tend to end up in the library book sale, helping raise more money for the library; often, they do not end up on shelves because it actually costs more money and time for that to happen than it does to purchase the item new through library vendors. But! Many times libraries — school ones, especially — will have wish lists of purchases. Ask if your library has any and pick something from it to donate. You could also do a search on Donors Choose for your community and see if there are any requests you might be able to fulfill for the library or for a teacher's classroom library.
If the above is overwhelming, then how about the easiest thing you can do? Go check out some books from your library this week. Take it a step further and check out the books being banned across the country, if that's an option in your community. Show that there is interest, and you'll both help the library and the books.
As always, thanks for hanging out. We'll see you again later this week with your paperback releases and book news.
Until then, happy readng!
— Kelly Jensen, currently reading (& loving!) Enter The Body by Joy McCullough