Yayyyyyyyy, it's new release day! As we head into lovely spring weather today I have for you a memoir, a middle grade fantasy (with recipes!), and a queer YA thriller. I had a lovely weekend of reading and writing about books. I have discovered I need to catch up on subjects I used to read about all the time. A lot of time has passed and I am forgetting things! So I have decided to start with Ancient Egypt first, which is an interest of mine that dates back to elementary school. Do you have subjects you like to read about still?
For today's releases, at the top of my list of books to acquire are Chrysalis by Anna Metcalfe, Life and Other Love Songs by Anissa Gray, and LeBron by Jeff Benedict. You can hear about more of the fabulous books coming out today on this week's episode of All the Books! Jenn and I talked about some of the books we're excited about this week, including The Secret Diaries of Charles Ignatius Sancho, The Dead Are Gods, and Some Desperate Glory.
Have you heard about Book Riot's newest newsletter, The Deep Dive? It's full of exclusive content delivered to your inbox! We're tapping the experts to share longer gems based on years of knowledge about books and publishing, experiences as readers and book curators, and research on lesser-known histories to illuminate and inspire book lovers. For $5/month, you get this deep dive edition of our newsletter in your inbox twice a month. Subscribe to The Deep Dive and choose your membership level today!
And now, it's time for everyone's favorite game show: AHHH MY TBR! Here are today's contestants.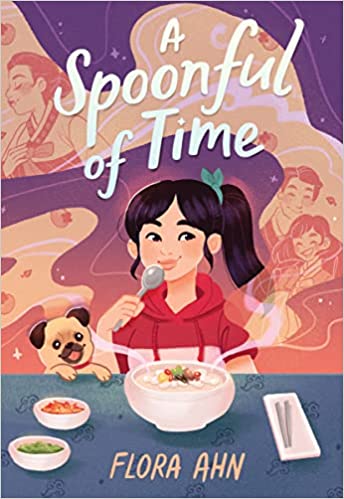 After years of neglect, 2023 has turned into a big middle grade book-reading year for me. I have read dozens, both prose and comics! (Related: I read Parachute Kids by Betty C. Tang this past weekend and loved it.) This is a wonderful, heart-squeezing speculative novel. It's about a young Korean American girl named Maya and her grandmother, Halmunee. Halmunee is a magnificent cook, but lately, she has been losing her memory. When one of Halmunee's meals surprisingly transports Maya and Halmunee back in time to when Halmunee was a young girl in Seoul, Maya will learn things about her family she never knew, as well as begin to understand Halmunee and her life better. It's a fun and bittersweet story of aging and family. And it also includes recipes! (CW for illness and loss of a loved one.)
Backlist bump: When You Trap a Tiger by Tae Keller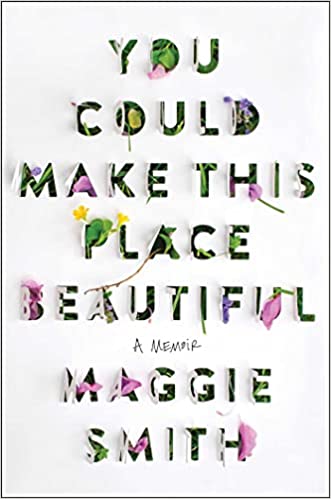 And this is one of the most highly anticipated memoirs of the year, by acclaimed poet Maggie Smith. It's about the breakup of her marriage, an honest self-reflection on what happened, and how it all unfolded. She has a particularly striking way with words, both in language and in how she sometimes limits her use of them, which I imagine comes from writing poems. Her prose is clear and succinct, detailing a moving story of marriage, motherhood, and loss. (CW for miscarriage and infidelity.)
Backlist bump: The Beauty in Breaking: A Memoir by Michele Harper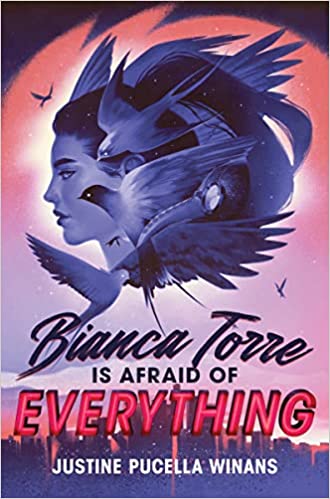 And last but not least, the story of a nonbinary teen named—you guessed it —Bianca Torre, who loves birds. While peeping on birds through their telescope one day, Bianca happens to witness a murder. When the police rule it a suicide, Bianca enlists the help of their neighbor, Anderson, and their crush, Elaine, to help them solve the case. But investigating a crime means Bianca will have to face up to some of their greatest fears, like being outside and talking to people. Can they fight their anxiety in the name of justice? This is a fun, twisty YA thriller with lots of heart and feathers. (CW for anxiety, violence and murder, animal death, and substance use.)
Backlist bump: Death Prefers Blondes by Caleb Roehrig
Do you need help finding your next great read? Subscribe to Tailored Book Recommendations for really great reads year-round.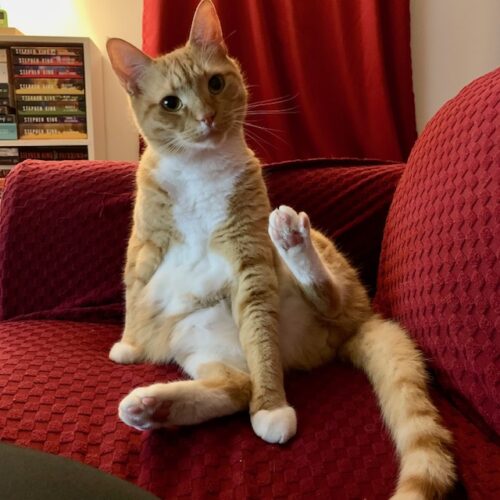 This week, I am reading Let Us Descend by Jesmyn Ward, The Fragile Threads of Power by V.E. Schwab, and "E" is for Evidence by Sue Grafton. Outside of books, I am impatiently waiting for the NBA playoffs to start. The song stuck in my head is "Human Fly" by The Cramps. (I always want to listen to The Cramps when the weather gets warm again.) And here is your weekly cat picture: Here is Zevon in his second-favorite pose (after the one where he stretches out as long as he can until he's shaped like the head of a sickle). He will sit like this for several minutes before he remembers that he was washing his foot. He looks so inquisitive, but really, his head is as empty as Capone's vault.
---
That's it for me this week, friends. I am sending you love and good wishes for whatever is happening in your life right now. Thank you, as always, for joining me each week as I rave about books! See you next week. – XO, Liberty