Dear Book Friends,
How was your weekend? I'll be honest. I was mostly working. But Murray seems to be doing better, so that's good news! Thanks for the well wishes (and the cat Barbie memes…please keep sending). Now shall we talk books?
Interested in fascinating stories, informed takes, useful advice, and more from experts in the world of books and reading? Check out our newest newsletter, The Deep Dive, to get exclusive content delivered to your inbox! Choose your membership level today at bookriot.substack.com
Book Deals and Reveals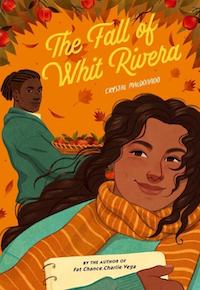 Paste has the cover reveal and an excerpt from Crystal Maldonado's latest book, The Fall of Whit Rivera. The book will be out on October 10.
Academy Award-winning director Chloé Zhao is set to direct an adaptation of Maggie O'Farrell's Hamnet for Amblin Partners, Hera Pictures, Neal Street Productions, and Book of Shadows.
Emily Henry's Beach Read is being adapted into a feature film with Yulin Kuang attached to direct.
In a video on Instagram posted last week, Alice Oseman announced there will be a sixth book in their hit Heartstopper graphic novel series.
Tor.com has revealed the cover of Somewhere in the Deep, the upcoming novel from Tanvi Berwah. This one will be available January 9, 2024.
Flatiron Books won Just Some Stupid Love Story by Katelyn Doyle at a seven-publisher auction. The novel is a romcom that follows the story of a screenwriter and her high school boyfriend, who reunite at their high school reunion. There, they "make a bet on the outcome of five relationships — including their own — over the next five years, with the winner to be declared the ultimate authority on true love."
The 2023 PEN/Faulkner Award winner has been announced. They will receive $15,000 and be honored, along with the finalists, in an event in May.
The National Book Foundation has announced the 2023 5 Under 35 Honorees, who are five writers with exceptional debuts.
Colleen Hoover books like It Ends With Us are dominating BookTok and the bestseller lists. But they're not without controversy.
The online book retailer Book Depository was bought by Amazon in 2011. By the end of April, it will be shutting down for good.
Book Riot Recommends
Hi, welcome to everyone's favorite segment of Book Radar called Book Riot Recommends. This is where I'll talk to you about all the books I'm reading, the books I'm loving, and the books I can't wait to read and love in the near future. I think you're going to love them too!
Prepare Your Shelves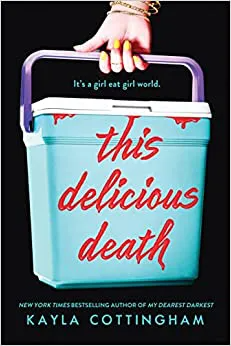 This Delicious Death by Kayla Cottingham (Sourcebooks, April 25)
I don't know about you, but April has got me in the mood for some sapphic horror. Okay, who am I kidding? Every month of the year, I'm in the mood for sapphic horror. But Kayla Cottingham, author of My Dearest Darkest, has got a new one out this month that is particularly exciting.
This book is set two years after a portion of the population underwent a transformation known as "the Hollowing." Those who were affected, now called "the hollow people" (I know, rude) can now only survive by consuming human flesh. To combat this disease, scientists created Synflesh, synthetic human meat which is meant to satisfy the hollow people's hunger.
Zoey, Celeste, Valeria, and Jasmine are four hollow girls just looking to have a little fun before graduation. When they head to a music festival with a cooler filled with seltzer, vodka, and Synflesh, all they want is a good time. But on the first night of the festival, Val goes feral and kills one of the band members. And as festival guests start dying all around them, the girls realize someone is targeting their kind.
Do you need help finding your next great read? Subscribe to Tailored Book Recommendations for really great reads year-round.
What I'm Reading This Week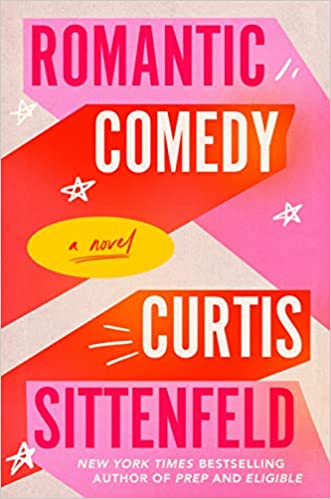 Romantic Comedy by Curtis Sittenfeld
Our Share of Night by Marian Enriquez
The Writing Retreat by Julia Bartz
Burn Down, Rise Up by Vincent Tirado
Wrong Place Wrong Time by Gillian McAllister
American Born Chinese by Gene Luen Yang
Monday Memes
As you know, I've been loving all the Barbie memes, but this one of Elena Ferrante really takes the cake.
And Here's A Cat Picture!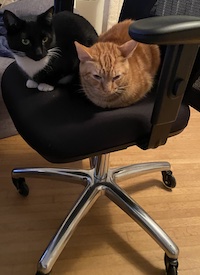 Look at these best friends! Remy is happy his brother Murray is feeling better. And they say I've been working too much lately, which is why they're sitting on the chair so I can't get to my desk.
Anyway, I hope you have a wonderful week. Thanks as always for tuning in, and I'll see you soon!