Welcome to Read This Book, a newsletter where I recommend one book that I think you absolutely must read. The books will vary across genre and age category to include new releases, backlist titles, and classics. If you're ready to explode your TBR, buckle up!
Tomorrow is April 1, and no fooling, I enjoyed this novella that really packs a punch! If you're looking for something quick and intriguing or want to try out Roanhorse's work, then I highly recommend this one!
Interested in fascinating stories, informed takes, useful advice, and more from experts in the world of books and reading? Check out our newest newsletter, The Deep Dive, to get exclusive content delivered to your inbox! Choose your membership level today at bookriot.substack.com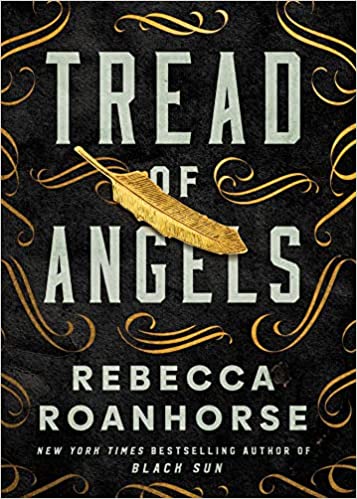 In an alternate 1880s Colorado, where people are descended from the fallen angels or the virtues elite and orders of heavenly angels rule life, Celeste is just trying to survive as a half-fallen woman with her sister. Prospectors are excited about the possibility of a new element called Divinity, making their mountain mining community a boom town. When Celeste's sister is accused of killing a man — a virtue — she knows that she has little hope of saving her, but that doesn't stop her from trying. And soon Celeste finds herself turning to the last person she wants to go to for help: the demon lord Abraxas.
I loved this inventive world and was really intrigued by the combination of historical fiction, Western, fantasy, and mystery. The book is short, and Roanhorse manages to pack a lot of world building details in, leaving me wanting more. Celeste, as a half-fallen, lives in fear of being discovered and discriminated against, making her mission even harder to pull off…but not impossible. She's lived a tough life and so she is naturally slow to trust and quick to judge, but no one can doubt that she'd do anything for her sister. In fact, the crux of the book rests on the question of just how far Celeste is willing to go to protect her, and what it will cost her in the end. The ending will leave a lot of readers debating, I think, but that's sort of the beauty of these short reads. For me, Tread of Angels was an impactful novella that I thought about for a long time after finishing.
Bonus: I listened to the audio, narrated by Dion Graham, which was excellent.
Happy reading!
Tirzah
Do you need help finding your next great read? Subscribe to Tailored Book Recommendations for really great reads year-round.
---
Find me on Book Riot, Hey YA, All the Books, and Twitter. If someone forwarded this newsletter to you, click here to subscribe.